Nationality words link to articles with information on the nation's poetry or literature (for instance, Irish or France).
William Wordsworth begins writing the first version of The Prelude, finishing it in two parts in 1799. This version describes the growth of his understanding up to age 17, when he departed for Cambridge University. He would revise the poem more than once during his lifetime but not publish it. Months after his death in 1850 it was published for the first time.[1]
Works published
Edit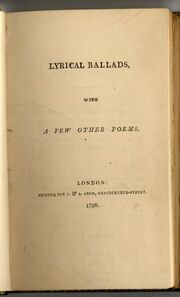 Robert Anderson, Poems on Various Subjects[3]
William Lisle Bowles, St. Michael's Mount[3]
George Canning and J. H. Frere, The Loves of the Triangles, a parody of Erasmus Darwin's The Loves of the Plants
Samuel Taylor Coleridge:

Fears in Solitude, a small pamphlet including

"France: An Ode", first published as The Recantation: An Ode and later renamed; the poem mark's Coleridge's political turn away from revolutionary France after the French invasion of Switzerland; first published in the April 16 edition of the Morning Post

See William Wordsworth, below for more information on Lyrical Ballads, a collection of Coleridge's and Wordsworth's poems, including Coleridge's

Joseph Cottle, Malvern Hills[3]
Thomas Gisborne, Poems, Sacred and Moral[3]
Charles Lamb and Charles Lloyd, Blank Verse, including Lamb's "The Old Familiar Faces"[3]
Samuel Rogers, An Epistle to a Friend, with Other Poems[3]
William Sotheby, Oberon, translation from the original German of Christoph Martin Wieland[3]
William Wordsworth and Samuel Taylor Coleridge, published anonymously, Lyrical Ballads with a Few Other Poems (see Coleridge, above, for more on his contributions to the work; and see also Lyrical Ballads 1801, 1802, 1805 and 1815)[3] including:
Death years link to the corresponding "[year] in poetry" article:
Also
Birth years link to the corresponding "[year] in poetry" article:
Also
Community content is available under
CC-BY-SA
unless otherwise noted.