Nationality words link to articles with information on the nation's poetry or literature (for instance, Irish or France).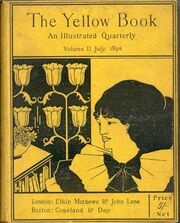 Works published in English
Edit
Anthologies
Second Book of the Rhymers' Club. London: Elkin Matthews / John Lane.

Other in English
Edit
Works published in other languages
Edit
Awards and honors
Edit
Death years link to the corresponding "[year] in poetry" article:
Also
Birth years link to the corresponding "[year] in poetry" article:
January 24 – Constance Fenimore Woolson (born 1840), American novelist, short-story writer and poet; a grandniece of James Fenimore Cooper
July 17 – Charles Marie René Leconte de Lisle (born 1818), French poet of the Parnassian movement
April 18 – Bankim Chandra Chattopadhyay (born 1838), Bengali poet, novelist, essayist and journalist
May 16 – Kitamura Tokoku 北村透谷, pen-name of Kitamura Montaro (born 1868), Japanese, late Meiji period poet, essayist and a founder of the modern Japanese romantic literary movement (surname: Kitamura)
August 25 – Celia Thaxter (born 1835), American poet and story writer
October 7 – Oliver Wendell Holmes (born 1809), American physician, professor and poet
December 3 – Robert Louis Stevenson (born 1850), Scottish novelist, poet, essayist and travel writer.of a brain haemorrhage, in Samoa
December 29 – Christina Rossetti (born 1830, English poet, of cancer
Also
↑ Current Biography 1942, p. 280
↑ 2.0 2.1 2.2

Web page titled "CONFEDERATION VOICES: Seven Canadian Poets By JOHN COLDWELL ADAMS"], at the Canadian Poetry website, retrieved August 8, 2010

↑ 3.0 3.1 3.2 3.3 3.4 3.5 3.6 3.7 Cox, Michael, editor, The Concise Oxford Chronology of English Literature, Oxford University Press, 2004, ISBN 0-19-860634-6
↑ Keith, W. J., "Poetry in English: 1867-1918", article in The Canadian Encyclopedia, retrieved February 8, 2009
↑ 5.0 5.1 5.2 5.3 Ludwig, Richard M., and Clifford A. Nault, Jr., Annals of American Literature: 1602–1983, 1986, New York: Oxford University Press ("If the title page is one year later than the copyright date, we used the latter since publishers frequently postdate books published near the end of the calendar year." — from the Preface, p vi)
↑ "Lawson, Henry (1867 - 1922)", article, Australian Dictionary of Biography Online Edition, retrieved May 13, 2009. Archived 2009-05-16.
↑ 7.0 7.1 Paniker, Ayyappa, "Modern Malayalam Literature" chapter in George, K. M., editor, Modern Indian Literature, an Anthology, pp 231–255, published by Sahitya Akademi, 1992, retrieved January 10, 2009
↑ Rees, William, The Penguin book of French poetry: 1820-1950 : with prose translations, p 413, Penguin Classics, 1992, ISBN 978-0-14-042385-3, retrieved via Google Books, August 30, 2009
External links
Edit
Community content is available under
CC-BY-SA
unless otherwise noted.