Nationality words link to articles with information on the nation's poetry or literature (for instance, Irish or France).
Philip Hobsbaum, who had founded The Belfast Group in Belfast, Northern Ireland, in 1963, departs for Glasgow, and the Belfast Group meetings lapsed for a while, but then was reconstituted in 1968 by Michael Allen, Arthur Terry, and Seamus Heaney. At one time or another, the grouping also includes Michael Longley, James Simmons, Paul Muldoon, Ciaran Carson, Stewart Parker, Bernard MacLaverty and the critic Edna Longley. Meetings will be held at Seamus and Marie Heaney's house on Ashley Avenue. The Belfast Group will last until 1972.
Russian poet Joseph Brodsky returns to Leningrad from the exile near the Arctic Circle where he had been sent when a Soviet court in 1964 convicted him of "parisitism".
Starting this year and continuing for a decade, Bulgarian censors prevent publication of works by Konstantin Pavlov, poet and screenwriter who was defiant against his country's communist regime; his popularity didn't wane, as Bulgarians clandestinely copied and read his poems.[1]
Works published in English
Edit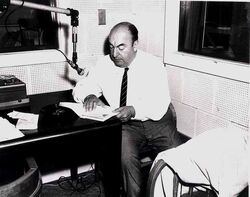 Listed by nation where the work was first published (and again by the poet's native land, if different); substantially revised works listed separately:
W.H. Auden, English poet published in the United States:
Karen Gershon, Selected Poems
Gavin Bantock, Christ
George Barker, Dreams of a Summer Night
John Betjeman, High and Low[20]
Lawrence Durrell, The Ikons, and Other Poems[20]
Tom Earley, A Welshman in Bloomsbury
Gavin Ewart, Pleasures of the Flesh[20]
Elaine Feinstein, In a Green Eye,[20] Goliard Press
Robert Graves, Collected Poems[18]
J. C. Hall, The Burning Hare
Seamus Heaney, Death of a Naturalist, Faber & Faber, Northern Ireland poet published in the United Kingdom
Philip Hobsbaum, In Retreat
Christopher Isherwood, Exhumations, stories, articles and poetry;[20] an English writer living in and published in the United States
Elizabeth Jennings, The Mind Has Mountains[20]
Thomas Kinsella, Wormwood,[20] Irish poet published in the United Kingdom
Philip Larkin, The North Ship[18]
Richard Logue, Logue's ABC[20]
Norman MacCaig, Surroundings[20]
Louis MacNeice, The Collected Poems of Louis MacNeice, edited by E. R. Dodds,[18] including "Mayfly", "Snow", "Autumn Journal XVI", "Meeting Point", "Autobiography", "the Libertine", "Western Landscape", "Autumn Sequel XX", "The Once-in-Passing", "House on a Cliff", "Soap Suds", "The Suicide" and "Star-gazer", Faber and Faber, Irish poet published in the United Kingdom,[19]
Ruth Pitter, Still by Choice[20]
Sir Herbert Read, Collected Poems, Horizon Press[18]
Peter Redgrove, The Force and Other Poems, London: Routledge and Kegan Paul[17]
Jon Silkin, New and Selected Poems
Stevie Smith, The Frog Prince, and Other Poems[20]
Gillian Smyth, The Nitrogen Dreams of a Wide Girl
Gary Snyder, A Range of Poems, London: Fulcrum Press, American[17]
R.S. Thomas, Pietà,[20] Welsh
Anthony Thwaite and John Hollander publish the first anthology of double dactyls, Jiggery Pokery
Charles Tomlinson, American Scenes, and Other Poems, London: Macmillan[17]
David Wevill, A Christ of the Ice Floes
Criticism, scholarship, biography
Wallace Stevens, Letters of Wallace Stevens (posthumous), edited by Holly Stevens (his daughter)[23]
Other in English
Edit
Works published in other languages
Edit
Listed by language and often by nation where the work was first published and again by the poet's native land, if different; substantially revised works listed separately:
French language
Edit
R. Goffin, a book of poetry in the publishing series "Poètes d'Aujourd'hui", French language, published in Belgium
West Germany
Edit
Günter Eich, Anlässe und Steingärten
Beda Allemann, editor, Ars poetica: Texte von Dichtern des 20. Jahrhunderts zur Poetik, 51 essays, Wissenschaftliche Buchgesellschaft, (criticism)[31]
Walter Naumann, Traum und Tradition in der deutschen Lyrik, Stuttgart: W. Kohlhammer (criticism)[31]
Translations
Edit
East Germany
Edit
Listed in alphabetical order by first name:
Other in Spanish
Edit
Other languages
Edit
Awards and honors
Edit
August 10 – Christian Bök, Canadian experimental poet
October 7 – Sherman Alexie Native American poet and author
Also:

Woeser (also written Öser; full name: Tsering Woeser) Tibetan: ཚེ་རིང་འོད་ཟེར་; Wylie: tshe-ring 'od-zer; simplified Chinese: 唯色; pinyin: Wéisè, Tibetan poet and essayist
Birth years link to the corresponding "[year] in poetry" article:
January 22 – Jun Kawada 川田 順 (born 1882), Japanese, Showa period tanka poet and entrepreneur
January 23 – Berton Braley, 83
March 5 — Anna Akhmatova, 76, Russian poet
March 17 – Einar Skjæraasen, Norway
May 14 – Georgia Douglas Johnson, 86, of a stroke
June 1 – Inge Müller (born 1925), East German
June 10 – Henry Treese, 55
June 27 – Arthur David Waley, 76, noted translator of Chinese poetry and an English Orientalist and Sinologist
July 11 – Delmore Schwartz, 52, American, of a heart attack
July 25 – Frank O'Hara, 40, American poet and key member of the New York School of poetry.
August 14:
August 26 – W.W.E. Ross (born 1894), Canadian poet.
August 29 – Melvin Tolson, 68, American Modernist poet, educator, columnist, and politician
September 25 – Mina Loy, 73, British-born American artist, poet, Futurist and actor
September 28 – André Breton, 70, French poet, essayist and theorist; the leading exponent of Surrealism in literature
Also:

John Cournos (born 1881), Russian-American Imagist poet, but better known for his novels, short stories, essays, criticism and translations of Russian literature; wrote under the pen name "John Courtney"
Tristan Klingsor, pseudonym of Léon Leclère (born August 8, 1874 – died sometime in August), French poet, painter and musician; part of the Fantaisiste group of French poets
Jun Tanaka 田中純 (born 1890), Japanese, Showa period poet
Arnold Wall (born 1869), New Zealand
External links
Edit
Community content is available under
CC-BY-SA
unless otherwise noted.