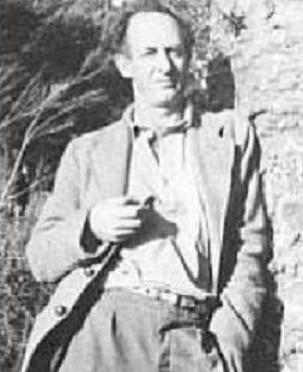 Arthur Rex Dugard Fairburn (2 February 1904 - 25 March 1957) was a New Zealand poet,[1] whom the Oxford Companion to New Zealand Literature calls "a major poet of the 1920s-1950s."[2]
Fairburn was born in Auckland, the eldest of 3 sons of Teresa (Harland), a gifted musician, and Arthur Fairburn, who became a music critic, but supported his family as a clerk and then as an accountant.[1]
He grew up Rex spent in Parnell, and spent his youth and early manhood at Green Bay. He was educated at primary schools in Parnell and Remuera, and from 1918 to 1920 Fairburn attended Auckland Grammar School, where he met and befriended R.A.K. Mason.[1]
Until 1926 Fairburn worked as a clerk for the New Zealand Insurance Company in Auckland, then left to spend 3 months on Norfolk Island. He was not to find regular employment again until 1934.[1]
In 1927 Fairburn published his earliest poem, which he had jointly written with Geoffrey de Montalk.[1] Several of his poems were published in the 1930 anthology Kowhai Gold.[2]
In August 1930 Fairburn went to England to join de Montalk, who helped him to publish a debut collection of poetry, He Shall Not Rise, in London that year.[2]
During the early 1930s Fairburn lived and worked in England, where he met Jocelyn Mays, a New Zealand art student at the Slade School of Fine Art. They fell in love and moved to Wiltshire, where they married on 19 November 1931. A daughter, Corin, was born the following year. In October 1932 the Fairburns returned to New Zealand. They lived in New Lynn, Auckland, and had 3 more children: a boy, Hanno, and 2 girls, Janis and Dinah.[1]
In Auckland, Fairburn worked as a laborer on a relief gang. In 1934 he became minutes secretary to the Auckland branch of the New Zealand Farmers' Union, a job that lasted until 1942 when he was conscripted, then manpowered into the National Broadcasting Service. He stayed as a script writer and sometime broadcaster until 1947, when he became a self-employed fabric printer.[1]
He worked as a tutor in English at Auckland University College, 1948-1949, and as a lecturer in the history and theory of fine arts at the Elam School of Art after 1950.[1]
Fairburn died at his home in Devonport on 25 March 1957, survived by his wife and children.[1]
His poetry was initially influenced by the (then unfashionable) Georgian poets.
The Dictionary of New Zealand Biography (DNZB) says that his early poems, "cast in the language of late romanticism, tended to be literary and derivative ... though they reveal his fine sense of rhythm and his abiding concerns with love, mortality and nature. This stylistic phase was marked by the publication in London in 1930 of his first book, He Shall Not Rise."[1]
Of major significance were Dominion (1938) and Poems, 1929–1941 (1943), both published by Denis Glover's Caxton Press. The DNZB calls Dominion "arguably the most important political poem written in New Zealand, though its range goes far beyond the political, anticipating both ecological and spiritual concerns of the late twentieth century. In form it is, of all his poems, most affected by the open structure of T.S. Eliot's The Waste Land."[1]
His poetry reached its richest culmination with "To a Friend in the Wilderness" (1949), a poetic dialogue covering his deepest concerns and employing language rare in 20th-century English poetry for its combination of rhythmic fullness, lucidity and breadth of feeling.[1]
Publications
Edit
He Shall Not Rise: Poems. London: Columbia Press, 1930.
The County. London: Blue Moon Press, 1931.
Dominion. Christchurch, NZ: Caxton, 1938.
The Sky is a Limpet (A Polytickle Parrotty): Also four (4) stories or moral feebles. Devonport, Tas: Phillips Press, 1939; Auckland: George Fraser & Harold Innes, 1966.
Recent Poems (by Allen Curnow, A.R.D. Fairburn, Denis Glover, & R.A.K. Mason). Christchurch, NZ: Caxton, 1941.
Poems, 1929-1941. Christchurch, NZ: Caxton, 1943.
The Rakehelly Man, and other verses. Christchurch, NZ: Caxton, 1946.
How to Ride a Bicycle in Seventeen Lovely Colours (illustrated by Bob Lowry). Auckland: Pelorus Press, 1947.
Strange Rendezvous: Poems, 1929-1941, with additions. Christchurch, NZ: Caxton, 1952.
Three Poems (includes "Dominion," "The Voyage," & "To a Friend in the Wilderness"). Wellington, New Zealand University Press, 1952.
Poetry Harbinger (with Denis Glover). Auckland: Pilgrim Press, 1958.
The Disadvantages of Being Dead, and other sharp verses (edited by Denis Glover). Wellington: Mermaid Press, 1958.
Collected Poems (with foreword by Denis Glover). Christchurch, NZ: Pegasus, 1966.
A Slight Misunderstanding. Christchurch, NZ: Nag's Head, 1968.
Selected Poems (edited by Macdonald P. Jackson). Wellington: Victoria University Press, 1995.
Non-fiction
Edit
Who Said Red Ruin? An examination of newpaper methods (pamphlet). Auckland: Griffin Press, 1938.
We New Zealanders: An informal essay.
The Woman Problem, and other prose (edited by Denis Glover & G.E. Fairburn). Wellington: Blackwood & Janet Paul, 1967.
The Letters of A.R.D. Fairburn (edited by Lauris Dorothy Edmond). Auckland & New York: Oxford University Press, 1981.

Except where noted, bibliographical information courtesy WorldCat.[3]
References
Edit
↑ 1.00 1.01 1.02 1.03 1.04 1.05 1.06 1.07 1.08 1.09 1.10 1.11 Fairburn, Arthur Rex Dugard, New Zealand Dictionary of Biography, Volume IV, 1998. Te Ara Encyclopedia of New Zealand, Web, Mar. 23, 2014.
↑ 2.0 2.1 2.2 Fairburn, A.R.D., Oxford Companion to New Zealand Literature (edited by Roger Robinson & Nelson Wattie), Oxford University Press, 1998. New Zealand Book Council, Web, Mar. 23, 2014.
↑ Search results = au:Arthur Rex Fairburn, WorldCat, OCLC Online Computer Library Center Inc. Web, Mar. 23, 2014.
External links
Edit
Poems
Audio / video
Books
About
This is a signed article by User:George Dance. It may be edited for spelling errors or typos, but not for substantive content except by its author. If you have created a user name and verified your identity, provided you have set forth your credentials on your user page, you can add comments to the bottom of this article as peer review.
Community content is available under
CC-BY-SA
unless otherwise noted.