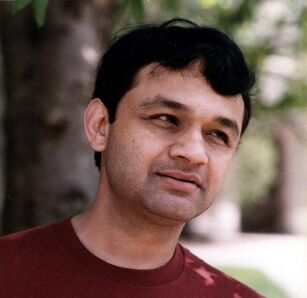 Agha Shahid Ali (Kashmiri: आग़ा शाहिद अली, Nastaliq, آغا شاہِد علی) (February 4, 1949 - 8 December 2001) was a Kashmiri-American poet.[1][2]
Ali was born in New Delhi, and educated at the University of Kashmir and the University of Delhi.[1] In the United States, he earned a Ph.D. in English from Pennsylvania State University in 1984, and an M.F.A. from the University of Arizona in 1985.[1]
He held teaching positions at 9 universities and colleges in India and the United States.[1]
Ali was also a translator of Urdu poet Faiz Ahmed Faiz (The Rebel's Silhouette; Selected Poems[3]), and was the editor for the Middle East and Central Asia segment of Jeffery Paine's _Poetry of Our World_.[4]
Ali taught at the MFA Program for Poets & Writers at University of Massachusetts, Amherst, at the MFA Writing Seminars at Bennington College as well as at creative writing programs at University of Utah, Baruch College, Warren Wilson College, Hamilton College and New York University. The accalimed Pakistani writer Kamila Shamsie was his student.
James Merrill, an American poet, had a very significant impact on Ali's poetry.
Being of Kashmiri ethnicity, Ali, in regards to Jammu and Kashmir and the Kashmir conflict, stated that "ideally the best solution would be absolute autonomy within the Indian Union in the broadest sense." However he went on to state that possibly, such a solution was probably no longer possible, given the actions of the Indian state in Kashmir and the fact that militant groups would never accept the 'autonomy' solution. He expressed his love and concern for his people in The county without A post office, written in the backdrop of the Kashmir conflict.[5]
He died peacefully in his sleep, of brain cancer, in December, 2001 in Amherst, Massachusetts. He was laid to rest in Northampton, Massachusetts.
Through his work with poetry teaching, and as the compiler of the volume Ravishing DisUnities: Real Ghazals in English, he was widely credited for helping to popularize the ghazal as a poetic form in English today.
Recognition
Edit
His poems are featured in American Alphabets: 25 contemporary Poets (2006) and many other anthologies.
The University of Utah Press awards the Agha Shahid Ali Poetry Prize annually "in memory of a celebrated poet and beloved teacher".[6]
Publications
Edit
Bone Sculpture: Poems. Calcutta: Writers Workshop, 1972.
In Memory of Beghum Akhtar. Calcutta: Writers Workshop, 1979.
The Half-Inch Himalayas. Middletown, CT: Wesleyan University Press, 1982.
The Beloved Witness: Selected poems. New Delhi & New York: Viking, 1992.
A Pastoral. Paradise Valley, AZ: Mummy Mountain Press, 1993.
Call Me Ishmael Tonight: A book of ghazals. New York: Norton, 1993.
Ghazal. New York: Center for Book Arts, 2002.
Rooms Are Never Finished: Poems. New York & London: Norton, 2003.
The Final Collections: Call me Ishmael tonight, a book of Ghazals & Rooms are never finished: Poems. Delhi: Permanent Black, 2004.
The Veiled Suite: Collected poems. New York: Norton, 2009.
Ravishing Disunities: Real ghazals in English. Middletown, CT: Wesleyan University, 2015.

Except where noted, bibliographical information courtesy WorldCat.[7]
Audio / video
Edit
Agha Shahid Ali (VHS). Westminster College of Salt Lake City, 1997.
References
Edit
↑ 1.0 1.1 1.2 1.3 "A Tribute to Agha Shahid Ali". Jacket Magazine. http://jacketmagazine.com/18/ali.html

. Retrieved 2010–01–02

. "Beauty always raises the stakes.</br> Don't apologize darling-guilt, it's such a Puritan thing to do.</br> I never apologize, shameless little Indian that I am. — Agha Shahid Ali"

 

↑ An interethnic companion to Asian American literature. Cambridge University Press. http://books.google.com/books?id=6v659OPjoKIC&pg=PA194&dq=agha+shahid+ali+indian+american#v=onepage&q=agha%20shahid%20ali%20indian%20american&f=false

. Retrieved 2010–01–02

. "Contemporary South Asian American writers belong primarily to this middle and upper class: Indo-American Agha Shahid Ali, Meena Alexander, Bharati Mukherjee, Vikram Seth, Pakistani American Sara Suleria, Javaid Qazi, Indo-Canadian Rohinton Mistry, Uma Parameswaran, Sri Lankan Canadian Michael Ondaatje, and Indo-Guyanese Canadian Cyril Dabydeen, among others."

 

↑ Book Excerptise:Rebel's Silhouette (extended extracts and literary history)
↑ Poetry of Our World (excerpts)
↑ "'The Ghat Of The Only World': Agha Shahid Ali in Brooklyn". Outlook. http://www.outlookindia.com/article.aspx?216239

. Retrieved 2010–01–02

.

 

↑ http://www.uofupress.com/portal/site/uofupress/menuitem.e68c1caf70ae8b401989dd10c1e916b9/?vgnextoid=cf31aa421891f110VgnVCM1000001c9e619bRCRD
↑ Search results = au:Agha Shahid Ali, WorldCat, OCLC Online Computer Library Center Inc. Web, Mar. 23, 2018.
External links
Edit
Poems
Audio / video
Books
About
Etc.
Community content is available under
CC-BY-SA
unless otherwise noted.