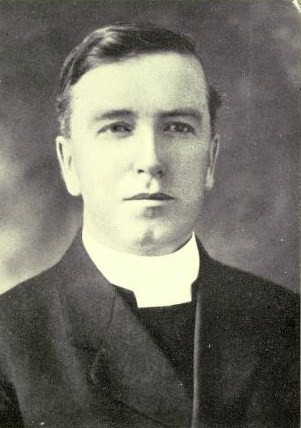 Rev. Alexander Louis Fraser (1870-1954), M.A., D.D, was a Canadian poet and clergyman.[1]
Fraser was born in Blue Mountain, Pictou County, Nova Scotia.[2]
He was educated at Dalhousie University, Halifax; Pine Hill Divinity Hall, Halifax; and New College, Edinburgh.[3]
Fraser was the Presbyterian minister in Great Village, Nova Scotia, in 1905-1914, and active in the village's Christophian (or Kritisophian) Literary Society founded by his predecessor, W.M. Crawford. As the History of Great Village described that body:
The Society met fortnightly in the homes of the members, to spend the evening reading and discussing great literature. A winter each was spent on Keats, Ruskin, Mrs. Browning, Milton, Shakespeare, Dante, and two winters on Browning and Tennyson ....The Society did not long continue after Mr. Fraser left in 1914, but for ten years at least, each winter the Group had lived with great writers.[4]
Rev. Fraser later wrote of the Society: "We found the little club worth while. We had college graduates, teachers, doctors of medicine, housewives, merchants, school girls. It gave color to their lives, and there are people from Halifax, N.S., to Vancouver, B.C., to recall with pleasure and profit the discovery of great lines and the hearing of great music."[4]
Fraser taught New Testament Greek at Pine Hill Divinity Hall, 1922-1923. In 1927 he was the minister of St. John's United Church, Halifax, Nova Scotia.[3]
His poetry was published in The British Weekly, University Magazine, Dalhousie Review, Canadian Magazine, Acadiensis, Maclean's, and Education.[3]
Recognition
Edit
Fraser won a prize in 1912 for his poem, "Memorial Tower, Halifax."[3]
2 of his poems, "November" and "A Gloaming Call", were included in the Oxford Book of Canadian Verse, 1913.[5]
Publications
Edit

Except where noted, bibliographical information courtesy WorldCat.[6]
References
Edit
External links
Edit
Poems
Books
This is a signed article by User:George Dance. It may be edited for spelling errors or typos, but not for substantive content except by its author. If you have created a user name and verified your identity, provided you have set forth your credentials on your user page, you can add comments to the bottom of this article as peer review.
Community content is available under
CC-BY-SA
unless otherwise noted.