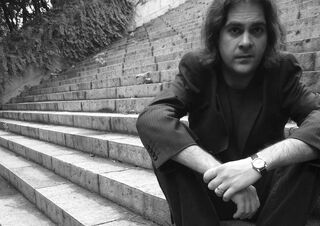 Ali Alizadeh (born 1976) is an Australian poet and academic.[1]
Alizadeh was born in Tehran, Iran. He won his first literary award at 13, for a prose version of the Iranian epic Shah-Nameh (Book of Kings). His family migrated to Australia that same year, and he attended high school in Queensland. In 1995 he enrolled in the creative writing program at Griffith University in 1995, where he began writing performance poetry and produced his first book, eliXir: a story in poetry. He then earned a Ph.D. at Deakins University.[1]
His work has appeared in such literary magazines as Overland, HEAT, Southerly, Kalimat, The Warwick Review, Poetry Review, Wasafiri, Famous Reporter, Divan, Cordite Poetry Review, turnrow, Red Weather, Voiceworks and Woorilla; The Age newspaper; and anthologies such as Over There: Poems from Singapore and Australia, Said the Rat!, The Best Australian Poems 2008, Contemporary Australian Poetry in Chinese Translation, and Culture Is: Australian Stories Across Cultures.[1]
He lived in China 2005-2007, and then in Turkey and Dubai. He has a wife, Penelope, and a son, Jasper.[1]
He lectures in creative writing at Monash University in Melbourne.[2]
Recognition
Edit
Alizadeh won Verandah magazine's 2000 Literary Award for his long poem "Princess".[1]
Publications
Edit
The New Angel. Yarraville, Vic: Transit Lounge, 2008.
Short fiction
Edit
Transactions. St. Lucia, Qld: University of Queensland Press, 2013.
Non-fiction
Edit
Iran: My grandfather. Yarraville, Vic: Transit Lounge, 2010.
Translated
Edit
Farīd al-Dīn ʻAṭṭār, Fifty Poems of Attar (translated with Kenneth Avery). Melbourne: re.press, 2007.
Six Vowels and Twenty Three Consonants: An anthology of Persian poetry from Rudaki to Langrood (translated & edited with John Kinsella). Todmorden, UK: Arc Publications, 2012.

Except where noted, bibliographical information courtesy Poetry International Rotterdam.
Plays produced
Edit
Irene's Inquisition. Melbourne: Chapel off Chapel, 2001.
Elixir. Melbourne: The Store Room, 2002.
A Sufi Valentine. Melbourne: La Mama Theatre, 2004.
Audio / video
Edit
A Nocturne (with Bill Mousoulis). Melbourne: Innersense Productions, 2007.[1]
References
Edit
↑ 1.0 1.1 1.2 1.3 1.4 1.5 Ali Alizadeh (Iran, 1976), Poetry International Rotterdam. Web, June 21, 2013.
↑ Ashes in the Air – Ali Alizadeh (University of Queensland Press), Department of Regional Australia, Local Government, Arts and Sport, Government of Australia. Web, June 21, 2013.
External links
Edit
Poems
Prose
Audio / video
About
This is a signed article by User:George Dance. It may be edited for spelling errors or typos, but not for substantive content except by its author. If you have created a user name and verified your identity, provided you have set forth your credentials on your user page, you can add comments to the bottom of this article as peer review.
Community content is available under
CC-BY-SA
unless otherwise noted.