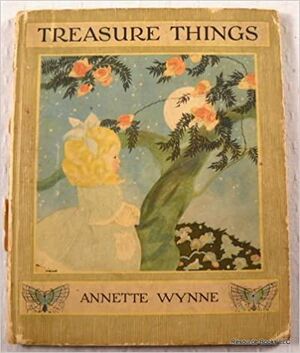 Annette Wynne (1919-1922 fl.) was an American children's poet.[1]
Life
In 1919, her debut collection of children's poems, For Days and Days: A year round treasury of child verse was published, followed by Treasure Things in 1922.[1]
Her writing
Wynne wrote in a preface to For Days and Days:
The aim of these verses is to please children and others. They Were written, and arranged calendar-wise, for school children's entertain ments. Most teachers and parents find a dearth of usable material for young people's recitations; it is a commonplace that all good poetry is not good for such purposes. An attempt has been made to furnish, for all sorts of days, material that is close to the children's experience and at the same time timely. This book, therefore, is offered in the hope that it will facilitate the search Of parents and teachers for joyous relaxation in the Land of School and otherwheres.[2]
Publications
Juvenile
For Days and Days: A year round treasury of child verse. 1919.[1]
Treasure Things. Chicago: P.F. Volland, 1922.
The Trip thru Fairyland: Great Onyx Cave. Mammoth Cave, KY: L.P. Edwards, 1924.
All through the Year: Three hundred and sixty-five new poems for holidays and every day. New York: Stokes, 1932.

Except where noted, bibliographical information courtesy WorldCat.[3]
See also
References
Notes
↑ 1.0 1.1 1.2 Wynne, Annette, Candlestick Publishing. Web, Aug. 9, 2020.
↑ For Days and Days: A Year-Round Treasury, of Child Verse (Classic Reprint), Goodreads. Web, Aug. 9, 2020.
↑ Search results = au:Annette Wynne, WorldCat, OCLC Online Computer Library Center Inc. Web, Aug. 9, 2020.
External links