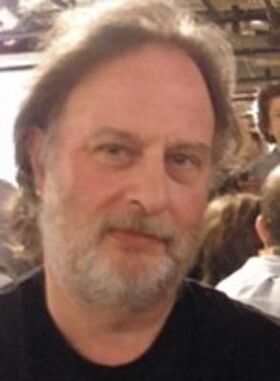 Bill Greenwell (born 1952) is an English poet.
Greenwell was born in Sunderland. He attended St Catherine's College, Oxford between 1970 and 1973, and then gained a PGCE from the University of Exeter in 1974. He also has an M.A. in Creative Writing from the University of Lancaster.[1]
He taught at Exeter College for 28 years, and later for the University of Exeter, University College, Falmouth, and (since 2007) for the Open University, where he is Arts Staff Tutor in the North.[1]
He is a noted parodist, having won about 2,000 parody and light verse competitions, and having also been New Statesman's weekly house poet from 1994 to 2002. He also wrote columns for the Exeter Flying Post (for 30 years) and Express and Echo (for two), and was the film critic for DevonAir Radio for ten years. He has also written reviews for New Statesman and The Independent.[1]
Recognition
Edit
Mail On Sunday Poem Of The Year, 2004.[2]
Shortlisted for the Felix Dennis Award for Best First Poetry Collection (The Forward Prize, 2006).[2]
Publications
Edit
Tony Blair Reminds Me of a Budgie: Poems from 'New Statesman' and others. Exeter, UK: Entire Photo Here Press, 1996.
Spoof: Poems and parodies. Exeter, UK: Entire Photo Here Press, 2005.
Impossible Objects. Blaenau Ffestiniog, Gwynedd, UK: Cinnamon Press, 2006.
Ringers. Blaenau Ffestiniog, Gwynedd, UK: Cinnamon Press, 2011.
Non-fiction
Edit
"The curious incident of novels about Asperger's Syndrome," Children's Literature in Education 35:3 (September 2004).
Developing Dramatic Technique, Individual Style, and Voice. London: A. & C. Black, 2009.
From Language to Creative Writing: An introduction (with Phillip Seargeant). London: Bloomsbury Academic, 2012.
The Road to EX4: Stories of how people came to live in EX4. Exeter, UK: Exeter Council for Voluntary Service, 2004.

Except where noted, bibliographical information courtesy WorldCat.[3]
References
Edit
↑ 1.0 1.1 1.2 About Bill, BillGreenwell.com. Web, July 26, 2013.
↑ 2.0 2.1 Bill Greenwell,Lecturer in Creative Writing, English, The Open University. Web, July 26, 2013.
↑ Search results = au:Bill Greenwell, WorldCat, OCLC Online Computer Library Center Inc. Web, July 26, 2013.
External links
Edit
Poems
About
Etc.
This is a signed article by User:George Dance. It may be edited for spelling errors or typos, but not for substantive content except by its author. If you have created a user name and verified your identity, provided you have set forth your credentials on your user page, you can add comments to the bottom of this article as peer review.