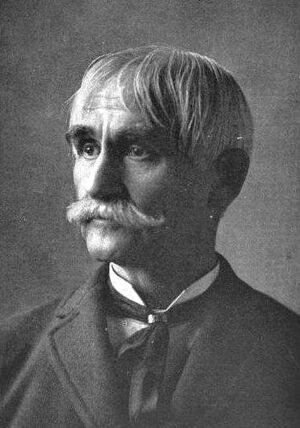 Coates Kinney (born November 24, 1826 - 1904) was an American poet, journalist, and politician.
Kinney was born at Kinney's Corners, New York. He was educated at Antioch College, Ohio, but did not graduate. He was admitted to the bar in 1856, and became connected editorially with journals in Xenia and Cincinnati, Ohio, Springfield, Illinois, and elsewhere. He served in the Civil War as major and paymaster, and later was active in Ohio Republican politics, being a Senator in the state legislature, 1882-1883.
His verses were collected in Keeuka, and other poems (1855) and Lyrics of the Ideal and the Real (1888). One of his lyrics set to music, "Rain on the Roof," was widely popular.
Publications
Edit

Except where noted, bibliographical information courtesy University of West Virginia.[1]
Recognition
Edit
He served as Poet laureate of Ohio.[1]
References
Edit
↑ 1.0 1.1 Coates Kinney, Strangers to Us All: Lawyers and poetry, College of Law, University of West Virginia. Web, June 9, 2018.
External links
Edit
Poems
About