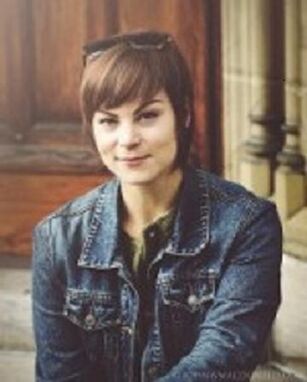 Danielle Couture (born November 15, 1978) is a Canadian poet and novelist.[1]
Couture was born on Downsview military base, Toronto, to a francophone father and an anglophone mother, both of whom were enlisted in the Canadian Forces.
She began writing poetry in high school.[2]
She earned a B.A. at the University of Windsor.[3]
She has lived in 10 cities, including North Bay, Vancouver, Windsor, and Taichung, Taiwan. She lives in Toronto, Ontario.
Couture's poetry, essays, reviews and interviews have been published in various literary journals, magazines, and anthologies, including The Walrus, The Globe and Mail, Taddle Creek, The Fiddlehead, Arc and Canadian Poems for Canadian Kids (2005).
She identifies as queer.[2]
Recognition
Edit
In 2011, Couture's 2nd book of poetry, Sweet, won the ReLit Award for Poetry, and was shortlisted for the Trillium Book Award for Poetry in English. Also in 2011, she received an Honour of Distinction from the Writers' Trust of Canada's Dayne Ogilvie Grant.[1]
Publications
Edit
Midnight Grocery. Thornhill, ON: Believe Your Own Press, 2004.
Good Meat: Poems. Toronto: Pedlar Press, 2006.
Sweet: Poems. Toronto: Pedlar Press, 2010.
Yaw. Toronto: Mansfield Press, 2014.
Black Sea Nettle Anstruther Press, 2016.[4]
Algoma. Halifax, NS: Invisible Publishing, 2011.

Except where noted, bibliographical information courtesy WorldCat.[5]
See also
Edit
References
Edit
External links
Edit
Poems
Books
About
Community content is available under
CC-BY-SA
unless otherwise noted.