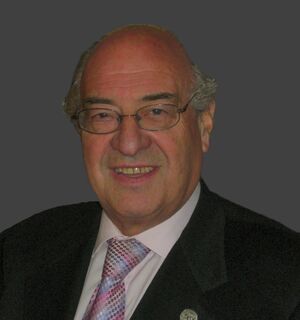 David Howard Adams (born 1943) is an English business and leadership coach specializing in the use of poetry with business entrepreneurs, a technique he pioneered. He has also helped develop several coaching techniques such as "the Box Process", "Disruptive Thinking/Disruptive Marketing", and "Issue Processing".[1]
Early career
Edit
Chartered accountant 1967[2]
Member of The London Stock Exchange 1973
Chief executive of Henry Cooke Lumsden 1986
Review of Alternative Investment Market 1996[2]
Current career
Edit
Adams is a group chairman of Vistage International, a organization specializing in leadership development. [2]
He was inspired to start examining the effect of poetry after receiving a poem his daughter wrote him for his birthday which he said "knocked me out" . This, along with hearing David Whyte, helped him rediscover an ability to write. Writing made him recognize the power of the poetic form, in particular the way poetry encapsulates massive and influential ideas in the most succinct of manners.
Adams ensures that his groups remain open by never inviting anybody's competitors or suppliers to the workshops.
Adams has also worked at bridging the gap between British and American entrepreneurs and in the process he has recognized the similarities and differences between the cultures. This has been brought out by the kinds of poetry written.
Despite being one himself, Adams says that Chartered Accountants are unlikely to make good Chief Executive Officers:
The skill set is quite, quite different, the mindset, the attitude is different, the focus is different. I would say it's more the entrepreneurial side that's important [for a CEO], where creativity and innovation are required. Without making too many generalizations, the role of the CFO is not to be innovative in that sense, except where you're talking about financial engineering. The job of the CEO is to be far more of a people person and while many accountants are people persons, many are not, which is disappointing.[2]
References
Edit
External links
Edit
Community content is available under
CC-BY-SA
unless otherwise noted.