David Bates
Born
March 6, 1809
Indian Hill, Ohio
Died
January 25, 1870 (aged 60)
Occupation
buyer
Nationality
American
Citizenship
U.S.
Children
Stockton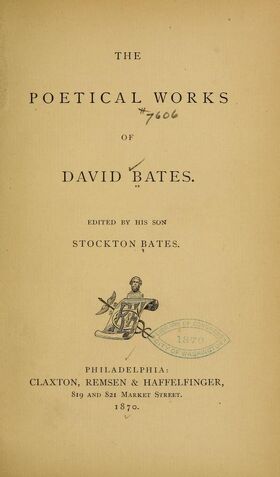 David Bates (March 6, 1809 - January 25, 1870) was an American poet.[1] A successful merchant, he was sometimes referred to as the "Broker Poet".[2]
Bates was born at Indian Hill, Ohio. He began working as a clerk in Buffalo, New York. Later he went to work in a mercantile house in Indianapolis, Indiana, eventually becoming the buyer and a full member of the company, and settling in Philadelphia with his family.[1]
Bates became a man of letters and contributed to journals. In 1849 he published a volume of poetry, Eolian.[1]
Recognition
Edit
His son Stockton, who published his father's collected works after his death, wrote that "Two of his poems, `Speak Gently,' and `Childhood,' have attained a world-wide reputation; while the former of these, by translation into other languages, has become almost a universal hymn" (Poetical Works [Philadelphia, 1870]: vii).[1]
"Speak Gently" gained even more fame after Lewis Carroll parodied it in Alice's Adventures in Wonderland.[1]
Stanza 3 of Bates's "Speak Gently" reads:
     Speak gently to the little child!
     Its love be sure to gain;
     Teach it in accents soft and mild: --
     It may not long remain.
While Carroll's begins:
     Speak roughly to your little boy,
     And beat him when he sneezes;
     He only does it to annoy,
     Because he knows it teases.
Publications
Edit
The Eolian. Philadelphia: Lindsay & Blakiston, 1849. [3]
Poetical Works (edited by Stockton Bates). Philadelphia: Claxton, Remsen, & Haffelfinger, 1870.[5]
References
Edit
↑ 1.0 1.1 1.2 1.3 1.4 "Notes on Life and Works," Selected Poetry of David Bates (1809-1870), Representative Poetry Online, UToronto.ca, Web, June 8, 2011.
↑ David Bates, Ebsco Host Connection. Web, Ebsco Publishing. Web, July 2, 2013.
↑ The Eolian (1849), Internet Archive, Web, Jan. 27, 2013.
↑ Poems (1853), Internet Archive, Web, Jan. 27, 2013.
↑ "Speak Gently," Representative Poetry Online, University of Toronto. UToronto.ca, Web, Jan. 27, 2013.
External links
Edit
This is a signed article by User:George Dance. It may be edited for spelling errors or typos, but not for substantive content except by its author. If you have created a user name and verified your identity, provided you have set forth your credentials on your user page, you can add comments to the bottom of this article as peer review.
Community content is available under
CC-BY-SA
unless otherwise noted.