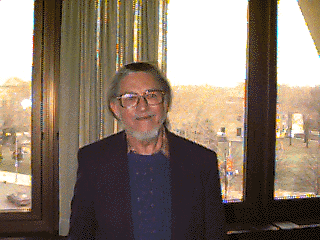 Dennis Vincent Brutus (28 November 1924 - 26 December 2009) was a South African poet , journalist, activist, and educator, best known for his campaign to have apartheid South Africa banned from the Olympic Games.
Born in Harare, Zimbabwe (then Salisbury, Southern Rhodesia) to South African parents, Brutus was of African, French and Italian ancestry. His parents moved back home to Port Elizabeth when he was 4, and young Brutus was classified under South Africa's apartheid racial code as "colored."[1] Brutus was a graduate of the University of Fort Hare and the University of the Witwatersrand, and he served on the faculty of the University of Denver, Northwestern University[2][3][4] and University of Pittsburgh;[1] he was a Professor Emeritus from the last institution.[5] In 2008, Brutus was awarded the Lifetime Honourary Award by the South African Department of Arts and Culture for his lifelong dedication to African and world poetry and literary arts[6]
Brutus was an activist against the apartheid government of South Africa in the 1960s. He learned politics in the Trotskyist movement of the Eastern Cape.[7]
Although not an accomplished athlete in his own right, he was motivated by the unfairness of selections for athletic teams.He joined the Anti-Coloured Affairs Department organisation (Anti-CAD), a Trotskyist group that organised against the Coloured Affairs Department which was an attempt by the government to institutionalise divisions between blacks and coloureds.
Arrest and jail
Edit
Brutus was arrested in 1960 for breaking the terms of his "banning," which were he could not meet with more than two people outside his family, and convicted to 18 months in jail. However, he "jumped bail and fled to Mozambique, where Portuguese secret police arrested him and returned him to South Africa. There, while trying to escape, he was shot in the back at point-blank range. After only partly recovering from the wound, Brutus was sent Robben Island ... for 16 months, five in solitary." He was in the cell next to Nelson Mandela's. Brutus was in prison when news of the country's suspension from the 1964 Tokyo Olympics, for which he had campaigned, broke.[1]
Brutus was forbidden to teach, write and publish in South Africa. His first collection of poetry, Sirens, Knuckles and Boots, was published in Nigeria while he was in prison. The book received the Mbari Poetry Prize, awarded to a black poet of distinction, but Brutus turned it down on the grounds of its racial exclusivity.[8] He was the author of 14 books.[1]
Release from jail
Edit
After he was released, Brutus fled South Africa. He spent time in Britain, and in 1983, he won the right to stay in the United States as a political refugee, after a protracted legal struggle.[9][10] He continued to participate in protests against the apartheid government while teaching in the United States.[11] He was "unbanned" by the South African government in 1990.
Return to South Africa, poetry and activism
Edit
He returned to South Africa and was based at the University of KwaZulu-Natal where he often contributed to the annual Poetry Africa Festival hosted by the University and supported activism against neo-liberal policies in contemporary South Africa through working with NGOs. In December 2007, Brutus was to be inducted into the South African Sports Hall of Fame. At the induction ceremony, Brutus publicly turned down his nomination, stating, "It is incompatible to have those who championed racist sport alongside its genuine victims. It's time—indeed long past time—for sports truth, apologies and reconciliation." [12]
According to fellow writer Olu Oguibe, interim Director of the Institute for African American Studies at the University of Connecticut, "Brutus was arguably Africa's greatest and most influential modern poet after Leopold Sedar Senghor and Christopher Okigbo, certainly the most widely-read, and no doubt among the world's finest poets of all time. More than that, he was a fearless campaigner for justice, a relentless organizer, an incorrigible romantic, and a great humanist and teacher."
Brutus died of prostate cancer on 26 December 2009, at his home in Cape Town, South Africa.[3][4][13] He is survived by his wife, the former May Jaggers; two sisters; eight children including son Anthony; nine grandchildren; and four great-grandchildren.[1]
Publications
Edit
Sirens Knuckles, Boots: Poems. Ibadan, Nigeria: Mbari Productions, 1963.
Letters to Martha, and other poems from a South African prison. London & Nairobi: Heinemann, 1968.
Poems from Algiers. Austin, TX: African and Afro-American Studies and Research Centre, University of Texas at Austin, 1970.
A Simple Lust: Selected poems. London: Heinemann, 1973.
China Poems. Austin, TX: African and Afro-American Studies and Research Centre, University of Texas at Austin, 1975.
Strains. Austin, TX: Troubadour Press, 1975.
Stubborn Hope: New Poems and selections. Washington, DC: Three Continents Press, 1978; London: Heinemann, 1978.
Salutes and Censures. Enugu, Nigeria: Fourth Dimension, 1982.
Airs & Tributes. Camden, NJ: Whirlwind Press, 1989.
Still the Sirens. Sanda Fe, NM: Pennywhistle Press, 1993.
Remembering Soweto, ed. Lamont B. Steptoe (Whirlwind Press, 2004).
Leafdrift (edited by Lamont B. Steptoe). Camden, NJ: Whirlwind Press, 2005.
Non-fiction
Edit
The Dennis Brutus Tapes: Essays at autobiography (edited by Bernth Lindfors). Woodbridge, Suffolk, UK, & Rochester, NY: James Currey, 2011.
Collected editions
Edit
Poetry and Protest: A Dennis Brutus reader (edited by Lee Sustar & Aisha Karim). Scottsville, South Africa : University of KwaZulu-Natal Press, 2006.

Except where noted, bibliographical information courtesy WorldCat.[14]
References
Edit
↑ 1.0 1.1 1.2 1.3 1.4 "Dennis Brutus Dies at 85; Fought Apartheid With Sports" by Douglas Martin, The New York Times, January 2, 2010 (Jan. 3, 2009 p. A22 NY ed.). Retrieved 2010-01-03.
↑

Northwestern University Course Bulletin, 1982.

↑ 3.0 3.1 "Dennis Vincent Brutus, 1924–2009". mrzine.monthlyreview.org. http://mrzine.monthlyreview.org/brutus261209.html

. Retrieved 2009-12-26

.

 

↑ 4.0 4.1 "Dennis Brutus". Democracy Now!. http://www.democracynow.org/tags/dennis_brutus

. Retrieved 2009-12-26

.

 

↑ UP Web site contact page. Retrieved 2010-01-03.
↑ .Poetry and Protest: A Dennis Brutus Reader Publisher's page includes video of Brutus and a remembrance by Amy Goodman
↑

Biography at Southern Rain Poetry (see External links).

↑ "Black poet, an exile for 10 years, battles U.S. Deportation to Africa" by Dudley Clendenin, The New York Times, January 14, 1982. Retrieved 2010-01-03. One of a number of articles. The fight was extensively covered. This Times article and others only accessible with subscription, or by pay.
↑ "Dennis Brutus had earned a place in America" Letter to the editor by Anne Edwards, President, Authors Guild, The New York Times, January 31, 1982. Retrieved 2010-01-03. An illustration of the fight against extradition.
↑ Johnson, Tom. "Beyond Disinvestment: Campus Activists Broaden Boundaries". The Chicago Reporter. http://www.chicagoreporter.com/index.php/c/Cover_Stories/d/Beyond_Disinvestment:_Campus_Activists_Broaden_Boundarie

. Retrieved Dec. 26, 2009

.

 

↑ Philadelphia Weekly, 9 January 2008
↑ Martin, Jurek (January 2, 2010). "Poet, political prisoner and a campaigner to the end". www.ft.com. http://www.ft.com/cms/s/0/7edc02ba-f73d-11de-9fb5-00144feab49a.html

. Retrieved 2010-01-02

.

 

↑ Search results = au:Dennis Brutus, WorldCat, OCLC Online Computer Library Center Inc. Web, May 18, 2014.
External links
Edit
Poems
Audio / video
About
Etc.
Community content is available under
CC-BY-SA
unless otherwise noted.