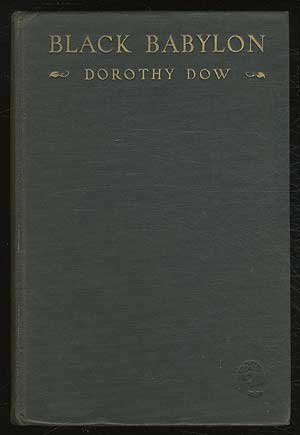 Dorothy Minerva Dow (1897-1989) was an American poet, playwright, and writer of fiction and non-fiction.[1]
Dow was born in 1897 in Lockport, Illinois , the daughter of Elizabeth (Gund) and John Dow. She began writing poems as a child.[1]
In the early 1920's she lived in Chicago, where she befriended Edgar Lee Masters and artist John Warner Norton, both of whom encouraged her poetry writing. She published her first collection, Black Babylon, in 1924, followed by Will-o-the-Wisp in 1925. In 1925 she married a physician, James E. Fitzgerald.[1]
In the 1930s and 1940s Dow's interests widened, and she wrote plays, novels, short stories, biographies and even a cookbook. The influence of Edgar Lee Masters still inspired her to continue to write poetry and they corresponded until his death. Although she continued to write a great deal of poetry throughout her life, she first found success as a writer of pulp fiction and newspaper articles and reviews.[1]
Dow's last published work was a novel in 1947. Her health continued to decline in her 60s, a time when she worked on a long biographical poem finally titled "Flowers of Time." Her later poems reflect her anger and sadness at the loss of her youthful activities and beauty.[1]
Sometime during the 1960s or 1970s, Dow had bound together typescripts of her most insightful and interesting writings: literary essays entitled titled The American Muse: An informal study of American letters, 1890-1947.[1]
Her husband died in 1969, and for the next 20 years she lived in various Chicago locations, continuing to write and to amass a large and impressive book collection.[1]
She died in Muscatine, Iowa, at the age of 91.[1]
Dow's later poems reflect her anger and sadness at the loss of her youthful activities and beauty.[1]
Publications
Edit
Black Babylon. New York: Boni & Liveright, 1924.
Will-o-the-Wisp. New York: Boni & Liveright, 1925.
Time and Love. New York: Liveright, 1942.
Sudden Morning. Garden City, NY: Doubleday / Country Life, 1947.
Non-fiction
Edit
Dark Glory (biography). New York, Farrar & Rinehart, 1931.

Except where noted, bibliographical information courtesy WorldCat.[2]
Poems by Dorothy Dow
Edit
References
Edit
↑ 1.0 1.1 1.2 1.3 1.4 1.5 1.6 1.7 1.8 Biography of Dorothy Dow, 1897-1989, Inventory of the Dorothy Dow Papers, 1920-1988, The Newberry. Web, June 12, 2015.
↑ Search results = au:Dorothy Dow, WorldCat, OCLC Online Computer Library Center Inc. Web, June 12, 2015.
External links
Edit
Poems
Etc.
This is a signed article by User:George Dance. It may be edited for spelling errors or typos, but not for substantive content except by its author. If you have created a user name and verified your identity, provided you have set forth your credentials on your user page, you can add comments to the bottom of this article as peer review.
Community content is available under
CC-BY-SA
unless otherwise noted.