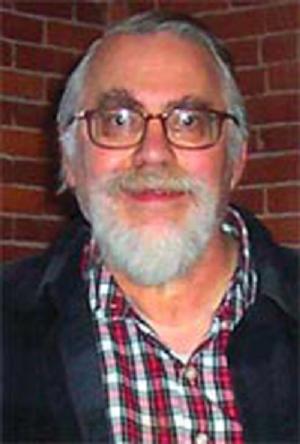 Duane Ackerson

Born
October 17, 1942
Died
April 19, 2020 (aged 77)
Salem, Oregon
Duane Ackerson (October 17, 1942 - April 19,2020) was an American poet and writer of speculative fiction.
Ackerson lived in Salem, Oregon. He was director of creative writing at Idaho State University and poet in residence at Willamette University in Salem. For 25 years he worked for the state of Oregon as a research analyst, writer/editor, and employment economist.[1]
Ackerson's work has appeared in Rolling Stone, The Christian Science Monitor, Yankee, Prairie Schooner, and Strange Horizons.[1] He has also been published in several anthologies including The Year's Best SF 1974, 100 Great Science Fiction Short Short Stories, Future Pastimes, and the textbook Writing Poetry. His poetry has been translated into Russian by Dmitry Kuzmin.[2]
He passed away on April 19, 2020 in Salem, Oregon, and is survived by his wife Cathy and daughter Elizabeth.[3]
Recognition
Edit
Ackerman received a National Endowment for the Arts creative writing fellowship, an NEA arts administration internship, and several Rhysling short poem awards from the Science Fiction Poetry Association.[1]
Publications
Edit
Poems About Hard Times. Pocatello, ID: Dragonfly Press, 1971.
Recycle this Poem: Poems on ecology. Pocatello, ID: Dragonfly Press, 1971.
UA Flight to Chicago. Lincoln, NE: Best Cellar Press, 1971.
Old Movie House. Pocatello, ID: Dragonfly Press; 1972.
Inventory: One line poems. San Franciso, CA: Hermes Free Press, 1972.
Weathering: Poems. Reno, NV: West Coast Poetry Review, 1973.
Rocket Candy: Speculative Poetry. Salem, OR: Dragonfly, 1977.
Wounds Filled With Light. Lewiston, ID: Dragonfly Press, 1978.
The Eggplant and Other Absurdities: Poems and prose poems. Lewiston, ID: Confluence Press, 1978.
The Bird at the End of the Universe (with Cathy Ackerman). Salem, OR: TM Press, 1997.
Blinded by the Light, Then the Dark. Spokane, WA: Ravenna Press, 2011.
Love and Less: A prose supplement containing two stories, one critical essay, two reviews and a prose poem (also a non-prose dedication) (with Fred Chappell). Pocatello, ID: Dragonfly, 1970.
The Lost Refrigerator, and other poems for children. Pocatello, ID: Dragonfly, 1974.
A Prose Poem Anthology. Pocatello, ID: Dragon Flying Press, 1970.
"But Is It Poetry?" An anthology of one line poems. Pocatello, ID: Dragonfly, 1970.

Except where noted, bibliographical information courtesy WorldCat.[4]
References
Edit
External links
Edit
Poems
Books
About
Community content is available under
CC-BY-SA
unless otherwise noted.