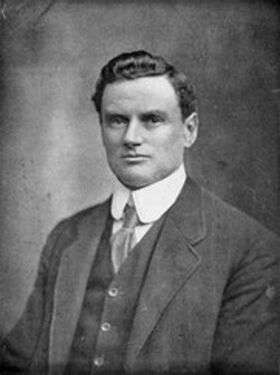 Edwin James Brady (7 August 1869 – 22 August 1952) was an Australian poet.
.
Brady was born at Carcoar, New South Wales, and was educated both in the United States and at Sydney. He worked as a wharf clerk, a farmer, and journalist, and edited both rural and city newspapers.
He was a friend and correspondent of Sir Edmund Barton, the first Australian prime minister, and helped to save Henry Lawson's life in 1910.
He established a writers' and artists' colony at [[Mallacoota, Victoria, in 1909, and lived there until his death at the age of 83.
Publications
Edit
The Ways of Many Waters. Sydney: Bulletin, 1899; Melbourne: T.C. Lothian / London: Walter Scott, 1909.
The Earthen Floor. Grafton, NSW: Grip, 1902.
Bushland Ballads. Melbourne: Thomas C. Lothian, 1910.
Bells and Hobbles. Melbourne: George Robertson, 1911.
The House of the Winds. London: Harrap, 1919.
Wardens of the Seas: Poems. London: Endeavour Press, 1933.
Non-fiction
Edit
Sydney Harbour. Sydney: Builder Printing Works, 1903.
Sydney: The commercial capital of the Commonwealth. Sydney: Builder Printing Works, 1904.
River Rovers. Melbourne: George Robertson, 1911.
Picturesque Port Philip. Melbourne & Sydney: George Robertson, 1911.
The King's Caravan: Across Australia in a wagon. London: Edward Arnold, 1911.
Australia Unlimited. Melbourne: George Robertson, 1918.
The Land of the Sun. London: Edward Arnold, 1924.
The Overlander: Prince's highway. Melbourne: Ramsay, 1926.
Two Frontiers. Sydney: Frank Johnson, 1944.
Tom Pagdin, Pirate. Sydney: NSW Bookstall, 1911.

Except where noted, bibliographical information courtesy WorldCat.[1]
References
Edit
External links
Edit
Poems
About
E.J. Brady in the Oxford Companion to Australian Literature].
Community content is available under
CC-BY-SA
unless otherwise noted.