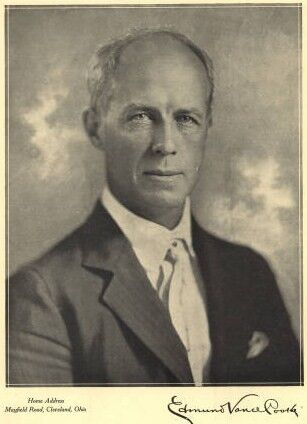 Edmund Vance Cooke (June 5, 1866 - December 18, 1932) was a Canadian poet. He has been called the "Poet laureate of childhood." He was among the earliest poets to broadcast their poetry.[1]
Cooke was born in Port Dover, Ontario. At 13 or 14 he began working for the White Sewing Machine Co.[1]
In 1893 he became a self-employed poet. His debut collection of verse came out in 1894. At least 15 more would follow.[1]
He married Lilith Castleberry in 1898; the couple had 5 children.[2]
In 1920 Cooke began broadcasting his poetry on the new Detroit, Michigan, news radio station, WWJ.[1]
He died in Cleveland, Ohio, in 1932.[1]

Except where noted, bibliographical information courtesy the University of Toronto.[1]
↑ 1.0 1.1 1.2 1.3 1.4 1.5 Cooke, Edmund Vance (1866-1932), Representative Poetry Online, University of Toronto, UToronto.ca, Web, Nov. 18, 2011.
↑ Edmund Vance Cooke, AllPoetry. Web, Apr. 3, 2017.
Poems
Books
Audio / video
About
This is a signed article by User:George Dance. It may be edited for spelling errors or typos, but not for substantive content except by its author. If you have created a user name and verified your identity, provided you have set forth your credentials on your user page, you can add comments to the bottom of this article as peer review.
Community content is available under
CC-BY-SA
unless otherwise noted.