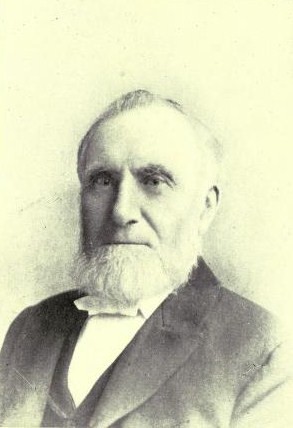 Rev. Edward Hartley Dewart (1828-1903) was a Canadian poet, teacher, clergyman, prose author, and editor.[1]
Dewart was born in Stradone, Ireland, and came to Canada with his parents in 1834. the family settling in Peteborough county, Upper Canada (now Ontario). He was educated at the Normal School in Toronto.[1]
He then taught in Dunnville, Ontario, and also began teaching at the Wesleyan Methodist Sunday school and lectured on behalf of the Sons of Temperance. After Methodist officials asked him to become a local preacher, Dewart spent 4 years on probation until in June 1855 being ordained in London into the Methodist church in June 1855.[1]
Dewart became editor of Canada's Methodist paper, the Christian Guardian, in 1869. He was elected president of the Ontario branch of the temperance movement Dominion Alliance in 1869, and of the Toronto conference of the Wesleyan Methodist Church of Canada in 1871. He convened a number of meetings between members of the country's Methodist church committees, which contributed to the founding of the Methodist Church of Canada in 1874.[1]
In 1894 he was removed as editor of the Christian Guardian. He ran for the Liberal Party in Toronto North in the provincial election of 1898, but lost to the Conservative candidate. He died in 1903 in Toronto.[1]
The verse that Dewart wrote and collected was either devotional or about the majesty of the Canadian wilderness. As his responsibilities in the church grew he was able to dedicate less and less effort to poetry. In his later years, though, he would help to select hymns for the new Canadian Methodist hymn and tune book (Toronto, 1894), and 3 of his own compositions would be included.
Selections from Canadian PoetsEdit
Main article: Selections from Canadian Poets''
His most noteworthy literary accomplishment was the 1864 anthology Selections from Canadian poets. In that book's introduction he lamented the "coldness and indifference" with which Canadians regarded their own literature. He defined the Canadian cultural dilemma by pointing out "that the tendency to sectionalism and disintegration, which is the political weakness of Canada, meets no counterpoise in the literature of the country."[1]
Publications
Edit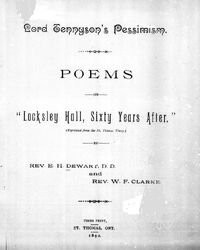 Non-fiction
Edit

Except where noted, bibliographical information courtesy WorldCat[3]
References
Edit
↑ 1.0 1.1 1.2 1.3 1.4 1.5 David B. Marshall, "Dewart, Edward Hartley," Dictionary of Canadian Biography, volume 13, University of Toronto/Université Laval, 2003–. Web, Oct. 12, 2013.
↑ What is Arminianism: With a brief sketch of Arminius (1879), Internet Archive. Web, Oct. 12, 2013.
↑ Search results = au:Edward Hartley Dewart, WorldCat, OCLC Online Computer Library Center Inc. Web, Oct. 12, 2013.
External links
Edit
About
This is a signed article by User:George Dance. It may be edited for spelling errors or typos, but not for substantive content except by its author. If you have created a user name and verified your identity, provided you have set forth your credentials on your user page, you can add comments to the bottom of this article as peer review.
Community content is available under
CC-BY-SA
unless otherwise noted.