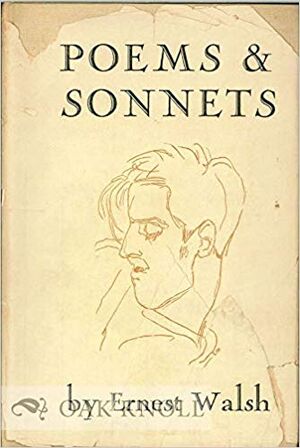 Ernest Walsh (1895 - October 1926) was an expatriate American poet and magazine editor.
Walsh was born in Detroit, Michigan, but grew up in Cuba, where his father, James Walsh, worked as a coffee and tea wholesaler. After the family returned to Detroit, James Walsh died; Ernest Walsh subsequently ran away from home, at age 14.[1]
He was diagnosed with tuberculosis at 17, and spent 2 years in a sanatorium at Lake Saranac, New York. After being discharged, supposedly cured, he wandered the United States looking for jobs. He enlisted in the U.S. Army in 1917 as an air cadet. He was injured, suffering lung damage, when a plane he was piloting during a Texas training flight crashed.[1]
In 1922 Walsh moved to Paris, hoping to join the literary scene. His funds soon ran out, leaving him penniless, sick, and exhausted in one of the city's finest hotels. He was rescued by Ezra Pound, who paid his debt. Pound introduced Walsh to Scottish poet and artist Ethel Moorhead, who became his patron. Walsh and Moorhead founded and edited This Quarter, a literary magazine based in Paris, which published original work by Pound and James Joyce.[2]
Walsh later became romantically involved with American poet Kay Boyle, who also collaborated on This Quarter. Walsh and Boyle moved to the Riviera for his health. He died there of tuberculosis.[2]
Sylvia Beach said of him:
(Walsh) knew he had but a few months to live and he had decided to come to Paris to spend the time remaining to him among the writers he admired. He dreamed of making a name for himself as a poet, which was more difficult. There was something very fine about Ernest Walsh; he was alive and he was heroic.[2]
Publications
Edit
Poems and Sonnets. New York: Harcourt Brace, 1934.
Non-fiction
Edit
Ernest Hemingway. Milan: 1925.
This Quarter (Literary magazine). Paris: Edward Titus, 1925;

New York: Kraus Reprint, 1967.

Except where noted, bibliographical information courtesy WorldCat.[3]
Poems by Ernest Walsh
Edit
References
Edit
↑ 1.0 1.1 Ernest Walsh biography, Dictionary of Literary Biography. Web, Aug. 12, 2015.
↑ 2.0 2.1 2.2 "Ernest Walsh 1922," Dave Miller, Flickr. Web, Aug. 12, 2015.
↑ Search results = au:Ernest Walsh, WorldCat, OCLC Online Computer Library Center Inc. Web, Aug. 12, 2015.
External links
Edit
Poems
This is a signed article by User:George Dance. It may be edited for spelling errors or typos, but not for substantive content except by its author. If you have created a user name and verified your identity, provided you have set forth your credentials on your user page, you can add comments to the bottom of this article as peer review.
Community content is available under
CC-BY-SA
unless otherwise noted.