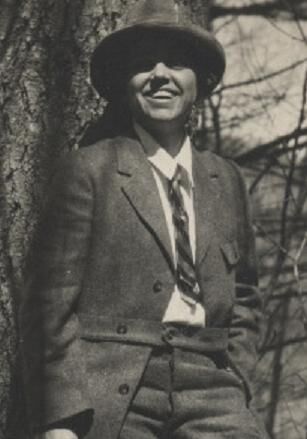 Florence Ripley Mastin (1886-1968) was an American poet[1] and teacher.
Mastin was born in Wayne, Pennsylvania.[1] Her family moved when she was young to Piermont, New York, where she grew up. She first published a poem ("The Hudson River") in the Nyack Star at the age of 14. She graduated from Tappan Zee College (where she wrote the graduating class poem) in 1903.[2]
She earned a B.A. from Barnard College. She then spent many years teaching English at Erasmus Hall High School in Brooklyn, New York City. Her students included Bernard Malamud, who described her class as "unusually exciting."[3]
Her poems were published in national newspapers and literary magazines like the Saturday Review, the New York Times,[2] Poetry,and the New York Herald-Tribune.[3]
She retired in 1952 and returned to Piermont, where she died in 1968.[3]
The New York State Commission on Historic Observances chose her poem "Freedom's Dream" for the 350th Hudson-Champlain Celebration in 1959. The poem was also awarded the Freedom Foundation Medal in 1959.[2]
Green Leaves. New York: J.T. White, 1918.
Cables of Cobweb. New York: H. Harrison, 1935.
Freedom's Dream. Albany, NY: New York State Commission on Historic Observances, 1960.
Over the Tappan Zee, and other poems. New York: Fine Editions Press, 1962.
Across time's fence: Portraits of old Rockland County. Syracuse, NY: Special Collections Dept., Syracuse University Library, 1969.

Except where noted, bibliographical information courtesy WorldCat.[4]
Poems
Books
This is a signed article by User:George Dance. It may be edited for spelling errors or typos, but not for substantive content except by its author. If you have created a user name and verified your identity, provided you have set forth your credentials on your user page, you can add comments to the bottom of this article as peer review.
Community content is available under
CC-BY-SA
unless otherwise noted.