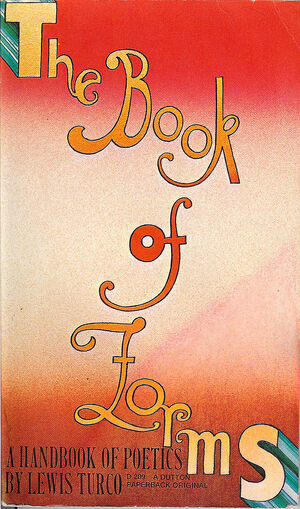 'Formalism' in poetry refers to poetry written in verse, with meter and often with end rhyme (although blank verse is normally also considered formal verse). The term 'neo-formalist' or 'new formalist' is sometimes used.to distinguish modern formalist verse from traditional poetry.
Before the 20th century, almost all of English-language poetry was written in meter; the only sharp distinction in form was between rhymed formal verse and unrhymed formal verse, and many poets (such as Shakespeare and Milton) were equally skillful in both. It makes little sense to use the term "formalist" in relation to poetry of those days, since – with a few exceptions, like William Blake and Christopher Smart, who were widely seen as eccentrics – everyone was a formalist. It is only with the rise of modernist poetry, in the early decades of the 20th century, that "formalism" becomes a relevant term that reflects a real difference.
Formalist poets
Edit
American formalist poets
Edit
New Formalists
Edit
Australian formalist poets
Edit
British formalist poets
Edit
Canadian formalist poets
Edit
Formalist anthologies
Edit
See also
Edit
External links
Edit
This is a signed article by User:George Dance. It may be edited for spelling errors or typos, but not for substantive content except by its author. If you have created a user name and verified your identity, provided you have set forth your credentials on your user page, you can add comments to the bottom of this article as peer review.
Community content is available under
CC-BY-SA
unless otherwise noted.