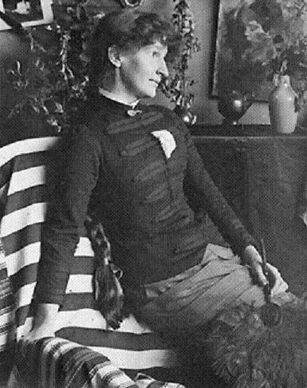 Frances Maria Jones Bannerman (April 8, 1855 - 1940) was a Canadian poet and artist.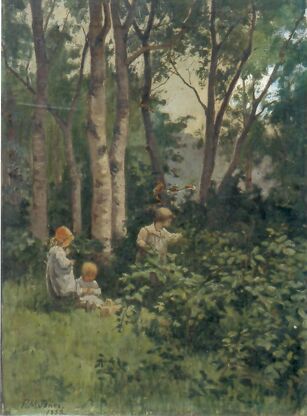 Bannerman was born Frances Maria Jones in Halifax, Nova Scotia, the daughter of Margaret Wiseman (Stairs) (1826-1875) and Lieutenant-Governor Arthur Gilpin Jones (1824-1906).[1]
Bannerman studied art in Halifax with Forshaw Day, and in Paris with Auguste Feyen-Perrin and Edouard Krug. She was one of the earliest North Americans to incorporate aspects of Impressionism into her paintings. "Le Jardin d'hiver," a submission of hers to the 1883 Paris Salon, is the 1st Canadian subject ever to be shown in that venue.[2]
Through her career, she also exhibited her work at the Royal Canadian Academy (1881- 83), the Royal Society of British Artists (1883-86,1889-90), the Royal Academy (1885, 1888-91) and the Walker Art Gallery, Liverpool (1885, 1888-91).
She maintained a studio (in Pont-Aven), and sold graphic work to illustrated London magazines.[2]
In 1886 she married English painter Hamlet Bannerman, and moved with him to England.
Arthritis and recurring influenza forced her to give up painting, and after her husband's death in 1895 she turned to poetry. A collection of her verses, Milestones, was published in 1899.[3]
In 1901 she moved to Italy, where she lived until the outbreak of World War II. She returned to England, dying at Torquay. Devon.[3]
Recognition
Edit
Bannerman was the 1st woman to be elected an Associate of the Royal Canadian Academy (1882), following the charter membership of Charlotte Schreiber.[2]
Her best-known poem is "An Upper Chamber", which is included in the Oxford Book of English Verse, 1250-1900.[4]
Publications
Edit
Moira Dianne O'Neill & Caroline Stone, Two Artists Time Forgot: Frances Jones (Bannerman) and Margaret Campbell Macpherson. Halifax: Art Gallery of Nova Scotia, 2006.

Except where noted, bibliographical information courtesy WorldCat.[5]
See also
Edit
References
Edit
External links
Edit
Poems
About
Community content is available under
CC-BY-SA
unless otherwise noted.