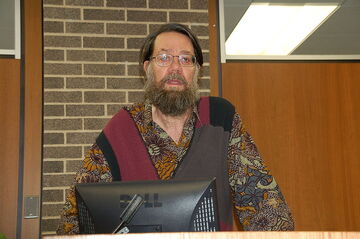 Franklin Rosemont (October 2, 1943 - April 12, 2009) was a American poet, artist, historian, and street speaker, who co-founded the Chicago Surrealist Group.[1]
Over 4 decades, Franklin produced a body of work, of declarations, manifestos, poetry, collage, hidden histories, and other interventions intended to inspire a new generation of revolution, and became arguably "the most productive scholar of labor and the left in the United States."[2]
Rosemont was born in Chicago, Illinois, to father Henry, a labor activist, and mother Sally, a jazz musician.[3]
He edited and wrote an introduction for What is Surrealism?: Selected writings of Andre Breton, and edited Rebel Worker, Arsenal/Surrealist Subversion, The Rise & Fall of the DIL Pickle: Jazz-Age Chicago's Wildest & Most Outrageously Creative Hobohemian Nightspot and Juice Is Stranger Than Friction: Selected Writings of T-Bone Slim.
With his wife, Penelope Rosemont, and Paul Garon he edited The Forecast is Hot!. He also edited and introduced Hobohemia: Emma Goldman, Lucy Parsons, Ben Reitman & other agitators & outsiders in 1920s/30s Chicago, by Frank O. Beck.[4]
His work has been deeply concerned with both the history of surrealism (writing a forward for Max Ernst and Alchemy: A Magician in Search of Myth) and of the radical labor movement in America, for instance, writing a biography of Joe Hill.
Publications
Edit
Non-fiction
Edit

Except where noted, bibliographical information courtesy WorldCat.[5]
References
Edit
External links
Edit
Prose
Books
About
Etc.
Community content is available under
CC-BY-SA
unless otherwise noted.