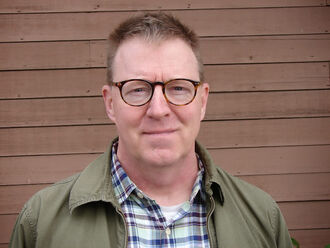 George Albon (born 1954) is an American poet.[1]
Albon was born in Du Quoin, Illinois, and grew up in St. Louis, Missouri. He earned a B.A. in film theory from Southern Illinois University.[1]
His poetry has been anthologized in The Gertrude Stein Awards in Innovative Poetry (2005, edited by Douglas Messerli); Bay Poetics (2006, edited by Stephanie Young); and Blood and Tears: Poems for Matthew Shepard (1999, edited by Scott Gibson).[1]
He has lived for more than 20 years in San Francisco.[2]
Recognition
Edit
His essay "The Paradise of Meaning" was the George Oppen Memorial Lecture for 2002.[2] His 2003 collection Brief Capital Disturbances was named Book of the Year by the Small Press Traffic literary foundation.[1] He was awarded the PIP - Gertrude Stein Award for Innovative Poetry, 2005-2006.[2]
Publications
Edit
Possible Floor. San Francisco: e.g. press, 1990.
King. Buffalo, NY: Meow Press, 1994.
Empire Life. Los Angeles: Littoral Books, 1998.
Transit Rock. Sausalito, CA: Duration Press, 1999.
Thousands Count Out Loud. San Francisco: Lyric & Press, 2000.
Reading Pole. Los Angeles: Seeing Eye Books, 2000.
Brief Capital of Disturbances. Richmond, CA: Omnidawn, 2003.
Step. Sausalito, CA: Post-Apollo Press, 2006.
Momentary Songs: they that are delivered from the noise of the archers. San Francisco, CA : Krupskaya, 2008.
Ryman Room. San Francisco: Albion Books, 2011.
A Small Sill. San Francisco: Sardines Books, 2012.
Fire Break. Callicoon, NY: Nightboat Books, 2013.
Aspiration. Richmond, CA: Omnidawn, 2013.

Except where noted, bibliographical information courtesy WorldCat..[3]
References
Edit
↑ 1.0 1.1 1.2 1.3 George Albon b. 1954, Poetry Foundation, Web, Feb. 19, 2012.
↑ 2.0 2.1 2.2 George Albon, The PIP (Project for Innovative Poetry) Blog, June 14, 2010, Blogspot, Web, Feb. 19, 2012.
↑ Search results = au:George Albon, WorldCat, OCLC Online Computer Library Center Inc. Web, Aug. 22, 2015.
External links
Edit
Poems
George Albion profile & poem ("I Had") at the PIP (Project for Innovative Poetry) Blog
The PIP Blog.
Audio / video
Books
About
This is a signed article by User:George Dance. It may be edited for spelling errors or typos, but not for substantive content except by its author. If you have created a user name and verified your identity, provided you have set forth your credentials on your user page, you can add comments to the bottom of this article as peer review.
Community content is available under
CC-BY-SA
unless otherwise noted.