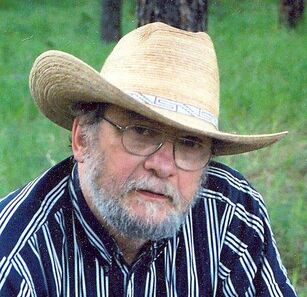 George Amabile (born May 29, 1936) is a Canadian poet.[1]
Amabile was born in Jersey City, New Jersey. He earned an A.B. with honors from from Amherst College; an M.A. from the University of Minnesota; and a Ph.D. in English literature from the University of Connecticut.[1]
He lives in Winnipeg, Manitoba. He was writer in residence at the Winnipeg Public Library from October 2000 to April 2001.[2]
His poetry has been published internationally in over 100 magazines and anthologies, including The New Yorker, Harper's, Poetry, Poetry Australia, and Canadian Literature. He edited seminal Manitoba literary magazines The Far Point and Northern Light.[3]
Recognition
Edit
Amabile won the Canadian Authors Association Silver Medal for Poetry for his 1982 book, The Presence of Fire.[2]
His long poem, Dur, placed 3rd in the 1991 CBC Literary Competition for 1991.[2]
His poem "Popular Crime" won first prize in the Sidney Booktown International Poetry Contest in February 2000; also that year, he was the subject of a special issue of Prairie Fire (21:1, May 2000).[2]
His poetry has been anthologized in the Penguin Book of Canadian Verse.
Publications
Edit
Blood Ties. Port Clements, BC: Sono Nis Press, 1972.
Open Country. Winnipeg: Turnstone Press, 1976.
Flower and Song (in Xochitl, in Cuicatl). Ottawa: Borealis Press, 1977. ISBN 0-919594-63-8
Ideas of Shelter. Winnipeg, MB: The Turnstone Press, 1981. ISBN 0-88801-054-0
The Presence of Fire. Toronto: McClelland and Stewart, 1982. ISBN 0-7710-0735-3
Four of a Kind. Winnipeg, MB: Pachyderm Press, 1994.
Rumours of Paradise/Rumours of War. Toronto: McClelland and Stewart, 1995. ISBN 0-7710-0736-1
Tasting the Dark. Winnipeg, MB: Muses Company (imprint of J. Gordon Shillingford Publishing), 2001. ISBN 1-896239-77-3
Dancing, with Mirrors. Erin, ON: The Porcupine's Quill, 2011.
Small Change. Vancouver, BC: Libros Libertad, 2011.
Draque Drecc (Gideon Etorolopiaq), Iliarjuk" An Inuit Memoire. Vancouver, BC: Libros Libertad, 2007.

Except where noted, bibliographical information courtesy the League of Canadian Poets[1]
See also
Edit
References
Edit
↑ 1.0 1.1 1.2 "George Amabile," Poets.ca, Leagueof Canadian Poets. Web, Jan. 27, 2013.
↑ 2.0 2.1 2.2 2.3 "George Amabile: Poetry Picture Bio", TheHypertexts.com, Web, Sep. 28, 2011
↑ Notes, Four poems by George Amabile, Winnipeg Review, February 28, 2011. Web, Mar. 27, 2017.
External links
Edit
Poems
Books
About
This is a signed article by User:George Dance. It may be edited for spelling errors or typos, but not for substantive content except by its author. If you have created a user name and verified your identity, provided you have set forth your credentials on your user page, you can add comments to the bottom of this article as peer review.
Community content is available under
CC-BY-SA
unless otherwise noted.