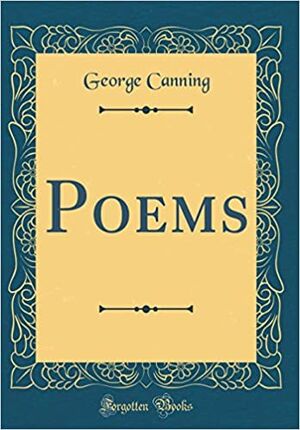 George Canning the elder (1736-1771) was an English poet.[1]
Canning was the eldest of 3 brothers, sons of Stratford Canning of Garvagh (1703-1775). His family, which claimed descent from William Canynges of Bristol, was for a time seated at Bishops Canning in Wiltshire, and later at Foxcote in Warwickshire.[2] In 1618 a George Canning, son of Richard Canning of Foxcote, received a grant of the manor of Garvagh in Londonderry, Ireland, from King James I.[3]
Canning quarrelled with his father and was disinherited.[3] "According to one report" mentioned in the Dictionary of National Biography, he "was disinherited by his father in consequence, it seems, of some early attachment of which the family disapproved."[2] However, Wikipedia says that he "renounced his right to inherit the family estate in exchange for payment of his substantial debts."[4]
He came to London in 1757 with an allowance of £150 a year.[2] For a time he worked unsuccessfully as a wine merchant.[4] He also wrote for the London papers.[2]
He was called to the bar in 1764,[2] but failed as a lawyer.[4]
He published a translation of the Anti-Lucretius in 1766 and a collection of poems in 1767.[2]
In May 1768 he married Mary Annie Costello,[3] a young lady of great beauty, but without any fortune. A son, also named George, was born on 11 April 1770.[2] Wikipedia reports that he "eventually abandoned the family."[4] However, according to the Britannica: "Sinking under the burden of supporting himself and his family, he died of a broken heart 11 April 1771."[2]
Canning's son, George Canning (1770-1827), became a Tory politican who held various senior cabinet positions under numerous prime ministers, before serving himself as Prime Minister for the final 118 days of his life, from April to August 1827.[4]
His 2nd brother, Paul (who inherited the father's estate), had a son George (1778-1840), created baron Garvagh of Londonderry in the Irish peerage in 1818. The youngest, Stratford, was a banker in London, and the father of Lord Stratford de Redcliffe [see Canning, Stratford].[2]
Recognition
Edit
2 of Canning's poems appeared in George Pearch's Collection of Poems in Four Volumes; by several hands, 1770.[1]
Publications
Edit
Poems. London: J. Dodsley, 1767.
Non-fiction
Edit
An Appeal to the Publick; from the malicious misrepresentations, impudent falsifications, and unjust decisions, of the anonymous fabricators of the Critical Review. London: J. Dodsley, 1767.
Translated
Edit
Melchior de Polignac, A Translation of Anti-Lucretius. London: privately published, 1766.

Except where noted, bibliographical information courtesy WorldCat.[5]
See also
Edit
References
Edit
 Kebbel, Thomas Edward (1885–1900) "Canning, George" Dictionary of National Biography London: Smith, Elder, pp. 420-431

 

. Wikisource, Web, Apr. 2, 2020.
 Chisholm, Hugh, ed (1911). "Canning, George". Encyclopædia Britannica. 5 (11th ed.). Cambridge University Press. pp. 186-188.

 

Wikisource, Web, Apr. 2, 2020.
↑ 1.0 1.1 George Canning, Eighteenth-Century Poetry Archive. Web, Apr. 2, 2020.
↑ 4.0 4.1 4.2 4.3 4.4 George Canning, Wikipedia, March 1, 2020, Wikimedia Foundation. Web, Apr. 2, 2020.
↑ Search results = poems + au:George Canning, WorldCat, OCLC Online Computer Library Center, Apr. 2, 2020.
External links
Edit
Poems
About
Community content is available under
CC-BY-SA
unless otherwise noted.