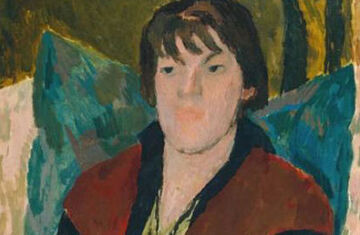 Helen Dudley was an American poet.
Dudley was the daughter of E. Clark Dudley (1850-1928), a Chicago surgeon and a professor at Northwestern University. She graduated from Bryn Mawr college and then studied at the University of Oxford.[1]
Helen and her sister, Dorothy Dudley, were part of the Chicago literary set around Harriet Monroe, the editor of Poetry: A magazine of verse.[2] The sisters were "were famous in Chicago's literary circles for their wit, exuberance, and talent," says the Poetry Foundation. Both published verse in the first issue of Poetry.[3]
In 1914 Helen Dudley began an affair with English philosopher Bertrand Russell, who was lecturing in the United States. Russell proposed to her, and asked her to join him in England. However, when Russell returned to England, he resumed his affair with Lady Ottoline Merrell. "When Helen arrived in England with suitcases full of pretty clothes she fondly imagined to be her trousseau, he refused to see her." Russell did, somewhat tactlessly, find Helen a place to stay – with Morrell. Dudley told Morrell about the relationship, and showed her Russell's letters, which caused that relationship to cool as well.[4]
The end of the affair with Russell was a shock from which Dudley apparently never recovered.[3] She returned to America, amid fears that she might commit suicide. She developed an illness, becoming paralyzed and then insane. "I broke her heart," Russell wrote of her in his autobiography.[5]
Recognition
Edit
Her portrait, by English artist Vanessa Bell, is in the Tate Gallery in London.[3]
Poems by Helen Dudley
Edit
References
Edit
External links
Edit
Poems
Books
This is a signed article by User:George Dance. It may be edited for spelling errors or typos, but not for substantive content except by its author. If you have created a user name and verified your identity, provided you have set forth your credentials on your user page, you can add comments to the bottom of this article as peer review.
Community content is available under
CC-BY-SA
unless otherwise noted.