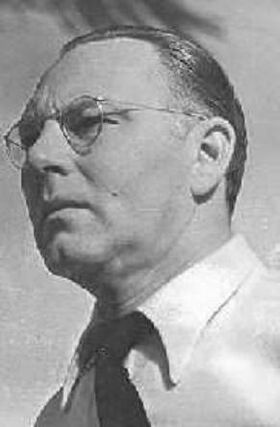 William Hervey Allen (December 8, 1889 - December 28, 1949) was an American poet and novelist.
Allen was born in Pittsburgh, Pennsylvania. He attended the University of Pittsburgh, where he became a member of the Sigma Chi fraternity, graduating in 1915.[1]
He served as a Lieutenant in the 28th (Keystone) Division, United States Army during World War I, and fought in the Aisne-Marne offensive, July–August 1918. He wrote Toward the Flame (1926), a nonfictional account of his experiences in the war.[2]
For a period of time, Allen taught at the Porter Military Academy in Charleston, South Carolina. He also taught English at Charleston High School which at that time, although public, was only for boys. (The girls went to Memminger.) There he met and befriended DuBose Heyward. He later was a professor at Vassar University, where he met his wife, Ann "Annette" Andrews. They had three children, Marcia, Mary Ann and Richard.
In the 1940s he co-edited the Rivers of America Series with Carl Carmer. Allen was a good friend of Marjory Stoneman Douglas and instigated her writing The Everglades: River of grass.[3] Allen was close friends with Robert Frost and Ogden Nash.
Allen died at his home, "the Glades," in Coconut Grove, Florida,[2] aged 60, from a heart attack while in the shower, and was found by his wife Annette.
Allen is best known for his historical novel, Anthony Adverse.
He also planned a series of novels about colonial America called The Disinherited. He completed three works in the series: The Forest and the Fort (1943), Bedford Village (1944), and Toward the Morning (1948). The novels tell the story of Salathiel Albine, a frontiersman kidnapped as a boy by Shawnee Indians in the 1750s. All three works were collected and published as the City in the Dawn.
Allen also wrote Israfel (1926), a biography of American writer Edgar Allan Poe.
Publications
Edit
Ballads of the Border. El Paso, TX: privately published, 1916.[4]
Wampum and Old Gold. New York: Yale University Press, 1921; London: Humphrey Milford / Oxford University Press, 1921.
The Bride of Huitzil: An Aztec legend. New York: James F. Drake, 1922.
Carolina Chansons: Legends of the low country (with DuBose Heyward). New York: [[Macmillan Publishers (United States)|Macmillan, 1922.
Earth Moods, and other poems. New York & London: Harper, 1925.
Songs for Annette. New York: William Edwin Rudge, 1929.
New Legends: Poems. New York: Farrar & Rinehart, 1933.
Sarah Simon: Character Atlantean (long poem). Garden City, NY: Doubleday Doran, 1929.
Anthony Adverse. New York: Farrar & Rinehart, 1933. Volume I, Volume II, Volume III
The Forest and the Fort. New York: Farrar & Rinehart, 1943.
Bedford Village. New York: Farrar & Rinehart, 1944.
Toward the Morning. New York & Toronto: Rinehart, 1948; London: Heinemann, 1949.
The City in the Dawn. New York & Toronto: Rinehart, 1950
Short fiction
Edit
It Was Like This: Two stories of the great war (illustrated by Lyle Justis). New York & Toronto: Farrar & Rinehart, 1940.
Non-fiction
Edit
'Toward the Flame: A war diary (illustrated by Lyle Justis). New York: Doran, 1926; Pittsburgh, PA: University of Pittsburgh Press, 1968; Lincoln, NE: University of Nebraska Press, 2003.
Israfel: The life and times of Edgar Allan Poe. New York: Doran, 1926; London: Brentano's, 1926; New York: Farrar & Rinehart, 1934.
DuBose Heyward: A critical and biographical sketch. New York: Doran, 1927.

Except where noted, bibliographical information courtesy WorldCat.[5]
References
Edit
Hervey Allen Papers [1](Hervey Allen Papers, 1831-1965, SC.1952.01, Special Collections Department, University of Pittsburgh)
External links
Edit
Poems
Books
About
Community content is available under
CC-BY-SA
unless otherwise noted.