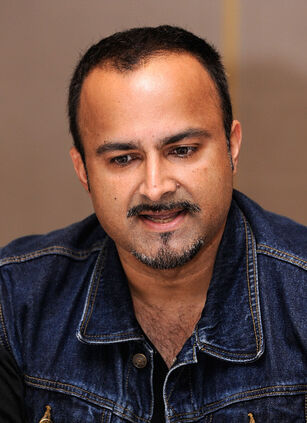 Ian Iqbal Rashid (born 1971) is a Tanzanian-born Canadian / English poet, screenwriter, and filmmaker.
Rashid was born in Dar es Salaam, Tanzania.
In his early childhood, his family were forced to leave Tanzania. After failing to secure asylum in the United Kingdom and United States, they settled in Canada.
In the early 1990s, Rashid began dividing his time between Canada and England, and settled in Bristol, England, by the end of the decade.[1] He lives in London, England with his partner, the writer and curator Peter Ride.
Self-taught as a film-maker, Rashid began his career in the late 90's, working as a writer in UK television. His credits include the soap, London Bridge (Carlton Television for ITV) and the cult hit BBC2 series This Life for which he received the Writer's Guild of England award. Rashid has written 2 award-winning short films, Surviving Sabu (1999, Arts Council of England) and Stag (2001, BBC Films).
He wrote and read his short story Muscular Bridges for BBC Radio 4's HMS Windrush Anniversary. For BBC's Woman's Hour Programme, Rashid wrote and directed Leaving Normal, a comedy serial about gay adoption starring Imelda Staunton and Meera Syal.[2]
Touch of Pink, his debut feature film, spent 12 years in development.[3] In 2003 he finally had the chance to direct the project as a Canada-UK co-production. It premiered at the 2004 Sundance Film Festival to great acclaim,[4] a bidding war, and eventually, a sale to Sony Picture Classics.
How She Move received a similar reception at Sundance Film Festival. Directed by Rashid in 2006/7, the film is set in the world of step dancing. It was nominated for a Sundance World Cinema Grand Jury Prize and purchased by Paramount Vantage. The film opened to great reviews [5][6][7] and strong box office: another indie success story to emerge from Sundance.
Rashid's next feature project was American English, due to begin production in 2013. The film, a comedy, was written by Rashid and produced by The King's Speech's Oscar winning producers Iain Canning and Emile Sherman alongside Christina Piovesan, producer of Amreeka and The Whistleblower. [1]
Rashid has written 3 award-winning books of poetry.
He has also curated film programmes and exhibitions for venues such as the National Film Theatre, Institute of Contemporary Art]] and Experimenta.
Recognition
Edit
Amongst many awards and festival prizes, Rashid has received the Aga Khan Award for Excellence in the Arts.(Citation needed)
He received the Writer's Guild of England award for his work on BBC2 series This Life. Rashid has also written 2 award-winning short films, Surviving Sabu (1999, Arts Council of England) and Stag (2001, BBC Films).
Publications
Edit
Black Markets, White Boyfriends, and other acts of elision. Toronto: TSAR Publications, 1991.
The Heat Yesterday. Toronto: Coach House, 1995.
Anthologized
Edit
Seminal: The anthology of Canada's gay male poets. Vancouver, BC: Arsenal Pulp Press, 2007.
Forbidden Sex, Forbidden Texts: New India's gay poets. New Delhi & New York: Routledge Taylor Francis Group, 2009.

Except where noted, bibliographical information courtesy WorldCat.[8]
Audio / video
Edit
Bolo Bolo: Talking about silence, AIDS, and gay sexuality. San Francisco, CA: National Asian American Telecommunications Association, 1990.
Surviving Sabu. San Francisco, CA: Frameline, 1997.
Touch of Pink. Culver City, CA: Columbia Tri-Star, 2005.
How She Move. Hollywood: Paramount, 2008.
Except where noted, film information courtesy WorldCat..[8]
References
Edit
External links
Edit
Books
About
Community content is available under
CC-BY-SA
unless otherwise noted.