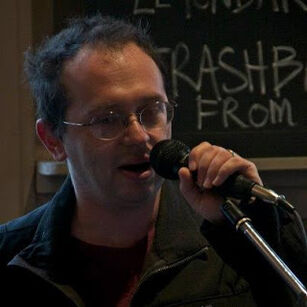 Ilya B. Shambat (born November 21, 1975)[1] is a Russian-born poet who lives in Australia.
Shambat was born in Moscow, Russia (then the capital of the Soviet Union).[2] He began writing poems at age 11, and was publicly reciting his own poetry within the year.[3]
He came to the United States at age 12.[3]
He attended the University of Virginia, where he earned a B.A., at age 18,[3] in economics and psychology.
He has traveled around America, studied different conceptual systems, and worked and volunteered in a variety of capacities.[2]
He has translated a large body of Russian poetry,[1] publishing 3 books of classical Russian translations,[3] as well as publishing original poetry.[2]
In October 2006 he moved to Australia and married Melanie (Coutts); they have a daughter, Lillian (born June 25, 2007).[2]
Shambat writes essays and poetry, which he posts on Alt.arts.poetry.comments and other usenet groups, on Facebook, and on his blogs, Ilya Shambat thought, and Poetry and Writings.
He describes the purpose of his poetic activities as: "Seeking to resurrect real poetry and make poetry something that people read again."[1]
Publications
Edit
References
Edit
↑ 1.0 1.1 1.2 Ilya Shambat, Poetry Circle, April 15, 2018. Web, May 25, 2018.
↑ 2.0 2.1 2.2 2.3 About Me, Poetry and Writings by Ilya Shambat. Blogspot, Web, Dec. 11, 2016.
↑ 3.0 3.1 3.2 3.3 Ilya Shambat, Words & Pictures LLC. Web, June 5, 2018.
External links
Edit
Poems
Prose
About