We're Getting Mutants in the MCU - The Loop
Play Sound
In the Isle of Dogs
[
]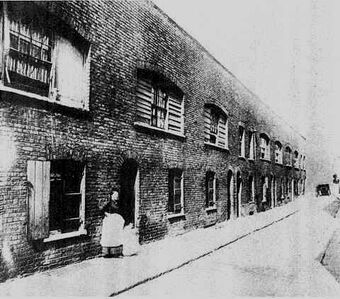 While the water-wagon's ringing showers
Sweetened the dust with a woodland smell,
" Past noon, past noon, two sultry hours,"
Drowsily fell
From the schoolhouse clock
In the Isle of Dogs by Millwall Dock.

Mirrored in shadowy windows draped
With ragged net or half-drawn blind
Bowsprits, masts, exactly shaped
To woo or fight the wind,
Like monitors of guilt
By strength and beauty sent,
Disgraced the shameful houses built
To furnish rent.

From the pavements and the roofs
In shimmering volumes wound
The wrinkled heat ;
Distant hammers, wheels and hoofs,
A turbulent pulse of sound,
Southward obscurely beat,
The only utterance of the afternoon.
Till on a sudden in the silent street
An organ-man drew up and ground
The Old Hundredth tune.

Forthwith the pillar of cloud that hides the past
Burst into flame.
Whose alchemy transmuted house and mast,
Street, dockyard, pier and pile:
By magic sound the Isle of Dogs became
A northern isle —
A green isle like a beryl set
In a wine-coloured sea,
Shadowed by mountains where a river met
The ocean's arm extended royally.

There also in the evening on the shore
An old man ground the Old Hundredth tune,
An old enchanter steeped in human lore,
Sad-eyed, with whitening beard, and visage lank:
Not since and not before,
Under the sunset or the mellowing moon,
Has any hand of man's conveyed
Such meaning in the turning of a crank.

Sometimes he played
As if his box had been
An organ in an abbey richly lit;
For when the dark invaded day's demesne,
And the sun set in crimson and in gold;
When idlers swarmed upon the esplanade,
And a late steamer wheeling towards the quay
Struck founts of silver from the darkling sea,
The solemn tune arose and shook and rolled
Above the throng,
Above the hum and tramp and bravely knit
All hearts in common memories of song.

Sometimes he played at speed ;
Then the Old Hundredth like a devil's mass
Instinct with evil thought and evil deed,
Rang out in anguish and remorse. Alas!
That men must knov/ both Heaven and Hell!
Sometimes the melody
Sang with the murmuring surge;
And with the winds would tell
Of peaceful graves and of the passing bell.
Sometimes it pealed across the bay
A high triumphal dirge,
A dirge
For the departing undefeated day.

A noble tune, a high becoming mate
Of the capped mountains and the deep broad firth;
A simple tune and great,
The fittest utterance of the voice of earth.


This poem is in the public domain