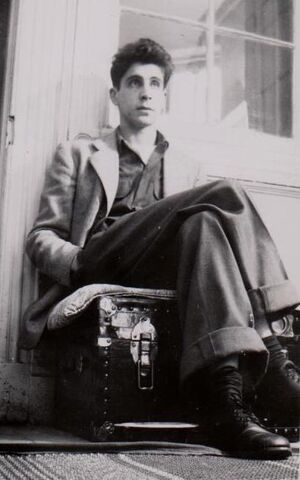 The Program in Creative Writing, more commonly known as the Iowa Writers' Workshop, at the University of Iowa in Iowa City, Iowa, is a highly regarded graduate-level creative writing program in the United States.[1] Writer Lan Samantha Chang is currently the Workshop's director.
The Workshop began in 1936, with the gathering of poets and fiction writers under the direction of Wilbur Schramm. Graduates earn a Master of Fine Arts in English; Iowa was the first program in the country to offer this degree.[2]
The program's curriculum requires students to take a small number of classes each semester, including the Graduate Fiction Workshop or Graduate Poetry Workshop itself, and one or two additional literature seminars. The modest curricular requirements are intended to prepare the student, in a sense, for the realities of professional writing, where self-discipline is paramount.
The program centers on the Graduate Workshop courses, which meet once a week. Before each three-hour class, a small number of students will have submitted material for critical reading by their peers. The class itself consists of a round-table discussion during which the class and the instructor offer impressions, observations, and analysis about each piece. The specifics of how the class is conducted vary somewhat from teacher to teacher, and between Poetry and Fiction workshops. The ideal result of the process is not only that authors come away with insights into the strength and weaknesses of their own work, but that the class as a whole derives some insight, whether general or specific, about the process of writing.[2]
Iowa Writers' Workshop alumni (most recently Paul Harding in 2010) have won seventeen Pulitzer Prizes, as well as numerous National Book Awards and other major literary honors. Four recent U.S. Poets Laureate have been either graduates or faculty of the Workshop.
In 2003, the Workshop received a National Humanities Medal from the National Endowment for the Humanities. It was the first Medal awarded to a university, and only the second given to an institution rather than an individual.[3]
Pulitzer Prizes won by graduates and faculty
[
edit
|
edit source
]
The University of Iowa's Writers' Workshop has 28 affiliated Pulitzer Prizes earned by various faculty and graduates, and over 40 attributed to graduates and faculty of The University of Iowa.[4]
Writers' Workshop graduates have produced 16 Pulitzer Prizes since 1947.
Main article: List of Iowa Writers' Workshop people
Coordinates: [[[:Template:Coor URL]]41.66730_N_-91.53506_E_ 41°40′02″N 91°32′06″W / 41.66730°N Template:Coord/negzeropad°W / 41.66730; -91.53506]
Community content is available under
CC-BY-SA
unless otherwise noted.