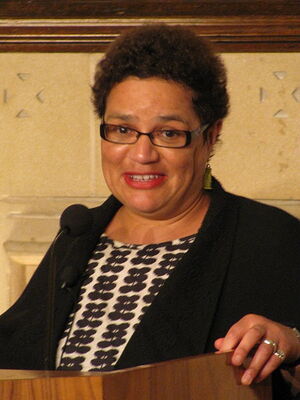 Jackie Kay MBE (born 9 November 1961) is a Scottish poet and novelist.[1]
Kay was born in Edinburgh in 1961 to a Scottish mother and a Nigerian father. She was adopted as a baby by a white Scottish couple, Helen and John Kay, and grew up in Bishopbriggs, a suburb of Glasgow, in a 1950s-built Glasgow housing estate in a small Wimpey house, which her adoptive parents had bought new in 1957. They adopted Kay in 1961 having already adopted Jackie's brother, Maxwell, about two years earlier. Jackie and Maxwell also have siblings who were brought up by their biological parents. Her adoptive father worked for the Communist Party full-time and stood for Member of Parliament, and her adoptive mother was the Scottish secretary of Campaign for Nuclear Disarmament. In August 2007, Jackie Kay was the subject of the fourth episode of The House I Grew Up In, in which she talked about her childhood.[1]
Initially harbouring ambitions to be an actress, she decided to concentrate on writing after Alasdair Gray, a Scottish artist and writer, read her poetry and told her that writing was what she should be doing. She studied English at the University of Stirling and her first book of poetry, the partially autobiographical The Adoption Papers, was published in 1991 and won the Saltire Society Scottish First Book Award. Her other awards include the 1994 Somerset Maugham Award for Other Lovers, and the Guardian First Book Award Fiction Prize for Trumpet, based on the life of American jazz musician Billy Tipton, born Dorothy Tipton, who lived as a man for the last fifty years of his life. (Citation needed)
She writes extensively for stage, screen and for children. In 2010 she published Red Dust Road, an account of her search for her natural parents. Her biological parents met when her father was a student at Aberdeen University and her mother was a nurse. Her drama The Lamplighter is an exploration of the Atlantic slave trade. It was broadcast on BBC Radio 3 in March 2007[2] and published in poem form in 2008.[3]
She is Professor of Creative Writing at Newcastle University,[4] and Cultural Fellow at Glasgow Caledonian University. Kay lives in Manchester. She took part in the Bush Theatre's 2011 project Sixty-Six Books, with a piece based upon a chapter of the King James Bible.[5]
Recognition
Edit
Kay was appointed a Member of the Order of the British Empire (MBE) on 17 June 2006.
In 2016 she was appointed the third Makar (National Poet) of Scotland.
Publications
Edit
The Adoption Papers. Newcastle upon Tyne, UK: Bloodaxe, 1991.
Other Lovers. Newcastle upon Tyne, UK: Bloodaxe, 1993.
Penguin Modern Poets 8 (by Jackie Kay, Merle Collins, & Grace Nichols). London: Penguin, 1996.
Off Colour. Newcastle upon Tyne, UK: Bloodaxe, 1998.
Life Mask. Tarset, Northumberland, UK: Bloodaxe, 2005.
Darling: New and selected poems. Tarset, Northumberland, UK: Bloodaxe, 2007.
The Lamplighter. Tarset, Northumberland, UK: Bloodaxe, 2008.
Bessie Smith. Bath, UK: Absolute, 1997.
Trumpet. London: Basingstoke / Picador, 1998; New York: Pantheon, 1998.
Short fiction
Edit
Why Don't You Stop Talking? London: Picador, 2002.
Wish I Was Here. London: Picador, 2006.
Reality, Reality. London: Picador, 2012.
Non-fiction
Edit
Red Dust Road: An autobiographical journey. London: Picador, 2010; New York: Atlas, 2010.
Two's Company (poetry; illustrated by Shirley Tourret). London: Puffin, 1994.
Three has Gone (illustrated by Jodie Winger). London: Blackie, 1994.
The Frog Who Dreamed She Was an Opera Singer (illustrated by Sue Williams). London: Bloomsbury, 1998.
Strawgirl. London: Macmillan, 2002.
Red, Cherry Red (illustrated by Rob Ryan). London: Bloomsbury, 2007.
Out of Bounds: British Black and Asian poets (edited by Jackie Kay, James Procter, & Gemma Robinson). Newcastle upon Tyne, UK: Newcastle University / Tarset, Northumberland, UK: Bloodaxe, 2012.

Except where noted, bibliographical information courtesy WorldCat.[8]
Audio / video
Edit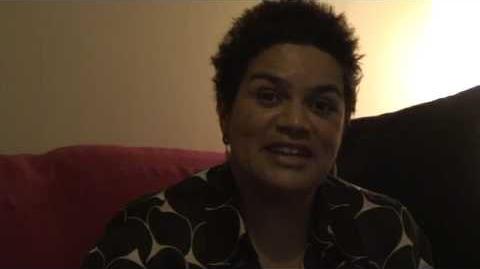 Jackie Kay: Reading from her poems. London: The Poetry Archive, 2006.
Red Dust Road: An autobiographical journey. Rearsby, UK: W.F. Howes / Clipper Audio, 2011.
Except where noted, discographical information courtesy WorldCat.[8]
References
Edit
External links
Edit
Poems
Audio / video
About
Community content is available under
CC-BY-SA
unless otherwise noted.