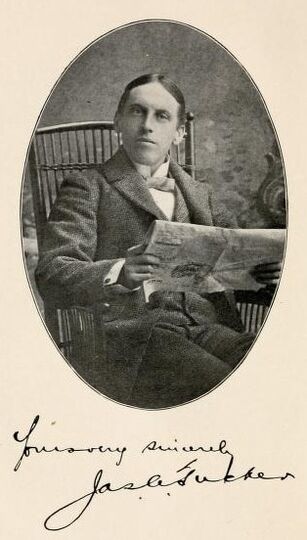 James Alexander Tucker (December 22, 1872 - December 22, 1903) was a Canadian poet.[1]
Life
[
]
Youth and education
[
]
Poet Arthur Stringer considered Tucker a friend, and wrote a memoir that was included in Poems, Tucker's only book of poetry (published posthumously). Most of our biographical information on Tucker comes from this singlee source.
Stringer wrote that Tucker was born in Owen Sound, Ontario; and that he attended the University of Toronto (U of T), where he was "recognized as a leader in student life and thought." [2]
Student strike
[
]
At U of T, Tucker was elected an editor of the Varsity student newspaper, and in that capacity "came into collision with constituted authority". Stringer gave no specifics of that incident, beyond calling it a "courageously determined fight for liberty of undergraduate speech and activity" and adding that the incident had the entire student body "in open and unanimous revolt against those powers which oppressed them" but that it ended with Tucker leaving U of T.[2]
On January 16, 1895, the Varsity "published one more in a series of editorials criticizing the college council.... This time, the president and council demanded an apology."[3]
The issues, Tucker wrote in the Varsity, had to do with freedom of the press and freedom of assembly. He would not apologize. On Wednesday, January 29, the university council suspended him. "Rather would we leave the University without a degree," Tucker wrote, "than surrender the principle for which we have been contending."[4]
Tucker's suspension resulted in the student Literary Society circulating a petition calling for a Royal Commission of inquiry into the matter. After a popular associate professor (William Dale) was fired for repeating some of the Varsity's charges in a letter to the Globe and Mail, a "huge meeting of undergraduates" voted unanimously on February 15 to boycott classes: a student strike. The boycott lasted 3 days, before another mass meeting of undergraduates on February 20 voted to return to class. [3]
A Royal Commission was instituted, and reported on April 27, 1895. It rejected the students' complaints, calling Tucker's editorials "offensive and entirely beyond the line of fair comment."[4]
After leaving U of T, Tucker attended and graduated from Stanford University in California.[2]
Later life
[
]
Tucker had supported himself through university by his writing, and after graduation chose writing as his profession. He was associated with several different periodicals, for some of which he wrote editorials. His poetic output suffered as his journalistic load increased.[2]
In 1899 he married Etta B. Graham of Owen Sound, a friend since childhood. The couple had a child, a daughter, Lenore A Tucker (Pratt).[2]
James Tucker died in 1903 after a long illness.[2]
A U of T classmate of James Tucker, William Lyon Mackenzie King, corresponded with Lenore some years after Tucker passed, providing context, solace, and comfort. The family cherishes the letter, penned by King himself, and an original text of Tuckers' poems, surviving to modern days.
Writing
[
]
Before his death Tucker had authorized Reuben Butchart and Joseph T. Clarke to publish his poetry. An edited selection, Poems, was published in 1904.[5]
Butchart and Clarke write in the preface to Poems that Tucker had been writing an unfinished monody called A Heart's Desire; and that he had "contributed to certain magazines and papers a large amount of verse of so high an order as to justify the expectation that later something more worthy would be given to the world."[5]
Recognition
[
]
Tucker's poem "Life's Shaping Moments" was included in the 1918 Oxford Book of Canadian Verse, edited by William Wilfred Campbell.[6]
Publications
[
]
Poetry
Other
Evidence of James A. Tucker. Toronto: Royal Commission on the Discipline in the University of Toronto, 1895.
See also
[
]
References
[
]
External links
[
]
Poems
Books
About
This is a signed article by User:George Dance. It may be edited for spelling errors or typos, but not for substantive content except by its author. If you have created a user name and verified your identity, provided you have set forth your credentials on your user page, you can add comments to the bottom of this article as peer review.