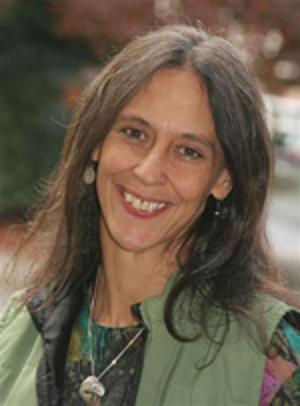 Joanne Arnott
Born
December 16, 1960
Occupation
Author
Genres
author of Children's Literature, poet, nonfiction
Joanne Arnott (born December 16, 1960)[1] is a Métis Canadian poet.[2]
Arnott was born in Winnipeg, Manitoba. After studying at the University of Windsor 1980-1982,[1] she moved to British Columbia in 1982.[2]
Arnott lives on the Salish coast with her family, 5 sons and a daughter.[3]
She is a founding member of the Aboriginal Writers Collective West Coast, and a past volunteer on The Writers Union of Canada's National Council and The Writers Trust Author's Committee.[2]
Her essays and poetry have appeared in more than 25 anthologies, including Indigenous Poetics, Uncommon Wealth, Native Poetry in Canada, Native Literature in English, How the Light Gets In (Ireland), Double Lives, Without Reservation, Manitowapow, 111 West Coast Literary Portraits, Alive at the Centre (PPP), and Force Field. In 2016 she became Poetry Editor for Event Magazine.[2]
She has also been a judge or jurist on a variety of literary prizes and awards, including the Manitoba Book Awards, BC Book Prizes (Poetry), SaskArt (short non-fiction), and Governor General's Awards (Poetry).[2]
Recognition
Edit
Her 1991 collection, Wiles of Girlhood, won the Gerald Lampert Award.[3]
Publications
Edit
Wiles of Girlhood. Vancouver: Press Gang, 1991.
My Grass Cradle. Vancouver: Press Gang, 1992.
Steepy Mountain: love poetry. Wiarton, ON: Kegedonce Press, 2004.
Mother Time: Poems new & selected. Vancouver: Ronsdale, 2007. 1-55380-046-X.
Longing: Four poems on diverse matters (with Aaron Paquette). Edmonton, AB: Rubicon, 2008.
The Family of Crow (chapbook). Leaf Press) 2012.[2]
A Night for the Lady. Vancouver: Ronsdale, 2013. 978-1-55380-250-1
Halfling Spring: An internet romance (illustrated by Leo Yerxa Neyaashiinigmiing, ON: Kegedonce Press, 2013.
Non-fiction
Edit
Breasting the Waves: On writing and healing. Vancouver: Press Gang, 1995.
Ma MacDonald (illustrated by Mary Anne Barkhouse). Toronto: Women's Press, 1993.
Salish Seas: An anthology of text + image. Vancouver: Aboriginal Writers Collective West Coast, 2011.

Except where noted, bibliographical information courtesy WorldCat.[4]
References
Edit
External links
Edit
Poems
Prose
Audio / video
Books
About
Community content is available under
CC-BY-SA
unless otherwise noted.