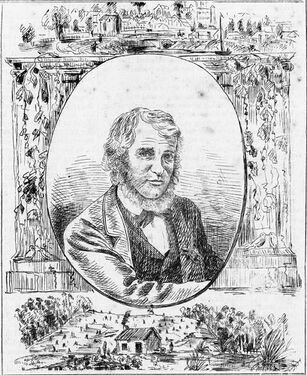 John Barr of Craigilee (October 24, 1809 - September 18, 1889) was a Scottish-New Zealand poet.
Barr was born at Paisley, Scotland in 1809, the son of Rebecca and James Barr.[1]
Trained as an engineer, he founded the shipbuilding company of Barr & McNab.[1]
On April 11, 1844, he married Mary Jamieson (Lamb) of Paisley, who bore him at least 2 sons and 2 daughters. [1]
When Barr's business failed in 1852, the family emigrated to New Zealand, arriving that September 28.[1] They moved to Otago, and farmed a property at Halfway Bush.[2]
In 1857 they moved to Kaihiku, establishing a farm they named Craigielee. Barr retired in 1861 and moved to Dunedin.[1]
The Encyclopedia of New Zealand notes that: "From the time of his arrival in the colony Barr enjoyed a successful career as a poet." He published verse in the Otago Witness and the Sunday Advertister, and was a popular performer at public occasions.[1] He was the founder of the New Zealand Robert Burns Society.[3] In his time, he was considered the Laureate of Otago province, of which he wrote, in Lowland Scots:
There's nae place like Otago yet,
There's nae wee beggar weans,
Or auld men shivering at our doors
To beg for scraps or banez[4]
In 1861 Barr printed a collection of poems, Poems and Songs: Descriptive and satirical, published in Edinburgh. The book was popular, and was reprinted in 1874.[1]
Barr died on September 18, 1889 at Dunedin.[5]
The 'Otago Daily Times' wrote of Poems and Songs that, "quite irrespective of their local character, which endows them with a peculiar attraction, the Poems possess intrinsic merits in themselves which entitle them to rank high as literary productions".[1]
Allen Curnow described his writing as "this Scots-colonial parritch (porridge) ... watery gruel at the best."[6]
Recognition
Edit
The Caledonian Society made Barr its poet laureate, and presented him with a gold medal in 1868.[1]
Publications
Edit

Except where noted, bibliographical information courtesy WorldCat.[7]
References
Edit
↑ 1.0 1.1 1.2 1.3 1.4 1.5 1.6 1.7 1.8 Barr, John (1809-1889), Te Ara Encyclopedia of New Zealand. Web, June 19, 2013.
↑ Writers in Residence, by Jenny Robin Jones, Auckland University Press, 2004
↑ Anthology of New Zealand Poetry in English, Oxford University Press, 1997.
↑ John Barr (poet), Wikipedia, Wikimedia Foundation. Web, June 19, 2013.
↑ Cooper, Ronda. "Barr, John - Biography". Dictionary of New Zealand Biography. Ministry for Culture and Heritage. http://www.teara.govt.nz/en/biographies/1b7

. Retrieved 19 July 2012

.

 

↑ The Penguin Book of New Zealand Verse (edited by Allen Curnow). Harmondsworth, UK: Penguin Books, 1960.
↑ Search results = au: John Barr 1809-1889, WorldCat, OCLC Online Computer Library Center Inc. Web, Mar. 19, 2014.
External links
Edit
Poems
About
This is a signed article by User:George Dance. It may be edited for spelling errors or typos, but not for substantive content except by its author. If you have created a user name and verified your identity, provided you have set forth your credentials on your user page, you can add comments to the bottom of this article as peer review.
Community content is available under
CC-BY-SA
unless otherwise noted.