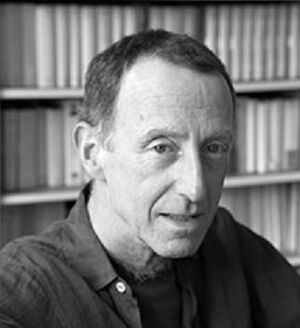 Jonathan Aaron (born 1941) is an American poet.
Aaron was born and raised in Massachusetts. He graduated from the University of Chicago, then earned a Ph.D. from Yale University.
His work has been published in The Paris Review, Ploughshares, The New Yorker,[2] the New York Review of Books,[3] The London Review of books,[4] the Boston Globe (as guest reviewer),[5] and the Times Literary Supplement.
He lives in Cambridge, Massachusetts.[6] Since 1988, Mr. Aaron has been an associate arofessor at Emerson College in the Department of Writing, Literature and Publishing. In Fall of 2007, Mr. Aaron was visiting poet-in-residence at Williams College.[7]
Boston Review: "'Dreaming is after all a kind of thinking,' Jonathan Aaron writes in this new volume, his third in almost 25 years, and it's hard to imagine a more succinct statement of his poetic method. Aaron has always used the peculiar instability of poems to his advantage: he builds tension from a poem's ability to slip on no more than a phrase from the real to the symbolic, from the hypothetical to the unalterable."[8]
Recognition
Edit
Publications
Edit
Translated
Edit
Joseph Brodsky, Collected Poems, in English (with other; edited by Ann Kjellberg). Manchester, UK: Carcanet, 2001.
Ann Kjellberg, ed (2000). Collected poems in English / Joseph Brodsky. New York: Farrar, Straus and Giroux. ISBN 978-0-374-52838-6.

 
Anthologized
Edit

Except where noted, bibliographical information courtesy WorldCat.[9]
References
Edit
External links
Edit
Poems
About
Community content is available under
CC-BY-SA
unless otherwise noted.