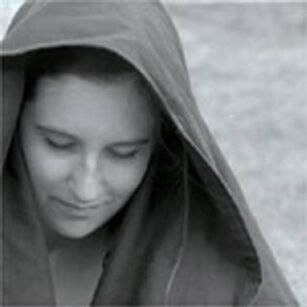 Joy Olivia Yourcenar (December 8, 1963 - April 21, 2016)[1] was an American poet who wrote on Usenet.
Yourcenar was born Mary Joyce in Lewiston, Maine, of Acadian descent. She began reading at 3, and became a voracious reader. She had written poetry for as long as she could remember.[2]
In college she met poets Jim Bishop and Rhea Cote Robbins. Later she was mentored by Farnham Blair.[2]
Through her life Yourcenar worked as a reporter for a weekly paper, a liaison for the Maine Foster Parents Association, a court appointed special advocate, a researcher for a public policy survey firm, a substitute teacher, a proof-reader, and a technical writer for the Maine School and Library Project. She had 2 children, James and Zoe-Genevieve, by a first marriage.[2]
In 1998 she legally changed her name to Joy Olivia Yourcenar, the last name a tribute to novelist Marguerite Yourcenar.[2]
By 1999 Yourcenar was an expatriate, living in Halifax, Nova Scotia, with her life partner, Eric Boutilier-Brown, and her daughter, Zoe-Genevieve.[3] That year she and Ryan Deschamps hosted the annual rec.arts.poems picnic in Halifax.[2]
She and Boutilier-Brown were married on February 2, 2002, and moved to Moncton, New Brunswick in 2003.[2]
Her publication credits included online magazines Gravity and The Initiative, and print publications Maine Review, Stolen Island Review, and Silhouettes in Electric Sky (a print anthology featuring the best of 2 years of Gravity).[4] Newsgroups she posted onto included rec.arts.poems and Alt.arts.poetry.comments.
She also posted on DeviantArt under the pseudonym "etherore."[5]
She was a cancer survivor.[2] During her life she also suffered from Type II diabetes, Graves' Disease, and Multiple Sclerosis.[6]
Around 2010 she moved to Salem, Oregon,[5] where she died in 2016.[1]
Looking at God's Vacation Slides. Cedar Street Press, 2005.[7]
Poems
About
This is a signed article by User:George Dance. It may be edited for spelling errors or typos, but not for substantive content except by its author. If you have created a user name and verified your identity, provided you have set forth your credentials on your user page, you can add comments to the bottom of this article as peer review.
Community content is available under
CC-BY-SA
unless otherwise noted.