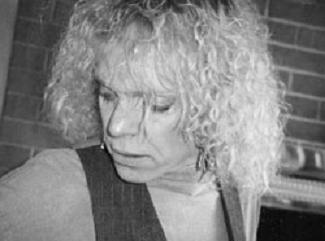 kari edwards (1954-2006) was an American poet, artist, and gender activist.
edwards' work has appeared in numerous publications, such as anthologies Blood and Tears: Poems for Matthew Shepard, Painted leaf Press (2000), and Electric Spandex: anthology of writing the queer text (Pyriform Press: 2002). Her works have also been exhibited throughout the U.S.
She authored have been blue for charity (BlazeVox: 2006); obedience (Factory School: 2005); iduna(O Books: 2003); a day in the life of p (subpress collective: 2002); a diary of lies, Belladonna #27 (Belladonna Books: 2002); obLiqUE paRt(itON): colLABorationS (xPress(ed): 2002); and post/(pink) (Scarlet Press: 2000).
She died of heart failure, aged 52, on December 2, 2006.
recognition
Edit
edwards won the New Langton Art's Bay Area Award in literature in 2002, and the Small Press Traffic's book of the year award in 2004.[1]
publications
Edit

Except where noted, bibliographical information courtesy WorldCat.[2]
references
Edit
external links
Edit
poems
prose
books
about