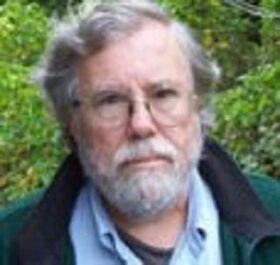 Alan Dugan Keith Althaus[1] (born 1946)[2] is an American poet.
Life
[
]
Althaus was educated at Hamilton College. In 1969 he and his wife, artist Susan Baker, moved to North Truro, Massachusetts, where they run an art gallery.[3]
Although Althaus has been writing poetry for more than 40 years, he published his 1st book only in 1993. Since then he has also published Ladder of Hours, a collection of poetry spanning 4 decades. He has also published in the New Yorker, American Poetry Review, and many other literary magazines.[1]
Writing
[
]
Bill Gilson, Bloodaxe Blogs: "To readers used to poems in which words are juxtaposed in defiance of their everyday meanings, or to poems of deliberate ambiguity and fragmentation of syntax, an Althaus poem when viewed quickly can look like adequate prose split into phrases. The method risks flatness, and requires that the poem be so tightly constructed as to hold itself together as if with magnetized parts. Many poets have written in this style. It is an obvious way to begin, but the difficulty to which Althaus refers sets in immediately, in that the space to move is actually more restrictive than that within rhymes and meters.... But what matters are the details, the odd particularities in what is noticed, and the depths he is able to reach while maintaining a luminous clarity."[4]
Recognition
[
]
His honors include a grant from the Massachusetts Council for the Arts, a fellowship from the National Endowment for the Arts, and a Pushcart Prize.[3]
He won the 206 Off the Grid Prize.[5]
Publications
[
]
Poetry
[
]
Non-fiction
[
]
Anthologized
[
]
Except where noted, bibliographical information courtesy WorldCat.[6]
See also
[
]
References
[
]
External links
[
]
Poems
Books
About
This is a signed article by User:George Dance. It may be edited for spelling errors or typos, but not for substantive content except by its author. If you have created a user name and verified your identity, provided you have set forth your credentials on your user page, you can add comments to the bottom of this article as peer review.