Jurassic World: Dominion Dominates Fandom Wikis - The Loop
Play Sound
Ken Arkind is an American spoken word poet.
Life
[
]
Arkind was born in Steamboat Springs, Colorado, and lives in Denver, Colorado.[1] He is a National Poetry Slam Champion and Nuyorican Poets Cafe Grand Slam Champion.[2]
Arkind was 2005 Denver City Poetry Slam Champion, and has been a 4-time member of the Denver Slam Team to the National Poetry Slam championships, including the 2006 National Championship Team.[3]
Arkind tours the world performing and teaching poetry as executive director of the award-winning Denver Minor Disturbance Youth Poetry Project.[4]
Arkind often performs poetry between sets by up-and-coming bands like Achille Lauro and Hot Congress.[5] He has also performed with Cloud Cult, Devotchka, The Flobots, Sage Francis Gil Scott Heron, NPR's Amy Goodman, and Pulitzer Prize-winning poet Yusef Komunyakaa.[4]
Writing
[
]
Andrea Gibson, World Of Women's National Poetry Slam Champ and the author of "Pole Dancing to Gospel Hymns, says of him: "I do not know another writer with more talent, guts and integrity. No one in the spoken word scene has more consistently rocked me back to the drawing board, if we could bottle the hallelujah on the inside of this guy's windpipe there'd be more believers in poetry than there are in Jesus, who coincidently was the last hairy guy to talk this good."[6]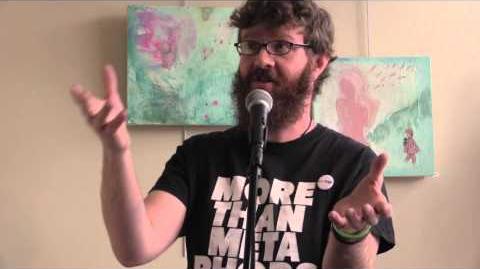 Raising glasses in Denver


is a middle finger against natural law . . .
  We still live in a cow town
  but it's full of wolves
 

 - Ken Arkind
Recognition
[
]
Arkind has been featured in The Documentaries SPIT!, Slamplanet, CBS, NBC and Borders.com's Open Door Poetry series.[6]
Publications
[
]
I Know Why Georgia Turner Waited by the Train Tracks. Penmanship Books, 2011.[7]
Denver: A poem (with woodcuts by Charly Fasano). Fast Geek Press, 2013.
Coyotes. Brooklyn, NY: Penmanship Books, 2014.

Except where noted, bibliographical information courtesy WorldCat.[8]
See also
[
]
References
[
]
Notes
[
]
External links
[
]
Audio / video
About
This is a signed article by User:George Dance. It may be edited for spelling errors or typos, but not for substantive content except by its author. If you have created a user name and verified your identity, provided you have set forth your credentials on your user page, you can add comments to the bottom of this article as peer review.