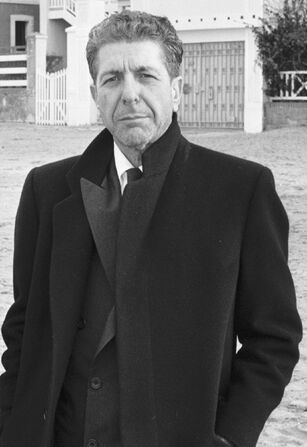 Leonard Cohen
Birth name
Leonard Norman Cohen
Genres
Folk, folk rock, rock, spoken word
Occupations
Musician, songwriter, poet, novelist
Instruments
Vocals, guitar, piano, keyboards, synthesizer
Years active
1956 - present
Labels
Columbia Records
Leonard Norman Cohen CC GOQ (September 21, 1934 - November 7, 2016) was a Canadian poet, singer-songwriter, musician, and novelist.
Cohen's work often explores religion, isolation, sexuality and interpersonal relationships.[1] Famously reclusive, and possessing a persona frequently associated with mystique,[2][3] he is extremely well regarded by critics for his literary accomplishments, for the richness of his lyrics, and for producing an output of work of high artistic quality over a 5-decade career.[4][5][6]
Cohen was born in Westmount, Montreal, Quebec, into a middle-class Jewish family. His mother, of Lithuanian Jewish ancestry, emigrated from Lithuania while his great-grandfather emigrated from Poland.[7] On the topic of being a Kohen, Cohen has said that, "I had a very Messianic childhood." He told Richard Goldstein in 1967. "I was told I was a descendant of Aaron, the high priest."[8]
He grew up in Westmount on the Island of Montreal. His father, Nathan Cohen, who owned a substantial Montreal clothing store, died when Cohen was 9 years old.
Cohen wrote his earliest poem, an elegy to his father, at age 9.[9]
Cohen attended Herzliah High School, where he studied with poet Irving Layton. As a teenager, he learned to play the guitar, and formed a country-folk group called the Buckskin Boys. His father's will provided him with a modest trust income, sufficient to allow him to pursue his literary ambitions, without having to worry about where his rent would come from.
In 1951, Cohen enrolled at McGill University, where he became president of the McGill Debating Union. His literary influences during this time included Yeats, Irving Layton, Whitman, Federico Garcia Lorca and Henry Miller.[10] His earliest published poetry appeared in literary magazine CIV/n in 1954.[11]
His debut collection of poetry, Let Us Compare Mythologies (1956), was selected by Louis Dudek as the premiere book in the McGill Poetry Series while Cohen was still an undergraduate student. After completing an undergraduate degree, Cohen spent a term in McGill's law school and then a year (1956-1957) at Columbia University.
In 1961, McClelland & Stewart published Cohen's 2nd collection, The Spice-Box of Earth (1961), which received rave reviews and sold out its 1st printing. The book made him a public figure in Canada.[12]
Cohen wrote poetry and fiction throughout much of the 1960s. He preferred to live in quasi-reclusive circumstances, at the time. After moving to Hydra, a Greek island, Cohen published the poetry collection Flowers for Hitler (1964), and the novels The Favourite Game (1963) and Beautiful Losers (1966).
The Favourite Game is an autobiographical bildungsroman about a young man who discovers his identity through writing.
Beautiful Losers also failed to sell, while attracting mixed reviews. A CBC reviewer called it "one of the most radical and extraordinary works of fiction ever published in Canada."<refname=lcohenv> The Globe & Mail, on the other hand, described the writing as "verbal masturbation."[13] Bestselling novelist Michael Ondaatje has credited Beautiful Losers with being the greatest influence in his own move from poetry to fiction.<refname=lcohenv>Michael Barron, "Leonard Cohen's Literary Work Was as Essential as His Music," Vice, November 11, 2016. Web, Jan. 23, 2019.</ref>
Cohen's Selected Poems were released in Canada in 1968, and sold 200,000 copies within a few months.[11] A further 25,000 copies were sold in the United States.[14] The book would sell 700,000 copies in the U.S. over the next decade.[15]
In 1972 he published a poetry collection titled The Energy Of Slaves.
By 1978 Cohen's books had sold 2,000,000 copies.[15] In that year he published a major book of poetry and prose. Death of a Lady's Man.
In 1984 came Book of Mercy, 50 prose poems influenced by the Bible, the Torah, and Zen-Buddhist writings; although some called them "contemporary psalms", Cohen himself referred to the pieces as "prayers".
In 1993, Cohen published Stranger Music: Selected poems and songs, and in 2006, after 10 years of delays, additions and rewritings, Book of Longing. During the period between those books, many of his poems were published originally on his fan website The Leonard Cohen Files, in The Blackening Pages.
Cohen's writing process, as he told an interviewer in 1998, is "...like a bear stumbling into a beehive or a honey cache: I'm stumbling right into it and getting stuck, and it's delicious and it's horrible and I'm in it and it's not very graceful and it's very awkward and it's very painful and yet there's something inevitable about it." [16]
In 1967, Cohen moved to the United States to pursue a career as a folk music singer-songwriter. During the 1960s, he was a fringe figure in Andy Warhol's "Factory" crowd. Warhol speculated that Cohen had spent time listening to Nico in clubs and that this had influenced his musical style.[17]
After performing at a few folk festivals, Cohen came to the attention of Columbia Records representative John H. Hammond. Around this time, Cohen recorded at least one demo acetate for Asylum Records or some subsidiary of Polygram,[18]) supported by his close companion at the time, Joni Mitchell.
1966: Judy Collins and "Suzanne"
[
edit
|
edit source
]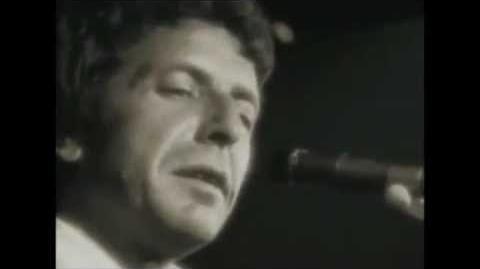 In 1966 Cohen's song "Suzanne" was covered by folksinger Judy Collins. Collins's version became a hit, and "Suzanne" was for many years Cohen's most covered song. Collins discussed the incident and Cohen in her 1989 autobiography, Trust Your Heart:
I met Leonard Cohen in 1966, when my Canadian friend Mary Martin arranged for us to meet. Leonard had been a published and successful writer and poet for many years, and had recently written his first songs. He came down from Canada one night, and I listened to his songs in my living room.
He sang "Suzanne" and "Dress Rehearsal Rag" that night, sitting on the couch, holding the guitar on his knee. I was moved by his singing voice, and by the songs, and by his whole presence. There was something very ethereal and at the same time earthy about his voice. When Leonard sang, I was entranced. I became immediately devoted to him, and we soon were friends.
I often saw Leonard when he came to New York. He would check into the Chelsea Hotel on Twenty-third Street, and we would have tea together and walk around Greenwich Village. I recorded "Suzanne" and "Dress Rehearsal Rag" on In My Life in 1966, and it went gold in 1967. With the records's success, Leonard became known as a songwriter.
I suggested he make his debut and sing in public, but he was terribly shy. I knew once he got over his fear, he would be powerful on stage. I was going to appear at a concert for Sane against the Vietnam War at Town Hall, on April 30, 1967. I asked Leonard if he would sing "Suzanne" there.....
When I introduced him, he walked onto the stage hesitantly, his guitar slung across his hips, and from the wings I could see his legs shaking inside his trousers. He began Suzanne, with the hushed audience leaning forward in their seats; he got halfway through the first verse and stopped.
"I can't go on," he said, and left the stage, while the audience clapped and shouted, calling for him to come back. "We love you, you're great!" Their voices followed him backstage, where he stood with his head on my shoulder, my arms around him.
"I can't do it, I can't go back." :"But you will," I said. He shook himself and drew his body up and put his shoulders back, smiled again, and walked back onto the stage. He finished Suzanne, and the audience went wild. He has been giving concerts ever since.
I have loved and recorded so many of his songs.... His songs carried me through dark years like mantras or stones that you hold in your hand while the sun rises or the fire burns. They kept me centered as I stood in front of thousands of people, my eyes closed, my hands around the neck of a guitar, my voice singing his ethereal lyrics. The audience responded to his writing, the songs were like water to a person dying of thirst. They were songs for the spirit when our spirits were strained to the breaking point." [19]
In recent years, other singers such as Joan Baez have sung "Suzanne" during their tours.[20] Cohen stated that he was duped into giving up the rights for the song, but was glad it happened, as it would be wrong to write a song that was so well-loved and to get rich for it also.
Cohen's debut album was Songs of Leonard Cohen, released in 1967. Already with the debut album started his misunderstanding with the producers and label. John Hammond's sessions were released only on the 2007 reissue of Songs of Leonard Cohen, in sound which differs from Cohen's now recognisable early style. John Simon, producer of Songs of Leonard Cohen, withdrew from the album's final sessions, leaving Cohen to mix the album so Cohen himself could hide the strings and piano arrangements to which he objected.
The album failed to chart in Canada, but reached #83 in the United States, and an impressive #13 in the United Kingdom.[14] Cohen became a cult name in the U.S. as well as in the UK (where the album spent over a year on the album charts).[21] Several of the songs on that album were covered by other popular folk artists, including James Taylor and Judy Collins.
Cohen followed Songs of Leonard Cohen with Songs from a Room (1969) (featuring the often-recorded "Bird on the Wire"), Songs of Love and Hate (1971), Live Songs (1973) and New Skin for the Old Ceremony (1974), For his 2nd album, Cohen initially worked with David Crosby; the earliest attempts at songs from that album were included on the 2007 reissue of Songs from a Room.
The 2nd and 3rd album were in the end produced in Nashville by famed producer Bob Johnston, who played a major role in achieving Cohen's ideal early sound, and also joined Cohen on 2 subsequent live tours (playing organ and piano). Johnston, then famed in the music business for his work for Bob Dylan and Johnny Cash, arguably lost his momentum in the music industry as he left Nashville for 2 years (soon he left Columbia as well), and according to his 2007 interview, Dylan did not receive well his leaving for Cohen.[22]
In 1970 Cohen toured for the 1st time, with dates in the United States, Canada and Europe, and an appearance at the Isle of Wight Festival. He toured with basically the same band (including Charlie Daniels, and his producer Bob Johnston on the organ and piano) in 1972, but in Europe and Israel. Both tour were presented on Live Songs LP, while Leonard Cohen Live at the Isle of Wight 1970 was released only in 2009. The 1972 tour was filmed by Tony Palmer; the film Bird on a Wire (with which Cohen was unhappy) was shown re-cut under Cohen's guidance in 1974, but released only in 2010, reconstructed according to Palmer's original version.
In 1971, Cohen's music was used in the soundtrack to Robert Altman's film McCabe & Mrs. Miller. When Cohen was on a stay in Nashville, Altman phoned to ask permission to use some tracks off Songs of Leonard Cohen. Coincidentally, earlier that same day, Cohen had seen Altman's then-current film Brewster McCloud in a local theater. He hadn't paid attention to the credits so when Altman asked permission to use Cohen's songs in his new film, Cohen had to ask him who he was. Altman mentioned his hit film MASH, but Cohen had never heard of it. When Altman mentioned his lesser-known Brewster McCloud, Cohen replied, "Listen, I just came out of the theater. I saw it twice. You can have anything of mine you want!"[23]
Beginning around 1974, Cohen's collaboration with pianist and arranger John Lissauer created a live sound praised by the critics. They toured together in 1974 in Europe, and in US and Canada in late 1974 and early 1975, in support of their record New Skin for the Old Ceremony. In late 1975 Cohen performed short series of show in the US and Canada with new band, in support of his Best Of release, and also trying out the new songs from his and Lissauer's follow-up to New Skin for the Old Ceremony, an abandoned album entitled "Songs for Rebecca". Songs from that project were later reworked for Death of a Ladies' Man and Recent Songs albums. None of the recordings from the 3 live tours with John Lissauer was released officially.
In 1976 Cohen, now without Lissauer, embarked on the new major European tour, with brand new band and major change in sound and arrangements, in support of his The Best of Leonard Cohen release, in Europe retitled as Greatest Hits. One of the band member was Laura Branigan, and the setlist included unreleased songs "Everybody's Child" (a.k.a. "Blessed Is the Memory") and "Storeroom" (both released as bonus tracks to 2007 reissue of Songs of Leonard Cohen), and new song "Do I Have to Dance All Night?", which remains unreleased. From April to July, Cohen gave 55 shows, including his 1st appearance at the famous Montreux Jazz Festival. Nothing from the shows was officially released to this day.
After the European tour of 1976, Cohen again attempted the new change in his style and arrangements - his new 1977 record, Death of a Ladies' Man (a year later, in 1978, Cohen released a volume of poetry with the coyly revised title, Death of a Lady's Man), was co-written and produced by Phil Spector, known as the inventor of the "wall of sound" technique, which backs up pop music with many layers of instrumentation, an approach very different from Cohen's usually minimalist instrumentation. The recording of the album was fraught with difficulty—Spector reportedly mixed the album in secret studio sessions, and Cohen said Spector once threatened him with a crossbow. Cohen thought the end result "grotesque,"[24] but also "semi-virtuous."[25] The record was released by Spector's label, Warner, and was returned to Columbia's Cohen catalogue in late 1980s. Cohen did not take part in the album's promotion, but in his tours of 1979, 1980 and 1985 performed 2 songs from the album, "Memories" and "Iodine", while he did not include any of the album's songs on his later compilations More Best of Leonard Cohen and The Essential Leonard Cohen.
In 1979, Cohen returned with the more traditional Recent Songs, which blended his acoustic style with jazz and Oriental and Mediterranean influences. The record, praised in 2001 by Cohen as his favourite, embarked the appearance of ensured Cohen - from this album on, he will co-produce every of his song and have the final word over album's sound. Produced by Cohen himself and Henry Lewy (Joni Mitchell's sound engineer) Recent Songs included performances by Austin-based jazz-fusion band Passenger, introduced to Cohen by Mitchell, and oriental instruments (oud, Gypsy violin and mandolin). The album was supported by Cohen's major tour with the new band, and Jennifer Warnes and Sharon Robinson on the backing vocals, in Europe in late 1979, and again in Australia, Israel and Europe in 1980. The tour was filmed by Harry Rasky as The Song of Leonard Cohen; film was broadcast on television in 1980, while Cohen gave couple of major TV appearances in 1979, including German's ZDF television. In 2000 Columbia released an album of live recordings of songs from the 1979 tour, entitled Field Commander Cohen: Tour of 1979; the album (with different track list) was originally rejected by the label in 1980. Some of the band members will stay with Cohen in subsequent tours up to 2010.
Cohen toured twice with Jennifer Warnes as a back-up singer, in 1972 and 1979. Warnes would become a fixture on Cohen's future albums, receiving full co-vocals credit on Cohen's 1985 album Various Positions (record was released under Cohen's name, but inside credits say "Vocals by Leonard Cohen and Jennifer Warnes"). In 1987, she recorded an album of Cohen songs, Famous Blue Raincoat.[26]
In the early 1980s, Cohen co-wrote the rock musical film Night Magic with Lewis Furey, starring Carole Laure and Nick Mancuso (voice-over by Furey); the LP was released in 1985. At that time, Cohen also worked on an unfinished album of his poetry recitations with producer Henry Lewy, before turning back to John Lissauer. Lissauer produced Cohen's next record Various Positions, which was released in late 1984. The LP included "Dance Me to the End of Love", which was promoted by Cohen's 1st video clip, directed by French photographer Dominique Issermann, and the frequently covered "Hallelujah". Columbia declined to release the album in the United States. Cohen supported the release of the album with his biggest tour to date, in Europe and Australia, and with his 1st tour in Canada and United States since 1975. Anjani Thomas, who would become Cohen's partner, and a regular member of Cohen's recording team, joined his tourning band. The band performanced at the Montreux Jazz Festival, and the Roskilde Festival. They also gave a series of highly emotional and politically controversial concerts in Poland, which was under the martial law and Cohen's song "The Partisan" regarded as the hymn of Solidarity movement and Lech Walesa's favourite Cohen song.[27] During the 1980s, almost all Cohen's songs were performed in Polish by Maciej Zembaty.[28]
In 1986, Cohen appeared in the episode "French Twist" of the TV series Miami Vice. In 1987, Jennifer Warnes's tribute album Famous Blue Raincoat helped restore Cohen's career in the U.S. The following year he released I'm Your Man, which marked a drastic change in his music. Synthesizers ruled the album and Cohen's lyrics included more social commentary and dark humour. The album, self-produced by Cohen, remains one of Cohen's most acclaimed albums, and was promoted by iconic black and white video shot by Dominique Issermann at the beach of Normandy. Cohen supported the record with series of television interviews, and an extensive tour of Europe, Canada and US. Many shows were broadcast on European and US television and radio stations, while Cohen performed for the 1st time in his career on PBS's Austin City Limits show; he also performed at the Roskilde Festival again, among other dates.[29] The tour gave the basic structure to typical Cohen's concert which he used in his tours in 1993, 2008-2009, and 2010. A selection of performances from the late 1980s was released in 1994 on Cohen Live. No performances were released in their entirity, although some were bootlegged. Parts of one of 3 Royal Albert Hall concerts were used in a BBC documentary The Songs from the Life of Leonard Cohen, which was released on laser disc and video tape.
The use of the album track "Everybody Knows" (co-written by Sharon Robinson) in the 1990 film Pump Up the Volume helped expose Cohen's music to a younger audience. The song also featured prominently in fellow Canadian Atom Egoyan's 1994 film, Exotica. In 1992, Cohen released The Future, which urges (often in terms of biblical prophecy) perseverance, reformation, and hope in the face of grim prospects. 3 tracks from the album - "Waiting for the Miracle", "The Future" and "Anthem" - were featured in the movie Natural Born Killers, which helped Cohen to reach new U.S. audiences.
As with I'm Your Man, the lyrics on the The Future were dark, and made references to political and social unrest. The title track is reportedly a response to the L.A. riot of 1992. Cohen promoted the album with 2 music videos, for "Closing Time" and "The Future", and supported the release with the major tour through Europe, United States and Canada, with the same band as in his 1988 tour, including a second appearance at the PBS's Austin City Limits. Some of the Scandinavian shows were broadcast live on the radio. The selection of performances, mostly recorded on the Canadian leg of the tour, was released on 1994 Cohen Live album, but none of new songs from the album itself was included in the live album.
In 1993, Cohen also published his book of selected poems and songs, Stranger Music, on which he had worked since 1989; it includes a number of new poems from the late 1980s and early 90s.
In 1997, Cohen oversaw the selection and release of More Best of Leonard Cohen album, which included a previously unreleased track, "Never Any Good", and an experimental piece "The Great Event". The former was left-over from Cohen's unfinished mid-90s album, which was announced to include songs like "In My Secret Life" (already recited as song-in-progress in 1988) and "A Thousand Kisses Deep",[30] both later re-worked with Sharon Robinson for the 2001 album Ten New Songs.
In 1994, Cohen retreated to the Mt. Baldy Zen Center near Los Angeles, beginning what became 5 years of seclusion at the center.[26] In 1996 he was ordained as a Rinzai Zen Buddhist monk and took the Dharma name Jikan, meaning "silence". He served as personal assistant to Kyozan Joshu Sasaki Roshi. Japanese songwriter and poet Masato Tomobe stated he admires Cohen and this made him better recognized in Japan around this time.
Although around 2000 there was a public impression that Cohen would not resume recording or publishing, he returned to Los Angeles in May 1999. He began to contribute regularly to The Leonard Cohen Files fan website, emailing new poems and drawings from Book of Longing and early versions of new songs, like "A Thousand Kisses Deep" in September 1998[31] and Anjani Thomas's story sent on May 6, 1999, the day they were recording "Villanelle for our Time"[32] (released on 2004 Dear Heather album). The section of The Leonard Cohen Files with Cohen's online writings has been titled "The Blackening Pages".[33]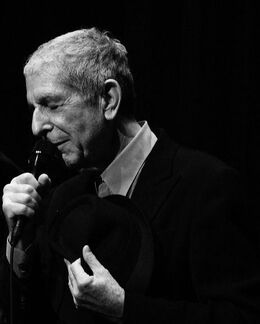 In 2001, Cohen returned to music with Ten New Songs, featuring a heavy influence from producer and co-composer Sharon Robinson. The album includes the song "Alexandra Leaving", a transformation of the poem "The God Abandons Antony", by Greek poet Constantine P. Cavafy. The album was a major hit for Cohen in Canada and Europe, and he supported it with hit single "In My Secret Life" and accompanying video shot by Floria Sigismondi.
In October 2004, Cohen released Dear Heather, largely a musical collaboration with jazz chanteuse (and current romantic partner) Anjani Thomas, although Sharon Robinson returned to collaborate on 3 tracks (including a duet). As light as the previous album was dark, Dear Heather reflects Cohen's own change of mood - he has said in a number of interviews that his depression has lifted in recent years, which he attributed to Zen Buddhism. In an interview following his induction into the Canadian Songwriters' Hall of Fame, Cohen explained that the album was intended to be a kind of notebook or scrapbook of themes, and that a more formal record had been planned for release shortly afterwards, but that this was put on ice by his legal battles with his ex-manager. He decided not to promote the album at all, but in 2005 he released a home video accompanying the song "Because Of", shot by his daughter Lorca Cohen, while there was no official album singles.
Blue Alert, an album of songs co-written by Anjani and Cohen, was released on 23 May 2006 to positive reviews. Sung by Anjani, who according to one reviewer "...sounds like Cohen reincarnated as woman...though Cohen doesn't sing a note on the album, his voice permeates it like smoke."[34] The album include a recent musical setting of Cohen's "As the mist leaves no scar", a poem originally published in The Spice-Box of Earth in 1961 and adapted by Phil Spector as "True Love Leaves No Traces" on Death of a Ladies' Man album. Blue Alert also included Anjani's own version of "Nightingale", performed by her and Cohen on his Dear Heather, as well the country song "Never Got to Love You", apparently made after early demo version of Cohen's own 1992 song "Closing Time". In his 2010 shows, Cohen closed the performances with performances of "Closing Time" which included the recitation of verses from "Never Got to Love You". The title song, "Blue Alert", and "Half the Perfect World" were covered by Madeleine Peyroux on her 2006 album Half the Perfect World, while the 3rd covered song, "Crazy To Love You", was included in album's Japanese edition.
Before embarking on his 2008-2010 world tour, and without finishing the new album which has been in work since 2006 (new song, "The Street", was recited by Cohen in 2006 on KCRW radio, and he also played 2 new songs from demo tape, "Book of Longing" and "Puppets"[35]), Cohen contributed few tracks to other artists' albums - new version of his own "Tower of Song" was performed by him, Anjani Thomas and U2 in 2006 tribute film Leonard Cohen I'm Your Man (the video and track were included on the film's soundtrack and released as B-side of U2's single "Window in the Skies", reaching No 1 in Canadian Singles Chart), in 2007 he recited "The Sound of Silence" on album Tribute to Paul Simon: Take Me to the Mardi Gras and "The Jungle Line" by Joni Mitchell, accompanied by Herbie Hancock on piano, on Hancock's Grammy-winning album River: The Joni Letters, while in 2008 he recited the poem "Since You've Asked" on album Born to the Breed: A Tribute to Judy Collins.
On 8 October 2005, Cohen alleged that his longtime former manager, Kelley Lynch, misappropriated over US $5 million from Cohen's retirement fund leaving only $150,000.[36] Cohen was sued in turn by other former business associates.[36] These events placed him in the public spotlight, including a cover feature on him with the headline "Devastated!" in Canada's Maclean's magazine.[37] In March 2006, Cohen won the civil suit and was awarded US $9 million by a Los Angeles County superior court. Lynch, however, ignored the suit and did not respond to a subpoena issued for her financial records.[38] As a result it has been widely reported that Cohen may never be able to collect the awarded amount.[39] In 2007, U.S. District Judge Lewis T. Babcock dismissed a claim by Cohen for more than US $4.5 million against Colorado investment firm Agile Group, and in 2008 he dismissed a defamation suit that Agile Group filed against Cohen.[40] Cohen has been under new management since April 2005.
Cohen's book of poetry and drawings, Book of Longing, was published in May 2006. In March a Toronto-based retailer offered signed copies to the earliest 1500 orders placed online; all 1500 sold within hours. The book quickly topped bestseller lists in Canada. On 13 May 2006, Cohen made his 1st public appearance in 13 years, at an in-store event at a bookstore in Toronto. Approximately 3,000 people turned up for the event, causing the streets surrounding the bookstore to be closed. He sang 2 of his earliest and best-known songs: "So Long, Marianne" and "Hey, That's No Way To Say Goodbye", accompanied by the Barenaked Ladies and Ron Sexsmith. Also appearing with him was Anjani, the couple promoting her new CD, along with his book.[41]
In 2006, Philip Glass composed music to Book of Longing. Following a series of live performances which included Glass on keyboards, Cohen's recorded spoken text, 4 voices (soprano, mezzo-soprano, tenor, and bass-baritone), and other instruments, and as well the screenings of Cohen's artworks and drawings, Glass' label Orange Mountain Music released a double CD with the recording of the work, entitled Book of Longing. A song cycle based on the poetry and Artwork of Leonard Cohen.[42]
From May 2008 to December 2010 Cohen was on a major comeback world tour, the biggest in his musical career, giving 246 shows in Europe, Australia, Canada, Israel and United States. The highly successful tour was followed with 2 live albums, Live in London and Songs from the Road, in both audio and DVD versions, and with many reissues, unauthorised releases of album compilations, DVDs, biographies and books reprints, and as well many international translations of his books and international awards and nominations (such as Grammy Lifetime Achievement Award, Meteor Music Awards in Ireland, Porin Award in Croatia, Songwriters Hall of Fame, Polaris Music Prize, and Mojo Honours Lists).[43]
13 January 2008, Cohen quietly announced a long-anticipated concert tour.[44] The tour, Cohen's 1st in 15 years, began 11 May in Fredericton, New Brunswick, to wide critical acclaim, and was prolonged until Winter of 2010.[45] The schedule for the summer of 2008 encompassed Canada and Europe, including performances at The Big Chill,[46] the Montreal Jazz Festival, and on the Pyramid Stage at the 2008 Glastonbury Festival on 29 June 2008.[47] His performance at Glastonbury was hailed by many as the highlight of the festival,[48] and his performance of "Hallelujah" as the sun went down received a rapturous reception and a lengthy ovation from a packed Pyramid Stage field.[49] He also played 2 shows in London's O2 Arena, and in Dublin he gave a "milestone concert", becoming the 1st performer to play open air concerts at IMMA (Royal Hospital Kilmainham) grounds on June 13, 14, and 15, 2008. In 2009, the performances were awarded Ireland's Meteor Music Award as the best international performance of the year.
In September, October and November 2008, Cohen gave a marathon tour through Europe, including stops in Austria, Ireland, Poland, Romania, Italy, Germany, and Scandinavia. In London, he played 2 more shows in O2 Arena and 2 additional shows at the Royal Albert Hall.
On 21 March 2009, Cohen released Live in London, recorded on 17 July 2008 at London's O2 Arena and released on DVD and as a 2-CD set. The album contains 25 songs and is over 2-1/2 hours long. It was the earliest official DVD in Cohen's recording career. The quotation on the album referred to 100 5-star reviews the tour gained in the international press in 2008.
The 3rd leg of Cohen's World Tour 2008-2009 encompassed New Zealand and Australia from 20 January to 10 February 2009.[50] In January 2009, The Pacific Tour 1st came to New Zealand. Simon Sweetman in the Dominion Post (Wellington) of 21 January wrote "It is hard work having to put this concert in to words so I'll just say something I have never said in a review before and will never say again: this was the best show I have ever seen." The Sydney Entertainment Centre show on 28 January sold out rapidly, which motivated promoters to announce a 2nd show at the venue. The 1st performance was well-received, the audience of 12,000 responding with 5 standing ovations.
In response to hearing about the devastation to the Yarra Valley region of Victoria in Australia, Cohen donated $200,000 to the Victorian Bushfire Appeal in support of those affected by the extensive Black Saturday bushfires that razed the area just weeks after his performance at the Rochford Winery in the A Day on the Green concert.[51] Melbourne's Herald Sun newspaper reported: "Tour promoter Frontier Touring said $200,000 would be donated on behalf of Cohen, fellow performer Paul Kelly and Frontier to aid victims of the bushfires."[52]
On 19 February 2009, Cohen played his 1st American concert in 15 years at the Beacon Theatre in New York City.[53] The show, showcased as the special performance for fans, Leonard Cohen Forum members and press, was the only show in the whole 3-year tour which was broadcast on the radio (NPR) and available as the free podcast.
The North American Tour of 2009 opened on 1 April and included the performance at the Coachella Valley Music and Arts Festival on Friday, 17 April 2009, in front of one of the largest outdoor theatre crowds in the history of the festival. His performance of Hallelujah was widely regarded as one of the highlights of the festival, thus repeating the major success of the 2008 Glastonbury appearance. The performance has been included on 2010 Songs from the Road live release. During this leg, Cohen regularly performed new song, "Lullaby".
On 1 July 2009, Cohen started his marathon European tour, his 3rd in 2 years. The itinerary mostly included sport arenas and open air Summer festivals in Germany, UK, France, Spain, Ireland (the show at O2 in Dublin won him his 2nd Meteor Music Award in a row), but also performances in Serbia in the Belgrade Arena, in the Czech Republic, Hungary, Turkey, and again in Romania. On 3 August, Cohen gave an open air show at the Piazza San Marco in Venice.
On 18 September 2009, on the stage at a concert in Valencia, Spain, Cohen suddenly fainted halfway through performing his song "Bird on the Wire", the 4th in the 2-act set list; Cohen was brought down backstage by his band members and then admitted to local hospital, while the concert was suspended.[54] It was reported that Cohen had stomach problems, and possibly food poisoning.[55] 3 days later, on September 21, on his 75th birthday, he performed in Barcelona. The show, last in Europe in 2009 and rumoured to be the last European concert ever, attracted many international fans, who lighted the green candles honouring Cohen's birthday, leading Cohen to give a special speech of thanks for the fans and Leonard Cohen Forum.
The most controversial concert during the whole tour was the last concert of this leg, held in Tel Aviv, Israel, on September 24 (3 days after Cohen's 75th birthday), at Ramat Gan Stadium. The event was surrounded by public discussion due to a cultural boycott of Israel proposed by a small number of musicians.[56] Nevertheless, tickets for the Tel Aviv concert, Cohen's 1st performance in Israel since 1980, sold out in less than 24 hours.[57] It was announced that the proceeds from the sale of the 47,000 tickets would go into a charitable fund in partnership with Amnesty International (AI), and would be used by Israeli and Palestinian peace groups for projects providing health services to children and bringing together Israeli veterans and former Palestinian fighters and the families of those killed in the conflict.[58] However, on 17 August 2009, AI released a statement saying they were withdrawing from any involvement with the concert and its proceeds.[59] AI later stated that its withdrawal was not due to the boycott but "the lack of support from Israeli and Palestinian NGOs."[60] The Palestinian Campaign for the Academic and Cultural Boycott of Israel (PACBI), a fringe political group, led the call for the boycott, claiming that Cohen was "intent on whitewashing Israel's colonial apartheid regime by performing in Israel."[61]
On 24 September at the Ramat Gan concert, Cohen was highly emotional about the Israeli-Palestinian NGO Bereaved Families for Peace. He mentioned the organization twice, saying "It was a while ago that I first heard of the work of the 'Bereaved Parents for Peace'. That there was this coalition of Palestinian and Israeli families who had lost so much in the conflict and whose depth of suffering had compelled them to reach across the border into the houses of the enemy. Into the houses of those, to locate them who had suffered as much as they had, and then to stand with them in aching confraternity, a witness to an understanding that is beyond peace and that is beyond confrontation. So, this is not about forgiving and forgetting, this is not about laying down one's arms in a time of war, this is not even about peace, although, God willing, it could be a beginning. This is about a response to human grief. A radical, unique and holy, holy, holy response to human suffering. Baruch Hashem, thank God, I bow my head in respect to the nobility of this enterprise."[62] At the end of the show he blessed the crowd by the Priestly Blessing, a Jewish blessing offered by Kohanim. (Cohen's surname derives from this Hebrew word for priest, thus identifying him as a Levite - a descendant of the ancient priestly tribe of Levi.)[63]
The 6th leg of the 2008-2009 world tour went again to the U.S., with 15 shows in October and November, the "final" show in San Jose, California. The final leg included 2 new songs, "Feels So Good" and "The Darkness". But at that point, Cohen's "World Tour 2010" was already announced with the European dates in March.
The 2009 world tour earned a reported $9.5 million, putting Cohen at number 39 on Billboard magazine's list of the year's top musical "money makers."[64]
On 14 September 2010, Sony Music released a live CD/DVD album, Songs from the Road, showcasing 2008 and 2009 live performances. The previous year, Cohen's performance at the 1970 Isle of Wight Music Festival was released as a CD/DVD combo. The DVD version included interviews with Kris Kristofferson and others.
Cohen's 2008-2009 world tour was prolonged into 2010. Originally scheduled to start in March, the 1st dozen of original European dates were postponed to September and October due to Cohen's lower-back injury.[65] Officially billed as "World Tour 2010", the tour started on 25 July 2010 in Arena Zagreb, Croatia, where in the week of the show: 16 of Cohen's albums simultaneously entered the Croatian Top 40;[66] Cohen's work was presented by the translation of Book of Mercy, 2 of Cohen's biographies, and with selection of poems in major literary magazine Quorum; while there was also the translation of Linda Hutcheon's work on Cohen's literary output. In December 2010, the national daily newspaper Vjesnik ranked Cohen's show among the 5 most important cultural events in Croatia in 2010, in the poll among dozen of intellectuals and writers; it was the only event ranked which was not actually Croatian.[67]
The tour continued through August, with stops in Austria, Belgium, Germany, Scandinavia, and Ireland, where on 31 July 2010 Cohen performed at Lissadell House in County Sligo. It was Cohen's 8th Irish concert in just 2 years, after a hiatus of more than 20 years.[68] On 12 August Cohen played the 200th show of the tour, in Scandinavium, Gothenburg, Sweden, where he had already played in October 2008; the show was 4 hours long.
The Fall leg of the European tour started in early September with an open-air show in Florence, Italy, and continued through Germany, Portugal, Spain, Switzerland, and Austria; and then continued with dates in France, Poland, Russia (Moscow's State Kremlin Palace), Slovenia and Slovakia.[69] In Slovenia, Cohen accepted Croatia's Porin music award for best foreign live video programme, which he won for his Live in London DVD.[70] Cohen's last European show was held in Sibamac Arena, in Bratislava, Slovakia.
The 3rd leg of the 2010 tour started on 28 October, in New Zealand, and continued in Australia, including an open-air concert at the Hanging Rock, the 1st show ever organised at the site. The tour finished with 7 special dates added in Vancouver, Portland, Victoria, Oakland, and 2 final shows in Las Vegas' Colosseum at Caesars Palace, on December 10 and 11. The December 11 was the 246th show on the world tour, which had started onMay 11, 2008.
The World Tour 2010 was covered daily on the Flickr photo blog which was edited by Cohen's road manager, entitled Notes from the Road.
In 2011, Cohen's poetical output was represented in Everyman's Library Pocket Poets, in a selection of Poems and Songs edited by Robert Faggen. The collection included a selection from all Cohen's books, based on his 1993 books of selected works, Stranger Music, and as well from Book of Longing, with addition of 3 new song lyrics. Nevertheless, 3 of those songs, "A Street", recited in 2006, "Feels So Good", performed live in 2009 and 2010, and "Born in Chains", performed live in 2010, were not released on Cohen's 2012 album Old Ideas, with him being unhappy with the versions of the songs in the last moment; the song "Lullaby", as presented in the book and performed live in 2009, was completely re-recorded for the album, presenting new lyrics on the same melody.(Citation needed)
A new biography, I'm Your Man: The Life of Leonard Cohen, written by Sylvie Simmons, was published in October 2012. The book is the 2nd major biography of Cohen (Ira Nadel's 1997 biography Various Positions was the previous).[71]
Leonard Cohen's 12th studio album, Old Ideas, was released worldwide on January 31, 2012, and it soon became the highest charting album of his entire career, reaching No. 1 positions in Canada, Norway, Finland, Netherlands, Spain, Belgium, Poland, Hungary, Czech Republic, Croatia, New Zealand, and top 10 positions in United States, Australia, France, Portugal, UK, Scotland, Austria, Denmark, Sweden, Ireland, Germany, and Switzerland, competing for number 1 with Lana Del Rey's debut album Born to Die, released the same day.[72]
The lyrics for the song "Going Home" were published as a poem in The New Yorker magazine in January 2012, prior to the record's release.[73] The entire album was streamed online by NPR on January 22[74] and on January 23 by The Guardian.[75]
The album received uniformly positive reviews from Rolling Stone,[76] the Chicago Tribune,[77] and The Guardian.[78] At a record release party for the album in January 2012, Cohen spoke with New York Times reporter Jon Pareles, who states that "mortality was very much on his mind and in his songs [on this album]." Pareles goes to characterize the album as "an autumnal album, musing on memories and final reckonings, but it also has a gleam in its eye. It grapples once again with topics Mr. Cohen has pondered throughout his career: love, desire, faith, betrayal, redemption. Some of the diction is biblical; some is drily sardonic."[79]
On August 12, 2012, Cohen embarked on a new European tour in support of Old Ideas, adding a violinist to his 2008–2010 tour band, now nicknamed Unified Heart Touring Band, and following the same three-hour set list structure as in 2008–2012 tour, with addition of number of songs from Old Ideas. The European leg ended on October 7, after concerts in Belgium, Ireland (Royal Hospital), France (Olympia in Paris), England (Wembley Arena in London), Spain, Portugal, Germany, Italy (Arena in Verona), Croatia (Arena in Pula), Denmark, Sweden, Norway, Finland, Romania and Turkey.[80]
The 2nd leg of the Old Ideas World Tour took place in the US and Canada in November and December, with 56 shows altogether on both legs.[81]
Cohen returned to North America in the spring of 2013 with concerts in the United States and Canada. A summer tour of Europe happened shortly afterwards.[82] Cohen then toured Australia and New Zealand in November and December 2013. His final concert was performed at the Vector Arena in Auckland.[83][84]
Cohen released his 13th album, Popular Problems, on September 24, 2014.[85] The album includes "A Street", which he had previously recited in 2006, during promotion of his book of poetry Book of Longing, and later printed twice, as "A Street" in March 2, 2009 issue of The New Yorker magazine,[86] and appeared as "Party's Over" in Everyman's Library edition of Poems and Songs in 2011.
Cohen's 14th and final album, You Want It Darker, was released on October 21, 2016.[87] Cohen's son Adam Cohen has a production credit on the album.[88] On February 23, 2017, Cohen's son and his final album collaborator Sammy Slabbinck released a special, posthumous tribute video set to the album track "Traveling Light", featuring never before seen archival footage of Cohen from his career.[89]
Beginning in the 1970s, Cohen had a relationship with Los Angeles artist Suzanne Elrod, with whom he has 2 children: a son, Adam, born in 1972; and a daughter, Lorca (named after poet Federico Garci­a Lorca), born in 1974. Adam Cohen began a career as a singer-songwriter in the mid-1990s and fronts a band called Low Millions, while Lorca took the part in her father's tour team during the 2008-2010 world tour as photographer and videographer. She also shot Cohen's video for the song "Because Of" in 2004, while her "Backstage Sketch" was included on Cohen's 2010 DVD Songs from the Road. She has directed and shot video clips for The Webb Sisters and Kamila Thompson. On February 2, 2011, Lorca gave birth to a daughter, Viva Katherine Wainwright Cohen. The father of the child is Rufus Wainwright.[90]
Cohen has downplayed marriage as an important relationship, and has said that "cowardice" and "fear" have prevented him from ever actually marrying Elrod.[91][92] Elrod took the cover photograph on Cohen's Live Songs album and is pictured on the cover of the Death of a Ladies' Man album. She is also the "Dark Lady" of Cohen's 1978 book of poems, prose and diary entries Death of a Lady's Man, the book which deals with the failed marriage (hence the cover, which shows medieval coniunctio spiritual) and which was started as the novel about the spiritual and emotional failure of marriage, invariantly titled The Woman Being Born, and My Life in Art. Cohen and Elrod had split by 1979.
"Suzanne", one of his best-known songs, refers to Suzanne Verdal, the former wife of his friend, Quebecois sculptor Armand Vaillancourt, rather than Elrod.[93] The 1979 song "The Gypsy Wife" is supposedly about Suzanne Elrod.
In the 1980s, Cohen was in a relationship with the French photographer Dominique Issermann, who shot his earliest music videos, "Dance Me To The End Of Love" and "First We Take Manhattan." Issermann is today famous for her photo sessions with Carla Bruni[94] and for her fashion photography for magazines like Elle; in 2010 she was the official photographer of Cohen's world tour. Her photographs of Cohen are the canonical in Cohen's merchandise, and some of them were used for the covers of his 1993 book Stranger Music and his album More Best of Leonard Cohen, and inside the booklet of Cohen's 1988 record I'm Your Man, which is dedicated to Issermann with words: "All these songs are for you, D. I.".[95]
In the 1990s, Cohen was romantically linked to actress Rebecca De Mornay.[96] De Mornay co-produced Cohen's 1992 album The Future, which is also supposedly dedicated to her with an inscription which quotes Rebecca's coming to the well from Book of Genesis, 24[97] and giving drink to Eliezer's camels, after he prayed for the help; Eliezer ("God is my help" in Hebrew) is Cohen's Hebrew name, as "Leonard" is anglicized version of "Eliezer" and Cohen sometimes referred to himself as "Eliezer Cohen" or even "Jikan Eliezer."[98]
In the 2000s, Cohen was romantically involved with Anjani Thomas. Together they wrote the album Blue Alert in 2006, produced by Cohen. Thomas co-produced and co-wrote some songs on Cohen's 2004 album Dear Heather and was involved in recording of Cohen's last records.
From the late 1970s, Cohen was associated with Kyozan Joshu Sasaki, regularly visiting him at Mount Baldy Zen Center and serving him as personal assistant during Cohen's reclusion into Mt. Baldy monastery in the 1990s. Roshi appears as regular motif or addressee in Cohen's poetry, especially in the Book of Longing, and also took part in 1997 documentary about Cohen's monastery years, Leonard Cohen: Spring 1996. Cohen's 2001 album Ten New Songs is dedicated to Joshu Sasaki.
Like for most of us, for me he dwelled in a higher strata inhabited by some living but mostly passed icons who seemed to have this direct line to the galaxy, whilst at the same time knowing exactly when to take out the trash. Formidable in both the sacred and the mundane... Farewell, Leonard, we need you now up there as much as we did down here.
Cohen died on November 7, 2016 at the age of 82 at his home in Los Angeles; cancer was a contributing cause.[100][101][102] According to his manager, Cohen's death was the result of a fall at his home on the night of November 7, and he subsequently died in his sleep.[103] His death was announced on November 10.[104] His funeral was held on November 10, 2016 in Montreal, at a cemetery on Mount Royal, his congregation Shaar Hashomayim confirmed. As was his wish, Cohen was laid to rest with a Jewish rite, in a simple pine casket, in a family plot.[105][106]
Cohen was survived by his 2 children and 3 grandchildren.[107][108][109]
Cohen's work often explores religion, isolation, sexuality and interpersonal relationships.[110] Famously reclusive, and possessing a persona frequently associated with mystique,[111][112] he is extremely well regarded by critics for his literary accomplishments, for the richness of his lyrics, and for producing an output of work of high artistic quality over a 5-decade career.[113][114][115]
Recurring themes in Cohen's work include love, sex, religion, depression, and music itself. He has also engaged with certain political themes, though sometimes ambiguously so. "Suzanne" mixes a wistful type of love song with a religious meditation, themes that are also mixed in "Joan of Arc". "Famous Blue Raincoat" is from the point of view of a man whose marriage has been broken by his wife's infidelity with his close friend, and is written in the form of a letter to that friend. "Everybody Knows" starts off with social inequality ("the poor stay poor/ And the rich get rich"), but this is just the laying of the foundation that leads up to the real issue: Infidelity and betrayal.
"Sisters of Mercy" [116] depicts his encounter with 2 women in a hotel room in Edmonton, Alberta. Claims that "Chelsea Hotel #2" treats his affair with Janis Joplin without sentimentality are countered by claims that the song reveals a more complicated set of feelings than straightforward love. Cohen [117] confirmed, with some embarrassment, that the subject is Janis. "She wouldn't mind," he declares, "but my mother would be appalled." "Don't Go Home with Your Hard-On" also deals with sexual themes.
Cohen was Jewish, and drew from Jewish religious and cultural imagery throughout his career. Examples include "Story of Isaac", and "Who by Fire", the words and melody of which echo the Unetaneh Tokef, an 11th-century liturgical poem recited on Rosh Hashana and Yom Kippur. Broader Jewish themes sound throughout the album Various Positions. "Hallelujah," which has music as a secondary theme, begins by evoking the biblical King David composing a song that "pleased the Lord" and continues with references to Bathsheba and Samson. The lyrics of "Whither Thou Goest", performed by him and released in his album Live in London, are adapted from the Bible (Ruth 1:16-17, King James Version). "If It Be Your Will" also has a strong air of religious resignation. In his concert in Ramat Gan, Israel, on 24 September 2009, Cohen spoke Jewish prayers and blessings to the audience in Hebrew. He opened the show with the opening sentence of Ma Tovu; at the middle he used Baruch Hashem; and he ended the concert reciting the blessing of Birkat Cohanim.[118]
In his early career as a novelist, Beautiful Losers grappled with the mysticism of the Mohawk Catholic saint Kateri Tekakwitha. Cohen has also been involved with Buddhism since the 1970s and was ordained a Buddhist monk in 1996; however he is still religiously Jewish: "I'm not looking for a new religion. I'm quite happy with the old one, with Judaism."[119]
He is described as an observant Jew in an article in The New York Times:
Mr. Cohen is an observant Jew who keeps the Sabbath even while on tour and performed for Israeli troops during the 1973 Arab-Israeli war. So how does he square that faith with his continued practice of Zen?... "Allen Ginsberg asked me the same question many years ago," he said. "Well, for one thing, in the tradition of Zen that I've practiced, there is no prayerful worship and there is no affirmation of a deity. So theologically there is no challenge to any Jewish belief."[120]
Having suffered from depression during much of his life, Cohen has written much (especially in his early work) about depression and suicide. Beautiful Losers and "Seems So Long Ago, Nancy" are about suicide; darkly comic "One of Us Cannot Be Wrong" mentions suicide; "Dress Rehearsal Rag" is about a last-minute decision not to commit suicide. An atmosphere of depression pervades "Please Don't Pass Me By" and "Tonight Will Be Fine." As in the aforementioned "Hallelujah," music itself is the subject of "Tower of Song," "A Singer Must Die," and "Jazz Police."
Themes of political and social justice also recur in Cohen's work, especially in later albums. In "Democracy," he laments "the wars against disorder/ the sirens night and day/ the fires of the homeless/ the ashes of the gay." He concludes that the United States is actually not a democracy. He has made the observation in "Tower of Song" that "the rich have got their channels in the bedrooms of the poor/ And there's a mighty judgment coming." In the title track of The Future he recasts this prophecy on a pacifist note: "I've seen the nations rise and fall/ But love's the only engine of survival." In "Anthem", he promises that "the killers in high places [who] say their prayers out loud/ [are] gonna hear from me."
War is an enduring theme of Cohen's work that, in his earlier songs and early life, he approached ambivalently. Challenged in 1974 over his serious demeanor in concerts and the military salutes he ended them with, Cohen remarked, "I sing serious songs, and I'm serious onstage because I couldn't do it any other way...I don't consider myself a civilian. I consider myself a soldier, and that's the way soldiers salute."[121] In "Field Commander Cohen" he imagines himself as a soldier of sorts, socializing with Fidel Castro in Cuba; where he had actually lived at the height of US-Cuba tensions in 1961, allegedly sporting a Che Guevara-style beard and military fatigues. This song was written immediately following Cohen's front-line stint with the Israeli air force, the "fighting in Egypt" documented in a passage of "Night Comes On." In 1973, Cohen, who had traveled to Jerusalem to sign up on the Israeli side in the Yom Kippur War, had instead been assigned to a USO-style entertainer tour of front-line tank emplacements in the Sinai Desert, coming under fire. A poetic mention of then-General Ariel Sharon, delivered in the same mode as his Fidel Castro allusions, has given birth to the story that Cohen and Sharon shared cognac together during Cohen's term in the Sinai.
Deeply moved by encounters with Israeli and Arab soldiers, he left the country to write "Lover Lover Lover." This song has been interpreted as a personal renunciation of armed conflict, and ends with the hope his song will serve a listener as "a shield against the enemy." He would later remark, "'Lover, Lover, Lover' was born over there; the whole world has its eyes riveted on this tragic and complex conflict. Then again, I am faithful to certain ideas, inevitably. I hope that those of which I am in favour will gain."[122] Asked which side he supported in the Arab-Israeli conflict, Cohen responded, "I don't want to speak of wars or sides ... Personal process is one thing, it's blood, it's the identification one feels with their roots and their origins. The militarism I practice as a person and a writer is another thing.... I don't wish to speak about war."[123]
His recent politics continue a lifelong predilection for the underdog, the "beautiful loser." Whether recording "The Partisan", a French Resistance song by Anna Marly and Emmanuel d'Astier, or singing his own "The Old Revolution," written from the point of view of a defeated royalist, he has throughout his career expressed in his music sympathy and support for the oppressed. Although Cohen's fascination with war is often as a metaphor for more general cultural and personal issues, as in "New Skin for the Old Ceremony," by this measure his most militant album.
Cohen blends pessimism about political/cultural issues with humour and, especially in his later work, with gentle acceptance. His wit contends with his stark analysis as his songs are often verbally playful and cheerful. In "Tower of Song" the famously raw-voiced Cohen sings ironically that he was "born with the gift of a golden voice." The generally dark "Is This What You Wanted?" contains playful lines "You were the whore and the beast of Babylon / I was Rin Tin Tin." In concert he often plays around with his lyrics ("If you want a doctor / I'll examine every inch of you" from "I'm Your Man" sometimes becomes "If you want a Jewish doctor..."). He may introduce one song by using a phrase from another song or poem: for example, introducing "Leaving Green Sleeves" by paraphrasing his own "Queen Victoria," "This is a song for those who are not nourished by modern love."
Cohen has also recorded such love songs as Irving Berlin's "Always" and the more obscure soul number, "Be for Real" (originally sung by Marlena Shaw).
"I'm guided by a signal in the heavens/ I'm guided by this birthmark on my skin/ I'm guided by the beauty of our weapons/ first we take Manhattan, then we take Berlin" -from First We Take Manhattan (1986)
"From the homicidal bitchin', that goes down in every kitchen/ to determine who will serve and who will eat... democracy is coming to the USA." -from Democracy (1992)
"So the great affair is over/ but whoever would have guessed/ it would leave us all so vacant/ and so deeply unimpressed/ It's like our visit to the moon/ or to that other star/ I guess you go for nothing/ if you really want to go that far" -from Death of a Ladies' Man (1977)
"I needed so much/ To have nothing to touch/ I've always been greedy that way..." -from The Night Comes On (1984)
"The ponies run, the girls are young/ The odds are there to beat/ You win a while, and then it�s done/ �Your little winning streak/ And summoned now to deal / With your invincible defeat/ You live your life as if it�s real/ A Thousand Kisses Deep." -from A Thousand Kisses Deep (2001)
"Ring the bells that still can ring/ Forget your perfect offering/ There is a crack in everything/ It's how the light gets in." -from Anthem (1992)
Cohen was a Companion of the Order of Canada, and was inducted into the Canadian Music Hall of Fame, the Canadian Songwriters Hall of Fame, the US Songwriters Hall of Fame, the Rock and Roll Hall of Fame and the Folk Music Walk of Fame. He also received the Glenn Gould Prize, 8 Juno Awards, a Grammy Lifetime Achievement Award, and numerous other honors.[11] While giving the speech at Cohen's induction into the American Rock and Roll Hall of Fame on 10 March 2008, Lou Reed described Cohen as belonging to the "highest and most influential echelon of songwriters."[124]
In 1964, Cohen's debut novel, The Favourite Game, won the Quebec Literary Competition Prize (awarded 1923-1970 by the Province of Quebec).[11]
In 1968, Cohen won the Governor General's Award for his Selected Poems, 1956-1968. However, he refused the award (as reported by the Globe and Mail) on the grounds that, "the world is a callous place and he would take no gift from it."[11]
In 1970, Cohen received an honorary degree from Dalhousie University, Halifax, Canada.
In 1984, 1983 made-for-TV short musical film I am a Hotel, written by Cohen and based on his songs, won The Golden Rose, the main award at the international television festival Rose d'Or in Montreux.
In 1985, The Book of Mercy won the Canadian Authors Association Literary Award for Poetry.
In 1986, Cohen and Lewis Furey won the Genie Award for Best Original Song (for "Angel Eyes" from Night Magic) .
In 1988, CBS awarded Cohen the Columbia Records Crystal Globe Award, reserved for artists who sell more than 5 million copies of an album in foreign territories (for I'm Your Man).
In 1989, Cohen was nominated for Juno Awards as Canadian Entertainer of the Year and Male Vocalist of the Year.
In 1991, Cohen was made an Officer of the Order of Canada, inducted into the Juno / Canadian Music Hall of Fame, and nominated for a Juno Award for Songwriter of the Year.
In 1992, Cohen received an honorary degree from McGill University, Montreal.
In 1993, Cohen won the Juno Award for Male Vocalist of the Year. The video for "Closing Time," directed by Curtis Wehrfritz, won for Best Video. He was also nominated as Producer of the Year (with co-producer Leanne Ungar, for Closing Time).
In 1993, Cohen won the Governor General's Award for Lifetime Artistic Achievement.
In 1994, Cohen won the Juno Award for Songwriter of the Year and was nominated for the Juno Award for Album of the Year (for The Future). The video for The Future, directed by Curtis Wehrfritz, was nominated for Juno Award for Best Video.
In 2001, Cohen received Nagroda Muzyczna Fryderyk, the annual Polish music award, for best foreign album (Ten New Songs).
In 2002, Cohen (with Sharon Robinson) was nominated for Juno Award as Best Songwriter (for Boogie Street, In My Secret Life, and You Have Loved Enough).
In 2002, Cohen's video In My Secret Life, directed by Floria Sigismondi, was nominated for the Juno Award as Best Video, his "Ten New Songs" was nominated for Best Pop Album, and he was nominated for Best Artist.
In 2002, Cohen was awarded a SNEP Award for more than 100,000 copies sold of Ten New Songs in France.
In 2003, Cohen was made a Companion of the Order of Canada, Canada's highest civilian honour.[125]
In 2004, Beautiful Losers was chosen for inclusion in Canada Reads 2005.
In 2005, Cohen was included to the Canadian Folk Music Walk of Fame.
In 2006, Cohen was inducted into the Canadian Songwriters Hall of Fame.
In 2007, Cohen received a Grammy for Album of the Year as a featured artist on Herbie Hancock's River: The Joni Letters.[126]
In 2008, Cohen was inducted into the Rock and Roll Hall of Fame.[127]
In 2008, Cohen was made a Grand Officer of the National Order of Quebec.[128]
In 2009 his album Live in London was Long Listed for the Polaris Music Prize[129]
In 2009, Cohen was nominated for Mojo Honours Lists in Best Live Act category.[130]
In 2009, Cohen received Meteor Music Award for Best International Live Performance for his 2008 show in Dublin's IMMA's Royal Hospital Kilmainham.
In 2010, Cohen received a Grammy Lifetime Achievement Award.
In 2010, Cohen received a 2nd Meteor Music Award for Best International Live Performance for his 2009 show in Dublin's O2.
In 2010, Cohen received the Porin Award in Croatia in category of foreign video programme, for his Live in London DVD.[131]
In 2010, Cohen was inducted into the Songwriters Hall of Fame.
In 2012 he was awarded the Glenn Gould Prize.[132]
Over 3,000 versions of Cohen's poems and songs have been released by other singers.[133]
Main article: Hallelujah (Leonard Cohen song)
There are over 300 versions of a single Cohen song, "Hallelujah."[134]
In 1991, John Cale's cover of this song appeared on a Leonard Cohen tribute album, I'm Your Fan. In 1996, the same version also appeared in the independent film Basquiat. Cale also performed the song in the 2001 Dreamworks movie Shrek. The cover when watching the actual movie was by Cale, but the original soundtrack for the movie had a Rufus Wainwright version. Cale's version was also featured on the television series Scrubs.
Jeff Buckley recorded a well-known version of "Hallelujah" for his debut album, Grace, in 1994. It was used during the final minutes of The West Wing episode "Posse Comitatus," the last episode of season 3. On March 7, 2008, Buckley's version of "Hallelujah" went to #1 on the iTunes chart after Jason Castro performed the song on the 7th season of the television series American Idol.[135]
Another major boost for Cohen's song exposure came when singer-songwriter Kate Voegele released her version of "Hallelujah" from her 2007 album Don't Look Away and appeared as a regular character named Mia on season 5 of the teenage television show One Tree Hill.
In 2004, Cohen's fellow-Canadian k.d. lang released the album Hymns of the 49th Parallel, which featured "Hallelujah." The critically acclaimed album rose to the #2 position on the Canadian Albums Chart. lang subsequently performed the song live, on February 12, 2010, at the 2010 Olympic Winter Games in Vancouver, Canada.
In December 2008, 2 versions of "Hallelujah" placed No. 1 and 2 in the UK Christmas singles chart, with X Factor winner Alexandra Burke at #1 and Jeff Buckley at #2, following a campaign by Buckley fans to get his version to #1 rather than the X Factor version. As a result, online downloads of Cohen's original version placed it at #36, 24 years after its initial release.
Many other cover albums have been recorded by many artists.[136]
Cohen was the subject of the 1965 documentary Ladies and Gentlemen... Mr. Leonard Cohen, directed by Donald Brittain and Don Owen and produced by the National Film Board of Canada (NFB). This film, which pre-dates Cohen's career as a songwriter, explores his career as a well-known Canadian poet.[137] Cohen also appeared in Owen's 1967 film The Ernie Game, which was entered into the 18th Berlin International Film Festival.[138]
Cohen's music also appeared the following year in the 1966 NFB animated short Angel.
In 1968 Cohen performed on the BBC, both on the Julie Felix Show and in his own special, split into 2 30-minute shows. The 1st clip still exists, while the 2nd is available only as a bootleg CD.[139]
Cohen makes a cameo appearance performing "The Stranger Song" in the Canadian film The Ernie Game (1968), which is based on the stories of Bernard Cole Spencer.
Cohen's 1970 performance at the Isle of Wight Festival was filmed by Murray Lerner, but remained unreleased until 2009, when it was released as Leonard Cohen Live at the Isle of Wight 1970, and included Lerner's 2009 documentary material.
Robert Altman's 1971 western McCabe and Mrs. Miller used 3 Cohen songs on its soundtrack, as well the instrumental parts of The Stranger Song performed by Cohen. Multiple record singles were released during the film's distribution.[140]
In 1972, Cohen's European tour was filmed by British director Tony Palmer; the re-edited material appeared in 1974 under the title Bird On a Wire and exists only as a bootleg VHS tape. Palmer's authorised and restored film was released in 2010.[141]
In October 1979, Cohen recorded a show for German TV show RockPop Special, available only as a bootleg. The show is often rebroadcast by the German satellite TV channel 3Sat.[142]
The Song Of Leonard Cohen, a 1980 documentary by Harry Rasky, featuring Irving Layton, includes highlights from Cohen's 1979 European tour and tracks from the LP Recent Songs.
In 1983, Cohen wrote and starred in made-for-TV short musical film I am a Hotel, based on his songs. It won the Golden Rose award at the Rose d'Or television festival in Montreux in 1984.
In 1985, Cohen co-wrote and co-composed Night Magic (starring Carole Laure) with fellow Quebecker, Lewis Furey.
Cohen is subject of the BBC documentary Songs from the Life of Leonard Cohen, filmed during his 1988 tour.[143]
Cohen appeared as villain Francois Zolan in the "French Twist" episode of the American television series Miami Vice (season 2, episode 17), originally broadcast on 21 February 1986.
In 1988, Spanish TV station RTE televised the full version of Cohen's show in San Sebastian, 20 May, later aired in number of European countries and still rerun on the Spanish TV. It remains the only completely televised Cohen show.
In 1989, Cohen gave his 1st major performance on US television on Austin City Limits (recorded in November 1988).[144] He performed for the show again in July 1993. Both programs have been often rebroadcast by the PBS.
"Everybody Knows" and "If It Be Your Will" play prominent parts in the 1990 film Pump Up the Volume
3 of Cohen's songs from his album The Future ("Waiting for the Miracle", "Anthem", and "The Future") are used in Oliver Stone's 1994 film Natural Born Killers. Songs from this album have also appeared in the films Wonder Boys (2000), starring Michael Douglas, and The Life of David Gale (2003), starring Kevin Spacey.
In 1994, Cohen narrated NFB-produced documentary The Tibetan Book of the Dead.
Cohen's years at the Mt. Baldy Zen Centre were the subject of 1997 French documentary Leonard Cohen: Spring 96 by Armelle Brusq, released on DVD in 2009.
In 2001, Cohen's song "Hallelujah" was used on the soundtrack of Shrek, in a version by John Cale.
The Favourite Game (Le Jeu de l'ange), based on his novel of the same title, was released in Canada in 2003.
Leonard Cohen: I'm Your Man was released in 2006. It features a 2005 tribute concert to Cohen, "Came So Far For Beauty", held at the Sydney Opera House and produced by Hal Willner. The film, directed by Lian Lunson, has appearances by Nick Cave, Beth Orton, Antony of Antony and the Johnsons, Rufus and Martha Wainwright, and a performance of "Tower of Song" by Cohen and U2. The film also features Cohen recalling significant parts of his life and career.
Cohen is the subject of a 2-part documentary, Leonard Cohen: Under Review 1934-1977 (2007) and Leonard Cohen: Under Review 1978-2006 (2008), available separately on DVD.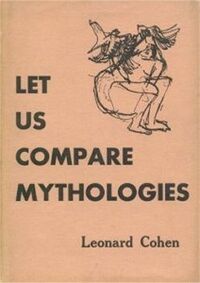 Let Us Compare Mythologies. Montreal: McGill Poetry Series / Contact Press, 1956; Toronto: McClelland & Stewart, 1956.
The Spice-box of Earth. Toronto: McClelland & Stewart, 1961.
Flowers for Hitler. Toronto: McClelland & Stewart, 1964.
Parasites of Heaven. Toronto: McClelland & Stewart, 1966.
Selected Poems, 1956-1968. Toronto: McClelland & Stewart, 1968.
The Energy of Slaves. Toronto: McClelland & Stewart, 1972.
Death of a Lady's Man. Toronto: McClelland & Stewart, 1978.
Book of Mercy. Toronto: McClelland & Stewart, 1984.
Stranger Music: Selected poems and songs. Toronto: McClelland & Stewart, 1993.
God is Alive, Magic is Afoot (illustrated by Sarah Perkins & Ian Jackson). Cambridge, UK: Galileo, 2000; Toronto: Stoddart, 2000.[145]
Book of Longing: Poems and drawings. Toronto: McClelland & Stewart, 2006.
Poems and Songs (edited by Robert Faggen). New York: Knopf, 2011.
The Favourite Game. Toronto: McClelland & Stewart, 1963.
Beautiful Losers. Toronto: McClelland & Stewart, 1966.

Except where noted, bibliographical information courtesy Athabasca University.[146].
Main article: Leonard Cohen discography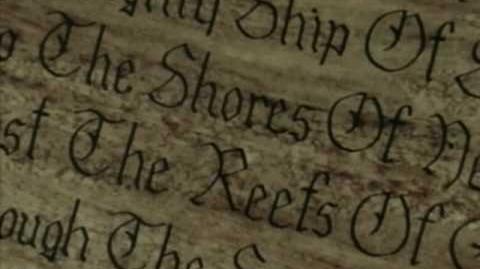 | Title | Release date |
| --- | --- |
| Songs of Leonard Cohen | December 1967 |
| Songs from a Room | April 1969 |
| Songs of Love and Hate | March 1971 |
| New Skin for the Old Ceremony | August 1974 |
| Death of a Ladies' Man | November 1977 |
| Recent Songs | September 1979 |
| Various Positions | December 1984 |
| I'm Your Man | February 1988 |
| The Future | November 1992 |
| Ten New Songs | October 2001 |
| Dear Heather | October 2004 |
| Old Ideas | 2012 |
| Popular Problems | 2014 |
| You Want It Darker | 2015 |
Poems
Audio / video
Books
About
Etc.
Community content is available under
CC-BY-SA
unless otherwise noted.