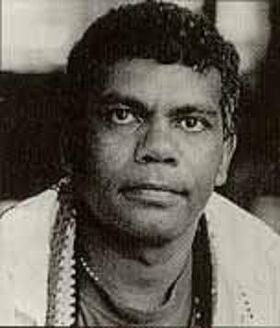 Lionel George Fogarty (born 1958) is an Aboriginal Australian poet and political activist.[1]
Life
[
]
Fogarty was born at Barambah (now called Cherbourg Aboriginal Reserve) in Queensland where he grew up. He has been involved in Aboriginal activism from his teenage years, mainly in Southern Queensland on issues such as Land Rights, Aboriginal health and deaths in custody. His brother, Daniel Yock died at the hands of police in 1993. His poetry, while in no way dismissable as simply 'political poetry', can be seen as an extension of these activities on another front. Common themes are the maintenance of traditional aboriginal culture and the everyday realities of European occupation. Among the most 'experimental' of contemporary Australian poetry, his work has sometimes been described as 'surrealist'. Certainly large amounts of Indigenous Language, which white Australians sometimes find confronting, are employed but in part as an attempt to further dialogue between Australian cultures.
Publications
[
]
Poetry
[
]
Juvenile
[
]

Except where noted, bibliographical information courtesy the Australian Poetry Library.[1]
See also
[
]
References
[
]
External links
[
]
Poems
About