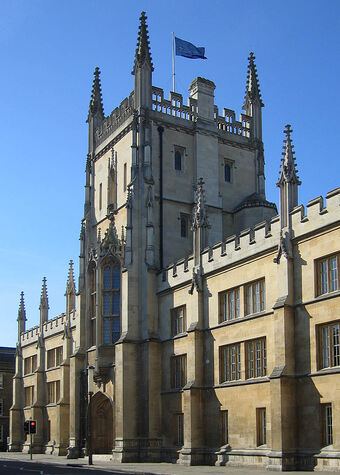 A university press (U.P.) is an academic, nonprofit publishing house that is typically affiliated with a large research university, and publishes work that has been reviewed by scholars in the field. It produces mainly scholarly works. Because scholarly books are mostly unprofitable, university presses may also publish textbooks and reference works, which tend to have larger audiences and sell more copies. Most university presses operate at a loss and are, perforce, subsidized by their parent universities. However, certain presses, notably Yale University Press, are self-sufficient, often because of endowments.
Oxford University Press and Cambridge University Press are the two largest university presses in the world. The largest university press in the United States is the University of Chicago Press.[1] Cambridge University Press is both the oldest publishing house in the world and the oldest university press.
University presses tend to develop specialized areas of expertise. For example, Yale publishes many art books, the University of Chicago publishes many academic journals, the University of Illinois press specializes in labor history, and MIT Press publishes linguistics titles.
English-speaking countries
Edit
Australia
Edit
New Zealand
Edit
Philippines
Edit
Singapore
Edit
United Kingdom
Edit
United States
Edit
Eastern Washington University Press (?1975-2010)
Alice James Books (University of Maine)
New Issues Press (University of Michigan).
Non-English-speaking countries
Edit
Czech Republic
Edit
Lithuania
Edit
References
Edit
Community content is available under
CC-BY-SA
unless otherwise noted.