by George J. Dance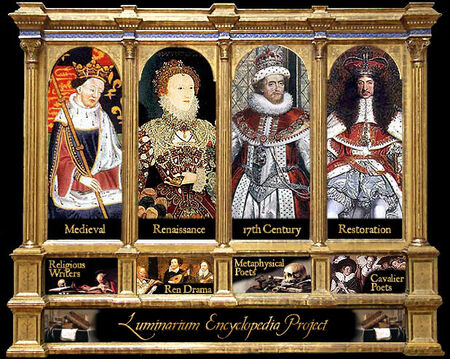 Luminarium is an online anthology of English literature from the Middle Ages through the 18th century.[1]
Luminarium was begun in 1996 by Anniina Jokinen. In the early 1990s, Jokinen began searching the web and compiling lists of links on Middle English, Renaissance, and 17th century literature, which by 1996 had grown to multi-page sites. Luminarium was founded as a site to integrate this information. Jokinen chose the name "Luminarium" (Latin for "lantern") because, she says, "I wanted I wanted the site to be a beacon of light in the darkness. It was also befitting for a site containing authors considered "luminaries" of English literature."[2]
Luminarium is not affiliated with or sponsored by any institution or organization. The site is funded through donations, book sales, and advertising.[2]
Authors and subjects
Edit
Middle Ages
Edit
Renaissance
Edit
17th century
Edit
18th century
Edit
Luminarium Encyclopedia
Edit
The Luminarium Encyclopedia is an online encyclopedia of medieval and Renaissance England. It was begun in 2001 "to provide historical context for the people, places, and events featured in Luminarium."[3]
References
Edit
↑ Luminarium: Anthology of English Literature," Luminarium.org, Web, Nov. 25, 2011.
↑ 2.0 2.1 "A Letter from the Editor," Luminarium.org, Web, Nov. 25, 2011.
↑ "Luminarium Encyclopedia," Luminarium.org, Web, Nov. 25, 2011.
External links
Edit
Community content is available under
CC-BY-SA
unless otherwise noted.