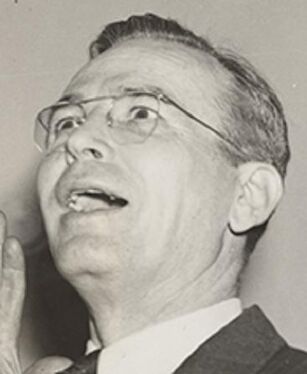 Luther Patrick (January 23, 1894- May 26, 1957) was an American poet and politician.
Patrick was born in Morgan country, near Decatur, Alabama.
He attended Louisiana State University in Baton Rouge and Purdue University in Lafayette, Indiana, then completed law school at the University of Alabama in 1918. He served as a private in the Central Officers' Training School during World War I.
He was admitted to the Alabama bar in 1919 and opened a practice in Fairfield. He served Fairfield as city attorney from 1920 to 1922.
A poet and author, he also began broadcasting radio commentary in 1925.
From 1927 to 1929 he served as Alabama's assistant attorney general, and from 1933 to 1934 he was an assistant to the United States Attorney for the Northern District of Alabama.
In 1936 Patrick was elected to represent Alabama's 9th Congessional District in the U. S. House of Representatives, serving as a Democrat in the 75th, 76th and 77th Congresses. Following a failed renomination in 1942 he was appointed as a consultant to the War Production Board during World War II. He returned to the House in 1945 and completed his final term in January 3, 1947.
After leaving Congress, Patrick returned to private practice in Birmingham. He was a delegate to the 1956 Democratic National Convention. He died in Birmingham a year later, and is buried at Elmwood Cemetery there.
Publications
Edit
Hope Ye're Livin and Doin Well. Birmingham, AL: A.H. Cather, 1936.
Friends, Neighbors, Kinfolks. Prairie City, IL: James A. Decker, 1946.
Short fiction
Edit
Goosepocket: A collection of yarns (illustrated by Hubert Harper). Birmingham, AL: Vulcan Press, 1955.

Except where noted, bibliographical information courtesy WorldCat.[1]
References
Edit
Patrick, Luther at the Biographical Dictionary of the United States Congress
External links
Edit
About
Community content is available under
CC-BY-SA
unless otherwise noted.