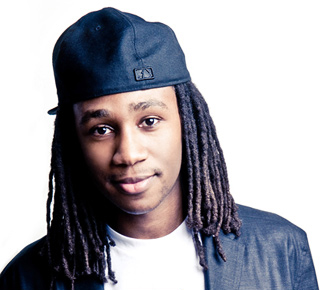 Molefi K. Asante (born November 3, 1982) is an African-American poet, non-fiction author, filmmaker, and academic.
Education and professorship
Edit
Asante is a graduate of The Crefeld School.[1] He studied film and literature at the University of London, School of Oriental and African Studies, earned a B.A. in Africana Studies and English from Lafayette College, and an M.F.A. in Screenwriting from UCLA School of Theater Film and Television.
At 23, he joined the faculty of Morgan State University. He received tenure shortly after, and is Associate Professor of creative writing and film in the Department of English and Language Arts.[2]
Writing career
Edit
Asante is the author of three celebrated books. His most recent book, It's Bigger Than Hip Hop (2008) is creative nonfiction that uses hip hop culture as a vehicle to explore social issues facing the hip hop and post hip hop generations. It's Bigger Than Hip Hop was described by Ari Bloomekatz of The Los Angeles Times as: "An empowering book that moves you to action and to question status quo America. Reading It's Bigger Than Hip Hop is motoring through a new generation of America with one of its best storytellers."
His other books are the poetry collections, Beautiful. And Ugly Too (2005) and Like Water Running Off My Back (2002).
Asante's fourth book, Buck, a memoir about his youth in Philadelphia, was published in 2013.
Asante has written, directed, and/or produced three award-winning feature documentary films.
Lectures, media appearances, and essays
Edit
Asante has lectured in over 25 countries at hundreds of colleges, universities, libraries, film festivals, conferences, and literary festivals.
Asante has appeared on numerous TV and radio programs including the CBS Early Show, CNN, Tom Joyner Morning Show, NPR, and NBC News.
Asante has written essays on art, music, technology, and culture for USA Today, Huffington Post, San Francisco Chronicle, and the New York Times.
Recognitions
Edit
Asante has been described by the Philadelphia Inquirer as "a rare, remarkable talent that brings to mind the great artists of the Harlem Renaissance." [4] He was described by CNN as "a master storyteller and major creative force."[5] He is the recipient of numerous awards and recognitions including the Langston Hughes Award from the Langston Hughes Society and the Key to the City of Dallas, TX.
Publications
Edit
Non-fiction
Edit

Except where noted, bibliographical information courtesy WorldCat.[7]
Audio / video
Edit
Except where noted, filmographical information courtesy WorldCat.[7]
References
Edit
External links
Edit
Prose
Audio / video
About
Community content is available under
CC-BY-SA
unless otherwise noted.