by George J. Dance]]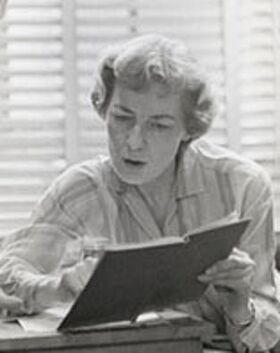 Martha Baird (1921-1981) was an American poet, prose author, editor, and musicologist.[1]
Baird was born in Dodge City, Kansas. She earned a Bachelor of Arts from the University of Iowa. She worked in Chicago for WGN radio; then moved to New York City, where she joined the American Guild of Variety Artists. In New York she studied the philosophy of Aesthetic Realism, founded by Eli Siegel.[1] Baird became secretary of the Society for Aesthetic Realism, and married Siegel in 1944.[2]
She published a collection of poetry, Nice Deity, in 1955. She also wrote the radio plays The Inside and Outside of Winnington Snail and The Comma That Didn't Belong Anywhere (which was adapted for the screen in 2009). Her poetry was featured in the 1959 anthology Personal and Impersonal: Six Aesthetic Realists (1959).[1]
Evelyn Scott: ""Martha Baird proves herself, in her poetry, a genuine personality in art, sensitive and unique. The strict parsimony of her expression here takes the form of parables-in-little, intellectually modest to the point of demureness in their manner of presentation, yet filled with larger intimations….Here is a quality so pure and so innately of the character of the poet, that any who cannot distinguish between authentic metal and alloy, and who may, therefore, try to imitate her, should beware."[3]
Publications
Edit
Nice Deity. New York: Definition Press, 1955.
Non-fiction
Edit
Two Aesthetic Realism Papers. New York: Definition Press, 1971.
Eli Siegel, A rosary of Evil: Opening lecture at the meeting of the Time Enough Poetry Club, Sunday, May 10, 1964. New York: Terrain Gallery, 1964.
Eli Siegel, James and the Children: A consideration of James' "The Turn of the Screw". New York: Definition Press, 1968.
The Williams-Siegel Documentary: Including Williams' poetry talked about by Eli Siegel, and William Carlos Williams present and talking: 1952 (edited with Ellen Reiss). New York: Definition Press, 1970.
The Press Boycott of Aesthetic Realism: Documentation (edited with Ellen Reiss). New York: Definition Press, 1978.
Eli Siegel, Goodbye Profit System, Update (edited with Ellen Reiss). New York: Definition Press,1982.

Except where noted, bibliographical information courtesy WorldCat.[4]
References
Edit
External links
Edit
Poems
Books
About
This is a signed article by User:George Dance. It may be edited for spelling errors or typos, but not for substantive content except by its author. If you have created a user name and verified your identity, provided you have set forth your credentials on your user page, you can add comments to the bottom of this article as peer review.
Community content is available under
CC-BY-SA
unless otherwise noted.