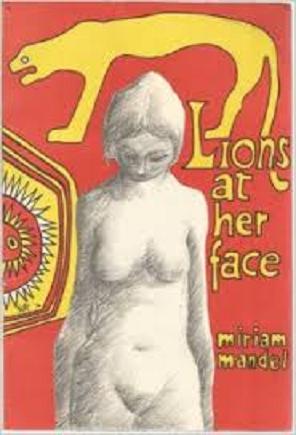 Miriam Mandel
Born
Miriam Minovich
June 24, 1930
Rockglen, Saskatchewan
Died
February 13, 1982 (aged 51)
Edmonton, Alberta
Nationality
Canadian
Education
B.A.
Alma mater
University of Saskatchewan
Notable work(s)
Lions at Her Face (1973)
Notable award(s)
Governor General's Award
Spouse(s)
Eli Mandel
Children
daughter (Evie), son (Charles)
Miriam Mandel (June 24, 1930 - February 13, 1982) was a Canadian poet who won Canada's Governor General's Award.
Mandel was born Miriam Minovich in Rockglen, Saskatchewan.[1]
She earned a B.A. from the University of Saskatchewan in 1950.[1] In 1949 she married Eli Mandel; after her graduation the couple moved to Toronto where he worked on a Ph.D. at the University of Toronto. After he received his doctorate in 1957, they moved to Edmonton, Alberta, where he taught at the University of Alberta until 1967.[2]
Miriam and Eli Mandel had 2 children, Evie and Charles.[3] In 1967 the couple divorced and Eli Mandel remarried.[2]
Shortly after their marriage broke up, Miriam Mandel began writing poetry.[4] She won the Governor General's Award in 1973 for her 1st collection, Lions At Her Face.[1]
Mandel was a long-time sufferer from depression.[4] Patrick Lane, who was inspired by her to write his 1983 poem "And of the Measure of Winter We Are Sure", later said: "I remembered her from a few years before, a dark, winter night, three in the morning, the two of us out night-walking, separate in our fidelities, through the snow in Edmonton, thirty below, a wind, no one else outside, and passing her, our eyes meeting briefly, a nod, and then passing on, the look on her face not one of despair, but of such a loneliness ... that's why I wrote the poem, remembering Miriam, remembering the hell of an Edmonton winter."[5]
Miriam Mandel died in Edmonton by suicide.[4]
Novelist Sheila Watson edited Miriam Mandel's Collected Poems in 1984.[4] The Miriam Mandel fonds is at the University of Calgary.[1]
Recognition
Edit
Mandel's 1st book of poetry, Lions at Her Face, won the 1973 Governor General's Award for English language poetry or drama.
Publications
Edit
Non-fiction
Edit
Miriam Mandel et al. Herpes Handbook: A Guide For the Diagnosis and Management of Herpes Genitals. Toronto: R.E.A.C.H., 1981.
The Miriam Mandel Papers. Sandra Mortensen, compiler; Apollonia Steele and Jean F. Tener, ed. Calgary: University of Calgary Press , 1990.[7] ISBN 0919813615

Except where noted, bibliographical information courtesy the University of Saskatchewan.[8]
References
Edit
External links
Edit
Books
About
This is a signed article by User:George Dance. It may be edited for spelling errors or typos, but not for substantive content except by its author. If you have created a user name and verified your identity, provided you have set forth your credentials on your user page, you can add comments to the bottom of this article as peer review.
Community content is available under
CC-BY-SA
unless otherwise noted.